What It Was Like For Lori And Steve Harvey To Work On The Miss Universe Pageant Together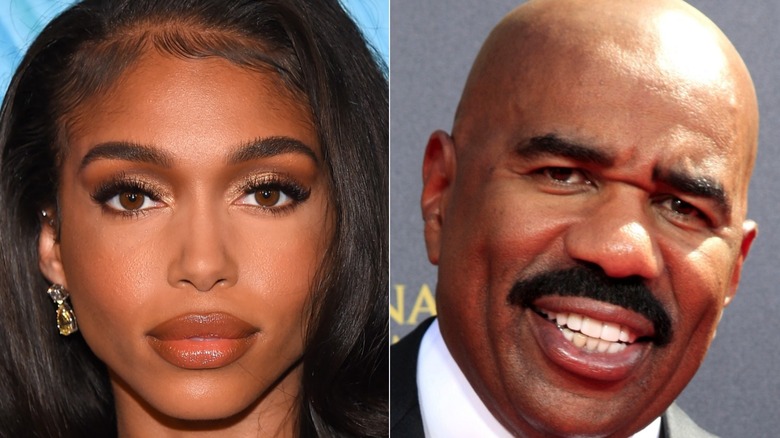 DFree & Joe Seer/Shutterstock
The term like father, like daughter exists for a reason. There are tons of famous father-daughter duos out there, but Lori and Steve Harvey are not like the rest. They've waited their entire careers to collaborate on an entertainment project, and it looks like it was worth the wait. While Steve stays in his television entertainment realm, his model slash entrepreneur daughter recently joined him on stage for the Miss Universe Pageant. While it's not your traditional family affair, it actually was super special for both parties involved. 
According to People, the Miss Universe Pageant 2021 was the very first time that Lori and Steve have worked together. Sure, his daughter has made an appearance on a few of his many shows before, but this was the first time that they were both truly working together to make the show run. Lori was a part of the selection committee for the Miss Universe Pageant while Steve was the host in 2021.
What was it like for the two to work together for the first time? Well, on-air it looked amazing. It turns out it went pretty smoothly on the other side as well. Here's what the two had to say about working together on the pageant. 
Steve Harvey compares his daughter to the 'smart, fiery and talented' women of the pageant
In case you're not familiar, Steve Harvey has a long track record with Miss Universe Pageants. The 2021 show was his 6th time hosting the show, despite having crowned the wrong pageant winner back in 2015. According to People, he thinks of the show as one of the "highlights of his year." So it only makes sense that he was super excited to have his daughter, Lori Harvey, join him this year. 
"This is my sixth time hosting the Miss Universe competition, and it is always a highlight of my year," Harvey told the publication. "Each show, I'm in awe of the smart, fiery, and talented women who take the stage. I continue to champion this show and participate, not only as a host but as a producer, to show the world what you can do, if you put your mind to it."
He even went so far as to compare his daughter to the talented women on stage. Which, considering that she's a model and is a pretty savvy businesswoman (via AfroTech). "I'm so blessed I get to share this experience with my own daughter this year, who embodies that ideal every day."
Lori Harvey loved being on the show, too
If you thought Steve Harvey was happy to have his daughter involved in the show, you'll be happy to know that Lori Harvey was just as excited. "I am so excited to be on the selection committee for the 70th Annual Miss Universe competition. It's extra special to me because this is the first event that my dad and I have worked on together, so it's going to be a really great time," Lori told People.
If her social media posts were any indication, fun was definitely had. The model posted photos of her and her family getting ready behind the scenes as well as gorgeous shots of her on stage. "I had the most amazing time being one of the judges for Miss Universe 2021," read Lori's Instagram post from her night after the pageant. "Congratulations to all the amazing ladies that competed last night."
At the time of publication, there's no telling whether or not this father daughter duo will be back for another pageant collaboration. It sounds like both of them would be up for another shot on the production, though.