The Heartbreaking Death Of Singer Betty Davis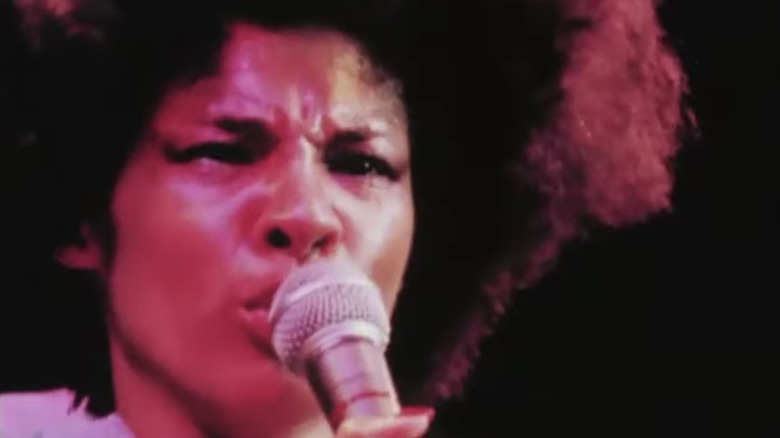 Cinemax
The world of funk music has lost an icon. Betty Davis, a legendary funk singer and ex-wife of Miles Davis, has died of natural causes at the age of 77. "It is with great sadness that I share the news of the passing of Betty Davis, a multi-talented music influencer and pioneer rock star, singer, songwriter, and fashion icon," Davis' longtime friend Connie Portis said in a statement to Rolling Stone. "Most of all, Betty was a friend, aunt, niece, and beloved member of her community of Homestead, Pennsylvania, and of the worldwide community of friends and fans."
Born Betty Mabry in North Carolina, she wrote her first song at the age of 12 and moved to New York City at 16 to attend the Fashion Institute of Technology. After working as a model, Betty focused her efforts on music, writing a song for the Chambers Brothers and hanging out with Jimi Hendrix, Sly Stone, and Hugh Masekela (per Billboard). In 1968, she wed jazz legend Miles Davis and changed her last name, but the two soon parted ways. She finally released her first album, "Betty Davis," in 1973 and followed that up with four more LPs. After she was dropped by her record label, Betty walked away from the record industry. "When I was told that it was over, I just accepted it," she told The New York Times in 2018. "And nobody else was knocking at my door."
Betty Davis was a funk music pioneer
Although Betty Davis hadn't recorded new music since the 1970s, her work was still well-respected in the entertainment industry. Her songs have been featured in shows including "Orange is the New Black" and Hulu's "High Fidelity," while rappers such as Ice Cube and Talib Kweli have sampled her songs. Once news of Betty's passing was announced, many famous names posted online tributes to her work. "This lady was hip before hip was hip. Her musical and fashion expression had no boundaries, and she influenced the likes of Miles Davis and Jimi Hendrix. 'Nuff said. Rest in paradise, Queen," Lenny Kravitz wrote on Twitter. And Prince's estate shared on Twitter how the late musician had spoken about Betty's work in an interview with the Chicago Tribune. "I play Betty Davis for Andy Allo and say, 'This is what we aim for,'" Prince said, according to the post.
Betty's final — and favorite — album, "Crashin' From Passion," will be reissued by Light in the Attic Records in late 2022. "At a time to be announced, we will pay tribute to her beautiful, bold, and brash persona," her friend Connie Portis said in a statement to Rolling Stone. "Today we cherish her memory as the sweet, thoughtful, and reflective person she was ... There is no other."