Why Jessa Duggar Seewald Is Getting Slammed For Letting Her Son Eat Snow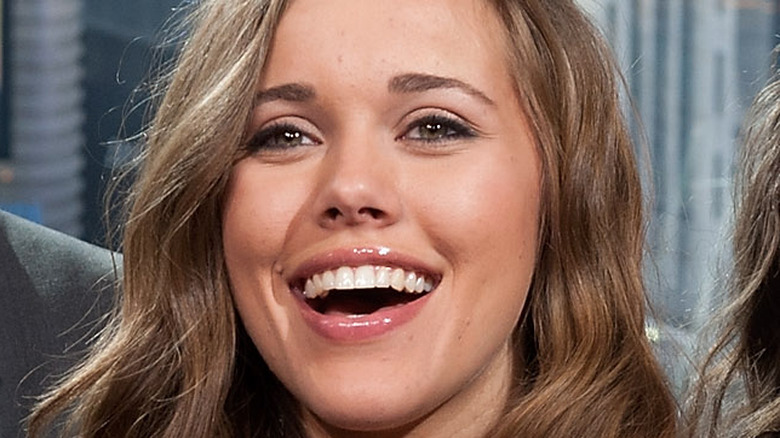 D Dipasupil/Getty Images
In contrast to the drama that has surrounded her famous family in recent months, Jessa Duggar Seewald has been branding herself as a happy, busy, and sometimes-harried mom of four. 
Her Instagram posts offer a taste of her daily life, often candid and cute: 5-year-old Henry falling asleep at his lunch table; 2-year-old Ivy discovering Mommy's mascara; 6-month-old Fern learning to crawl. But one of Jessa's recent shared moments has followers talking for all the wrong reasons.
Jessa posted a new video to her YouTube channel, "Snowmen, Sledding and Snow Ice Cream With Family!" Filmed after a couple rare snow days in their Arkansas town, it chronicles the young Seewalds' delighted reaction to seeing the white stuff. 
The Seewalds build a small snowman and zip down a small incline. (Look closely, and you'll see that some of the sleds are actually cardboard signs for Jim Bob Duggar's Senate campaign, which ended up in a loss, per People.)
After the outdoor fun, the family gathers in the kitchen to watch Jessa whip up a batch of "snow ice cream," a concoction made of milk, sugar, vanilla extract, and freshly fallen snow. 
Husband Ben Seewald goes out to gather the snow from the backyard, declaring that he won't be having any because it might "have bits of dirt in it." In fact, Jessa does find an ant in the bowl but flicks it out and continues making the treat.
But what really got followers' attention — and disapproval — wasn't the ice cream, but a less tasty snack that one of Jessa's children discovered. 
Fans were grossed out by Henry's other snow "snack"
At the 7:27 mark of Jessa Duggar Seewald's YouTube video, we see Ben Seewald come in with his bowl of snow. As he makes his way to the kitchen, son Henry spots a clump of snow — tracked in from Ben's boots — on the carpet. 
The preschooler casually starts scooping it into his mouth as the camera captures the moment. But it isn't long before big brother Spurgeon rats him out: "He's eating snow off the floor!" 
Some followers were turned off by Henry's antics, especially in light of his dad's reluctance. "Ben won't eat snow because it might have specks of dirt in it while poor Henry eats snow off that dirty rug," said one Redditor, via The U.S. Sun. Jessa added later that Ben did, in fact, eat some of the snow ice cream.
This isn't the first time the reality-show mom has been slammed for her hygiene and housekeeping. Fans have clucked tongues over a picture of a toy-cluttered floor (via CafeMom), a shot of a table piled high with dirty diapers (via InTouch Weekly), and a video showing 2-year-old Ivy climbing into the refrigerator to drink milk directly from the jug. 
But at least one viewer wasn't bothered that the Seewalds let their son have a bite of snow from the floor. "Nothing wrong with an ant or a little dirt or anything," they commented. "When I had a garden I ate plenty critters in my day lol. Won't kill anyone."