Nail Colors That Go With Everything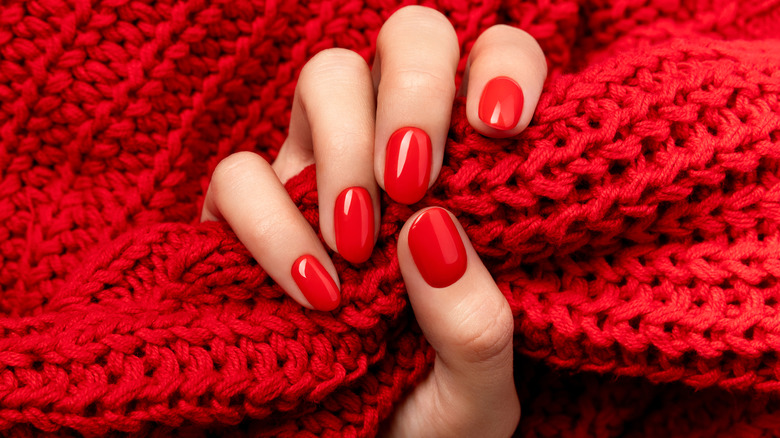 Darya Lavinskaya/Shutterstock
Whether you're painting your nails at home or getting a manicure at the salon, seeing a fresh coat of polish on your nails instantly makes you smile. The number of colors available at the salon, and your local drugstore, can be exciting to browse through, but it's a bit overwhelming to make a final selection. On top of that, nail trends change with the season, and sometimes it's hard to keep up with the new trends. Some of us would love to rock sparkly nails year-round, but they don't really go with everything.
No matter what time of the year it is, it's nice to invest in some timeless colors that match every outfit, because the last thing you want to do is change your nail color before you leave for a big event. Celebrity nail artist and Nails of LA founder Brittney Boyce shared that opaque tones and lilac purple will be big in 2022, thanks to Machine Gun Kelly's new brand UN/DN Laqr (via Who What Wear). While these sound amazing, we want a more classic option that we don't need to plan our outfits around.
Whether you're all about rich, bright hues or soft neutrals, it's important to always choose colors that work for your personality and are good for everyday wear. Here, we have some amazing colors that will work for every occasion and outfit, so changing your nail polish is the last thing you'll have to worry about.
These timeless nail colors work with every outfit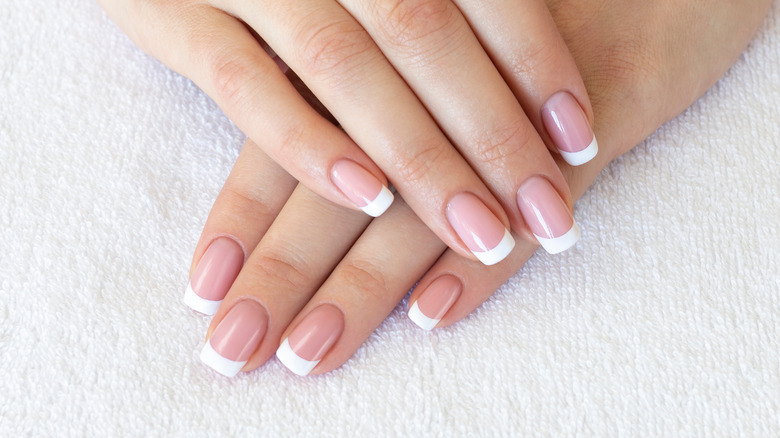 n.k.junky/Shutterstock
We love experimenting with nail colors, finishes, and nail art, but some classic nail colors never go out of style because they work for every occasion.
Nothing is more classic than a traditional French manicure or white tip nails. Dukes Avenue loves this eternal trend because it perfectly fits any outfit or occasion, and it looks beautiful on all skin tones. You can never go wrong with a traditional French manicure. 
One of the most beautiful and classic nail colors that will never go out of style is dusty pink. Nail artist Mar y Sol Inzerillo told Allure, "Dior Incognito is a beautiful neutral that complements every skin tone." This gorgeous shade of pale pink literally goes with every outfit — no wonder they call it a "win-win."
Bright red may look a bit intense, but according to The Zoe Report, it's one classic nail color that goes with almost everything. This iconic shade of nail polish exudes confidence, elegance, and femininity regardless of what you're wearing. For the fans of neutrals and nudes, Who What Wear recommends sticking with these shades. Depending on your skin tone, you can choose a lighter or darker shade of nude nail polish. A fuss-free nude can range from a sheer tan to beige, and the best thing about these colors is that they never go out of style and are incredibly versatile.