The Truth About Trey Hendrickson's Wife, Alisa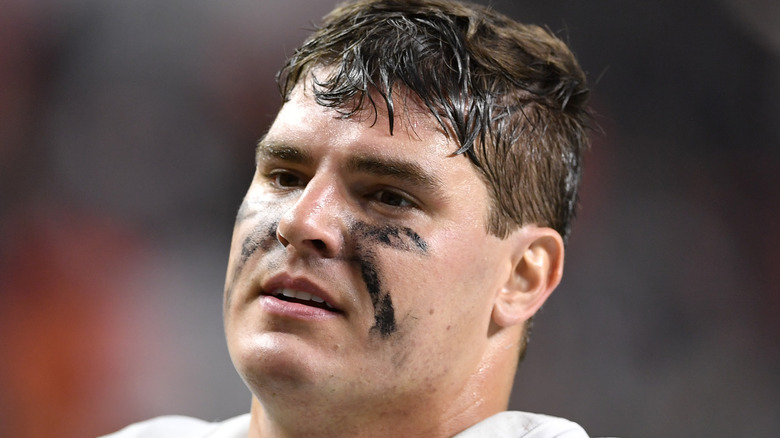 Chris Unger/Getty Images
On Sunday, Cincinnati Bengals defensive end Trey Hendrickson will be taking the field against the Los Angeles Rams at the 2022 Super Bowl. Trey is one of the newer members of the football team, having only been drafted from the New Orleans Saints in 2021, according to Cincinnati Enquirer. During a press event earlier this week, Trey spoke of the excitement he feels for the upcoming game. "We're a well-oiled machine," Trey said, per The Palm Beach Post. "Pretty early on, we knew we can do this. It's a pretty special culture that's been created from the top down. I'm blessed to be a part of this team. ... What it means to [Cincinnati] and the fans is very evident when you go around town and just the common interactions, it means a lot. We're really excited to compete on Sunday."
How does Trey handle the full array of emotions that comes from competing on the biggest stage in football? He draws strength from his faith and wife, Alisa Hendrickson. "Through adversity, inactive, dealing with injuries, you have to keep that faith," Trey told WAFB 9 in New Orleans. "Keep moving forward. You never doubt yourself. For one, everything I do, my wife is behind the scenes doing a great job supporting me. Together it's faith. I'm telling you, Jesus Christ is my Lord and Savior. Everything is coming together off the field, so it's coming together on it."
Alisa also has an athletic background
Alisa and Trey Hendrickson first met one another while on a cruise back in 2013. Despite the initial chemistry they felt upon first meeting, they didn't actually pursue a romantic relationship until 2019, per The Athletic. "He had to grow up and experience life, but when we came together again as adults, it was God's timing," Alisa told The Athletic.
Similar to her husband, Alisa has been involved in several athletic pursuits over the years. Though she's currently pursuing a pharmaceutical degree at Lipscomb University, in the past, Alisa has proven her athletic prowess through her work on the fencing team at the Air Force Academy and in her training as a figure skater, according to her biography on the Air Force Academy's website. "I want to excel in all of the things I do and keep a good attitude through the good and the bad times," Alisa says in the short biography. From 2014 to 2019, Alisa used her knowledge of figure skating and fencing to help coach others through various organizations. According to her LinkedIn profile, Alisa's family runs the Fioretto Fencing Academy, which might point to the reason why Alisa pursued fencing — it runs in the family!
Alisa, in partnership with Trey, also created The Hendrickson Hope Foundation, a charity organization that aims to provide crucial resources to foster children in the United States. A post on the charity organization's Instagram shows how they donated toys to those children affected by the Kentucky tornadoes over the holiday season.