Should You Get A Bob Or Lob Haircut If You Have A Square-Shaped Face?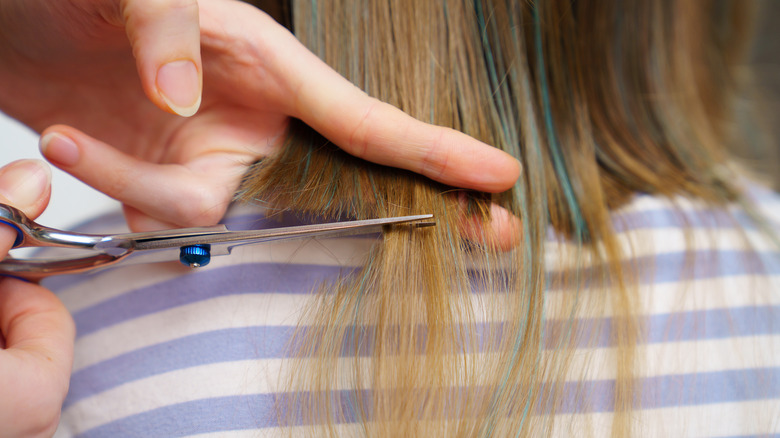 Andrey Sayfutdinov/Shutterstock
With Valentine's Day around the corner, now is a great time to refresh your hairstyle and stave off the winter blues. Going to the salon can always help give you that extra boost of confidence. But if you get anxious over the thought of a bad haircut and shudder when the hairstylist goes near your long locks with a pair of cutting shears, you're not alone. According to a 2019 joint poll by Tyme and YouGov, 29 percent of the 680 women they surveyed have cried over a bad haircut.
One way to avoid the chances of getting a "bad haircut" is to plan ahead and have a specific hairstyle in mind, before you head to the salon. If you struggle with finding the right kind of hairstyle that complements your best features, a helpful tip is to look at your face shape and find the cut that will frame your face well and highlight the best version of yourself. If you have a square-shaped face, keep reading to see the perfect haircut options to show off your gorgeous face.
Lobs are the choice cuts for square-shaped faces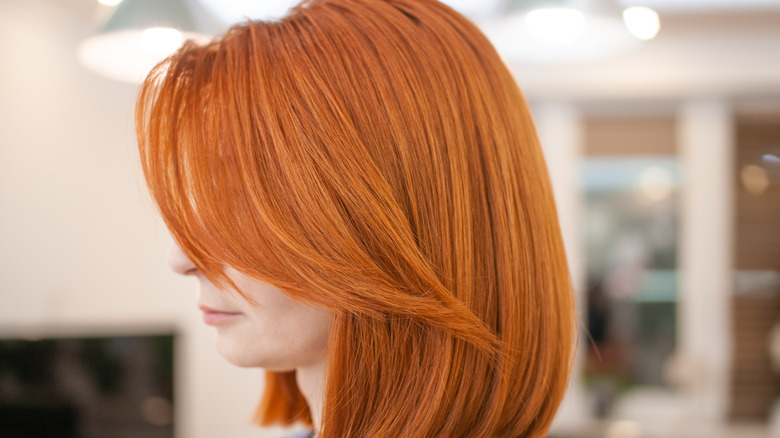 Oksy001/Shutterstock
A square face is defined by a strong, angular jawline with a straight chin (per Latest Hairstyles). The best haircut length for a square face is a medium-length cut as it will help balance the proportions on your face, per FabFitFun. A lob cut, short for a "long bob," will help soften the wider cheekbones and strong jawline. Latest Hairstyles recommends going with a length that grazes your shoulders to add slimming length to your square-shaped face. A deep side part will also help frame your face in a flattering way. 
But if you are keeping up with the current hair trends and don't want to try a side part, Byrdie states that adding face-framing layers with a middle part can also soften a square jaw. With face-framing layers, you can also keep a longer length. Adding waves or curls, or embracing your natural texture if you have wavy hair, can help create volume which will soften your features. Rosario Dawson is an example of a celebrity with a square-shaped face who rocks her natural waves.
A modern take on a '60s-style shag cut with side-swept bangs is another great option which will slim down the lower half of your face and create a more gentle appearance to the face, per Latest Hairstyles. Now that you know what haircuts to try, you can walk into the hair salon with confidence, and walk out with a beautiful hairstyle to reflect your inner beauty.