The Truth About Aaron Donald's Wife, Erica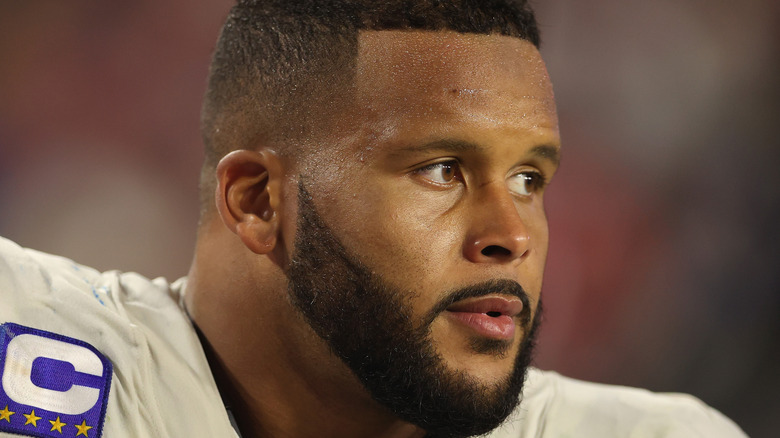 Christian Petersen/Getty Images
Super Bowl 2022 is coming up and it will be a fight between the Los Angeles Rams and the Cincinnati Bengals for the Vince Lombardi trophy. One of the star players for the Rams is defensive tackle Aaron Donald. He's been awarded NFL Defensive Player of the Year three times, and he's been referred to as a future hall of famer and the best of his generation (via Sports Illustrated). While Aaron's busy focusing on prepping for the big game, by his side is his partner Erica Donald, and she knows how much he really wants that Super Bowl ring. 
"This is really the last thing on his list," Erica told the NFL "He's like, 'I've accomplished everything else I want to accomplish in my career. This is the last thing on my list that I want to accomplish.' For him to accomplish that is going to be insane." She seems pretty confident about his chances in the upcoming game. The couple share one child, and Donald has two kids from a previous relationship (per Hollywood Mask). Erica shared some pictures from her pregnancy on Instagram next to Donald, and captioned one, "first came love then came you".
Erica and Aaron met when she worked with the Los Angeles Rams
Erica Donald graduated in 2012 with a Bachelor's degree in communication with a public relations concentration from Louisiana State University, according to her LinkedIn. She worked with the St. Louis Rams communication department in 2012 as a training camp intern (via AD99 Solutions). Then Erica started working at the Tampa Bay Buccaneers as an assistant for the Glazer Family Foundation, which helps get vision care to kids in need. After that, she moved to become the manager of Community Affairs and Player Involvement for the Los Angeles Rams, which is where she met Aaron (per FanBuzz). Now, Erica's working as a Marketing Manager for her husband.
The couple also work together at the foundation that Aaron created — AD99 Solutions, which gets its name from his initials and his jersey number. AD99 Solutions, which has the mission to help underprivileged youth in Pittsburgh live better lives and help them "excel academically, socially, and athletically" (via AD99 Solutions). Erica is currently working as the interim chairperson for the foundation.
We're sure she'll also be there on the sidelines cheering on Aaron in the upcoming game!