Billie Eilish Responds To Kanye West's Accusations Over Alleged Travis Scott Diss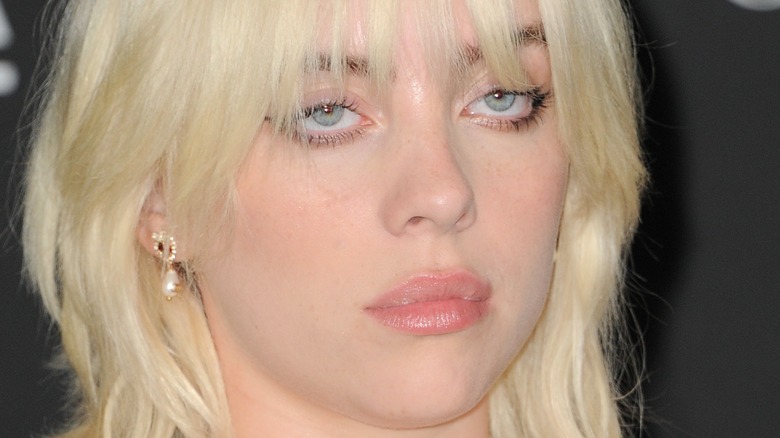 Tinseltown/Shutterstock
No one will soon forget the tragedy that took place at the AstroWorld Festival in Texas during Travis Scott's performance. A crowd surge resulted in hundreds of concertgoers being injured, while unthinkably, 10 people died, according to the Houston Chronicle. Since the fatal night in November, Scott has said he "1000 percent" felt he did everything he could to stop the deadly events (via New York Post). The performer added in a December interview, "You want to make sure fans get the proper attention they need. I just go off the fans' energy. But I just didn't hear [screams]." He also said he did stop the show in the midst of the peril.
Flash forward to this week and another huge artist, Billie Eilish, was accused of dissing Scott at her concert. As People reports, the singer stopped her Atlanta show this past weekend when she saw a fan who was struggling to breathe. "I wait for people to be okay before I keep going," Eilish said to the crowd (via BuzzFeed News).
Kanye West soon inserted himself into the conversation, siding with those who felt the "bad guy" singer's comment was a veiled jab at Scott. The star, who now goes by Ye, demanded that Eilish apologize in an Instagram post addressed to her.
Kanye West does not have a lot of support for his position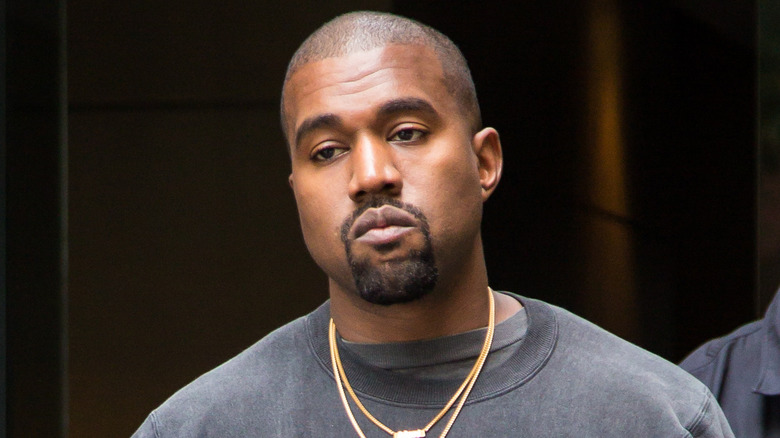 Liam Goodner/Shutterstock
"COME ON BILLIE WE LOVE YOU PLEASE APOLOGIZE TO TRAV AND TO THE FAMILIES OF THE PEOPLE WHO LOST THEIR LIVES," West wrote in the scathing all-caps post. He went on to say, "NO ONE INTENDED THIS TO HAPPEN TRAV DIDN'T HAVE ANY IDEA OF WHAT WAS HAPPENING WHEN HE WAS ON STAGE AND WAS VERY HURT BY WHAT HAPPENED AND YES TRAV WILL BE WITH ME AT COACHELLA BUT NOW I NEED BILLIE TO APOLOGIZE BEFORE I PERFORM."
Indeed, the rapper is threatening not to show up at Coachella until Eilish says "sorry" for her comment at her concert. 
Now, she is responding to West in the comments section of his Instagram. "Literally never said a thing about Travis. Was just helping a fan," she simply wrote (via People).
It seems many commenters agree with her take on the events, with star friends and followers weighing in on West's Instagram. "Man idk about this one bro," one person said. "She loves Travis in all reality," someone else commented. While there were thousands of comments to the post, this one stands out: "I'm sorry but she did not say anything wrong nor did she mention Travis by name. How can you turn her stopping the show to protect a fan's health into a bad thing??" Finally, another follower just said, "Delete this."