Nail Polish Brands That Are Overrated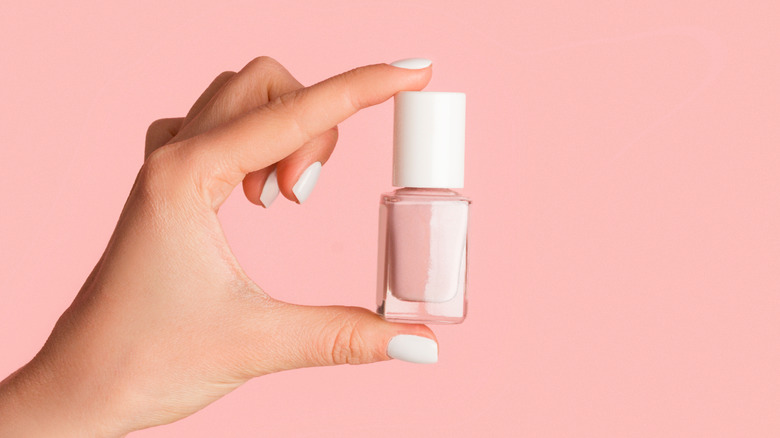 Prostock-studio/Shutterstock
We may receive a commission on purchases made from links.
Ah, the wonderful world of nail polish. While they might look absolutely gorgeous sitting inside the little glossy bottle, you never truly know what the actual formula is like until you crack open the bottle and give it a wear. Thankfully, there's an entire beauty community to share their reviews with you. While you likely have one or two favorites in your rotation — and we've decided our favorite nail polish, too — there are also some nail polish brands to avoid. 
When it comes to which nail polishes have the most bang for their buck, it's best not to judge by their prices. It turns out that some of the most expensive lacquer brands out there are the ones you should avoid, as seen on forums like Reddit, where people often discuss their opinions, trials, and tribulations on virtually everything. Ultimately, it's time to start looking past the pretty bottles and gorgeous colors, as you simply shouldn't bother wearing some polishes.
By all means, please buy what you'd like. But if you're looking for a polish judged solely on wear, there are some shopping tactics you should follow. Here are some nail polishes to avoid, unless you're just looking for pretty bottles to set out on your shelf. 
Designer nail polishes are all about the presentation
Just about everyone loves a pretty product. The oddly-shaped bottles and flashy names are, well, pretty darn appealing. We're all human, after all. But it turns out that, if you look past all the visual appeal and get down to the nitty gritty of the product, high-end nail polishes really aren't worth the money.
One of the flashiest nail polishes out there is the Christian Louboutin Rouge Louboutin Nail Polish. It also happens to be one of the most expensive, costing a whopping $50 per bottle. According to Cafe Mom, the ultra-pointy bottle of polish isn't actually worth the money when considering the product itself. The same goes for the equally quirky but a tad more affordable Gucci Vernis À Ongles Nail Polish. Customer reviews on Sephora's website have the overall consensus that, while the product is pretty, it chips pretty quickly.
There is one major reason to still buy these high-end, designer nail polishes, though: to collect. While some people want to buy them to wear, others might want to add it to their designer collection. And guess what? That's totally fine! Just know that what you're getting into if you're looking at these brands specifically to get some wear out of them. 
Reddit thinks Essie is overrated
This one is admittedly controversial, but hear us out. According to Reddit, Essie might just be one of the most overrated nail polish brands out there. This brand is specifically known for making nail polishes, and while this is their sole endeavor, purchasing from them may not be worth it. While the colors are gorgeous, some customers seem to have a bone to pick with the shades. It turns out that, according to reviews on Essie's website, even one of the most popular nail polish colors, Mint Candy Apple, has had inconsistencies with the shade. 
The formula has mixed reviews as well. According to reviews on Essie's website, the polish formula depends solely on the color that you're using. Despite the brand being known for their polishes — and only their polishes — it looks like the formula of some of the shades is much thinner than others. Consistency here would undoubtedly make consumers more likely to try new Essie shades.
Again, far be it from us to tell you what shades to buy and try. Just know that some of the best nail polishes you need to try have the lowest price tags. We're looking at you, Sally Hansen.