Here's What We Think Lose Yourself By Eminem Really Means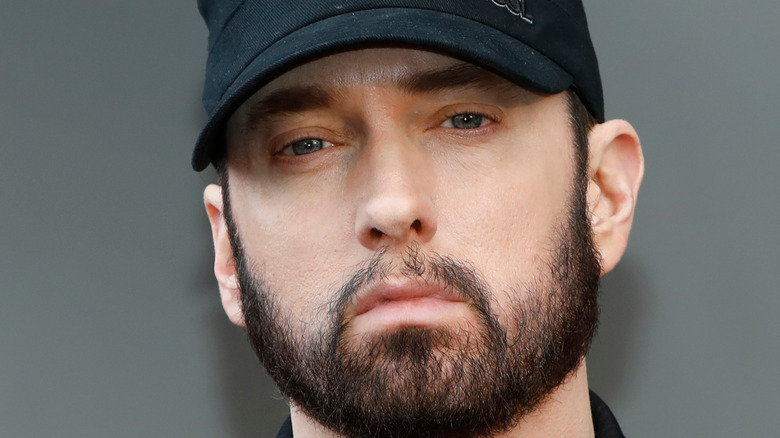 Kathy Hutchins/Shutterstock
Eminem fans rejoiced when they learned the Grammy Award-winning rapper will be taking the stage for the Super Bowl LVI Halftime show. "The Real Slim Shady" is set to perform alongside fellow rap legends Dr. Dre, Snoop Dogg, Kendrick Lamar, and Mary J. Blige (via NBC). Although he has tons of hits to choose from, including "Love The Way You Lie," "Without Me," and "Not Afraid," fans are hoping Eminem's performance includes his beloved single "Lose Yourself" (via Billboard).
This track earned the 49 year old his first No.1 hit on the Billboard Hot 100 chart. "Lose Yourself", which was the standout track from Eminem's biopic "8 Mile," won the rapper an Academy Award for best original song, MTV Video Music Award for best video from a film, and a Grammy Award. Nearly two decades after its release, "Lose Yourself" reached 1 billion streams on Spotify and remains a rap classic. So, what do the lyrics really mean?
Lose Yourself is one of Eminem's most vulnerable songs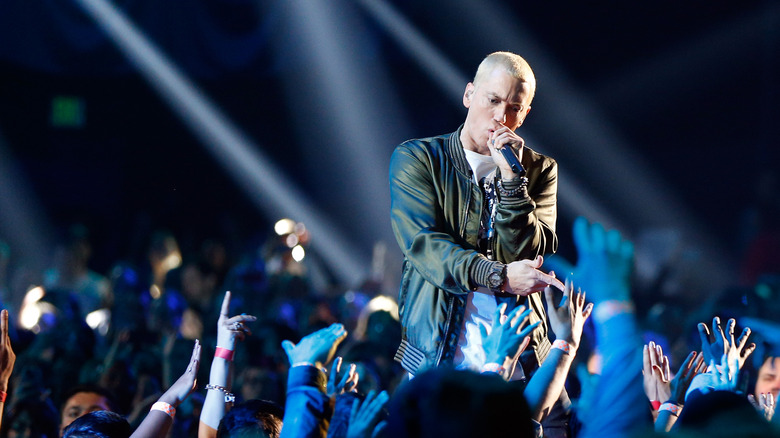 Christopher Polk/Getty Images
As the theme song for Eminem's biographical film "8 Mile," "Lose Yourself" serves as an exploration of the struggles the rapper faced in his pursuit of success. He opens the inspirational track saying, "Look, if you had one shot or one opportunity ... To seize everything you ever wanted in one moment ... Would you capture it, or just let it slip?" (via Genius). He proceeds to detail the obstacles he faced including, poverty, loneliness, and struggling to raise his daughter. In verse one he raps, " His whole back's to these ropes, it don't matter, he's dope//He knows that but he's broke." While verse two states, "God only knows, he's grown farther from home, he's no father ... He goes home and barely knows his own daughter." The chorus of the track expresses the importance of taking responsibility for your life and making sure you are prepared when your time to shine comes along.
Eminem sings, "You only get one shot, do not miss your chance to blow ... This opportunity comes once in a lifetime." Though Eminem's road to superstardom was littered with formidable obstacles, his success proves that anyone can achieve their dreams, if they work hard enough (via Showbiz Cheat Sheet). He closes his uplifting rap with the core message of "Lose Yourself". Eminem reminds listeners, "You can do anything ... You set your mind to."