Here's What We Think Still D.R.E. By Dr. Dre And Snoop Dogg Really Means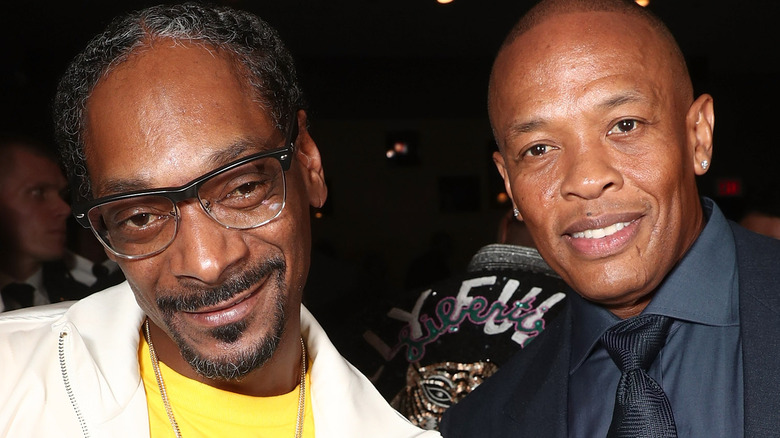 Todd Williamson/Getty Images
Fans of rap and hip-hop are going to absolutely love the halftime show at Super Bowl LVI on Feb. 13. While many are looking forward to what should be a great match between the Los Angeles Rams and the Cincinnati Bengals, others will be eagerly waiting to see music icons, Dr. Dre, Eminem, Snoop Dogg, Mary J. Blige, and Kendrick Lamar take the stage and completely blow the roof off the arena as they belt out their biggest hit songs, per Billboard.
All the performers have a number of huge hits to their names, and the group could pull out all the stops to perform any of their greatest hits. Fans are more than excited to see which songs the gang decides to sing during the show, and everyone has their favorites. Of course, one of the most beloved songs by Dr. Dre and Snoop Dogg is "Still D.R.E." and it seems that everyone is hoping to hear the tune during the halftime show, but do you know what the song is really about?
Dr. Dre reminded the rap world what he was all about in Still D.R.E.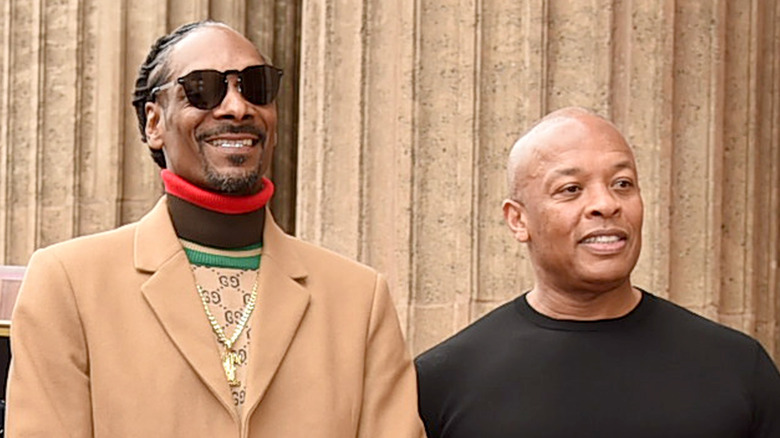 Kevin Winter/Getty Images
"Still D.R.E." is one of the most iconic rap songs ever. The opening beat is one that everyone seems to know, and instantly makes fans begin to dance. The dynamic piano notes hit hard, and so do the lyrics (via Billboard). The song was released on October 13, 1999 on Dre's sophomore album "2001." The hit marked just one of many collaborations between Dre and his protege, Snoop Dogg. The song was surprisingly written by rapper Jay-Z. However, it's all about Dre's return to music and how he'll always be relevant in the rap game while remembering his roots (via Song Meaning And Facts).
With lyrics such as, "I'm representing' for them gangstas all across the world ... Still Hittin' them corners in them low-lows, girl/Still takin' my time to perfect the beat ... And I still got love for the streets, it's the D.R.E.," Dr. Dre brags about his former success, and all he's done for the rap world, such as discovering Snoop and Eminem. The song was meant to remind everyone that the rapper is still here, as if we could ever forget.
It's unclear whether "Still D.R.E." will be played during the Super Bowl halftime show, but fans can't wait to find out.