Here's What We Think The Real Slim Shady By Eminem Really Means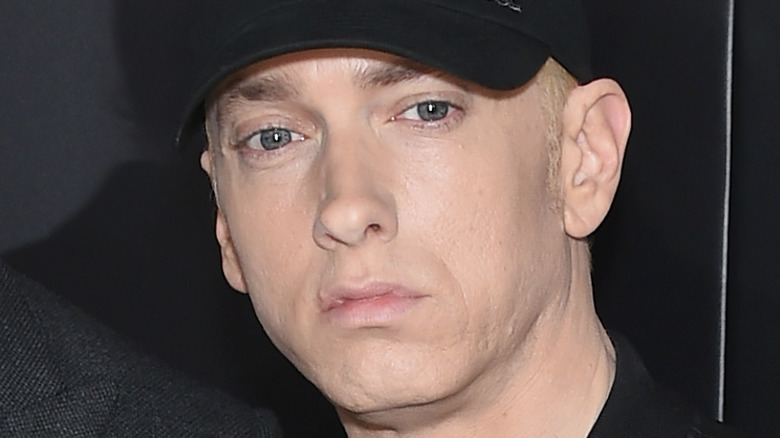 Dimitrios Kambouris/Getty Images
Fans are so excited to see Eminem reunite with his old friends Dr. Dre and Snoop Dogg for the Super Bowl LVI halftime show on Sunday, Feb. 13. The trio will team up with Mary J. Blige and Kendrick Lamar to rock the house as the Cincinnati Bengals and the Los Angeles Rams look to win the Lombardi Trophy (via Billboard). All of the entertainers have a plethora of hits that fans would like to hear, and while the gang is sure to bust out many fan-favorites during the performance, not all of their songs will be able to make the cut when it comes to the setlist.
Eminem, in particular, has a ton of hits that fans would love to hear during the halftime show, one of which is his beloved song "The Real Slim Shady" from the album "The Marshall Mathers LP" (via Rolling Stone). The track was produced by Dr. Dre, Tommy Coster Jr., and Mike Elizondo and still remains one of Eminem's biggest hits to date with it's biting lyrics and catchy chorus. But what is it really referencing?
Eminem called out imitators in The Real Slim Shady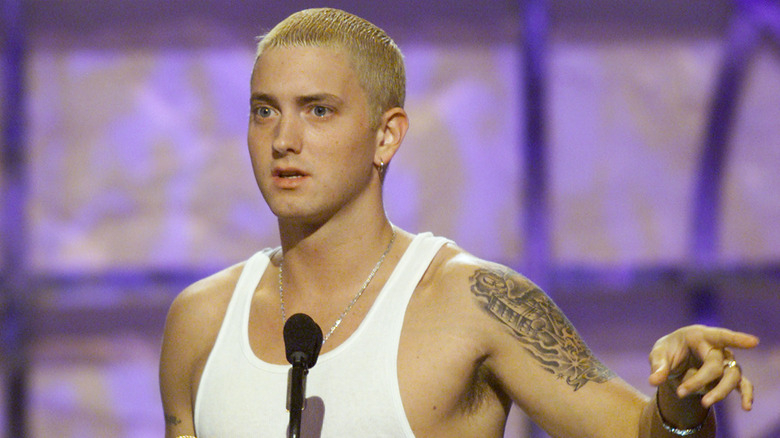 Kevin Winter/Getty Images
Eminem's "The Real Slim Shady" was released in May 2000, and fans immediately seemed to love the song. The track was written by Eminem, whose real name is Marshall Mathers, at the last minute before his album's release (via Song Meaning and Facts). The song became one of the rapper's most controversial tracks as he called out multiple celebrities such as Will Smith, Tom Green, Britney Spears, Christina Aguilera, Fred Durst, and Carson Daly.
The lyrics are also an attack on people who imitated the rapper, revealing that even though he had plenty of copycats, he was the original and best version. "I'm Slim Shady, yes I'm the real Shady ... All you other Slim Shadys are just imitating ... So won't the real Slim Shady please stand up? ... Please stand up, please stand up," the chorus states. The rapper even poked fun at his imitators at the 2000 MTV VMAs when he performed the song with a huge group of look-alikes following him around.
The tune was such a hit with fans that it went on to achieve multi-platinum status and reach No. 4 on the Billboard Hot 100 (via Song Meaning and Facts). Eminem also won the Grammy Award for the "Best Rap Solo Performance" for the track. The song was so huge that fans are now hoping to hear it again during the Super Bowl halftime show when the rapper takes the stage with Dr. Dre, Snoop Dogg, Mary J. Blige, and Kendrick Lamar.