A Bold And The Beautiful Producer Warns That In Two Months, The Show 'Will Never Be The Same!'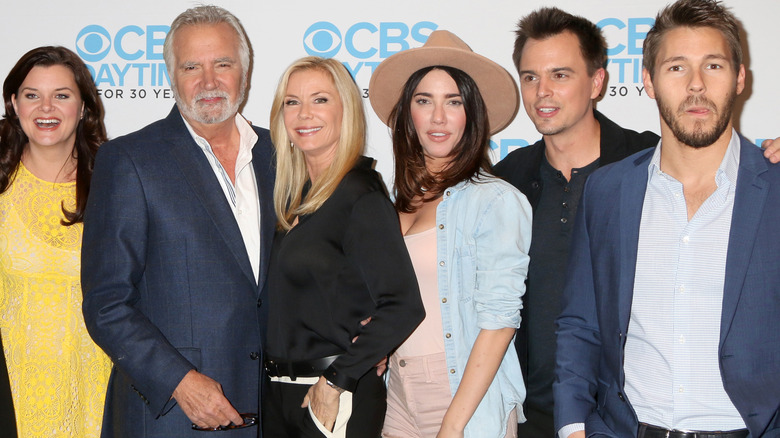 Kathy Hutchins/Shutterstock
The more things change, the more they stay the same on soaps. On "The Bold and the Beautiful" the same stories are often told over and over again with the same sets of characters, with just some of the scenarios changed up a bit to keep things interesting. For instance, Brooke Logan (Katherine Kelly Lang) always seems to kiss another man who is not her husband, Ridge Forrester (Thorsten Kaye), and he always seems to find out. Steffy Forrester (Jacqueline MacInnes Wood) and Hope Logan Spencer (Annika Noelle) are step sisters who often try to be friends although they fought over the same man for years, but they are now enemies again because Hope's mother, Brooke, broke Steffy's father, Ridge's heart once again.
That sounds like "B&B" needs to change things up a bit and that looks like exactly what might happen in the next few months as the soap approaches its big 35th anniversary milestone on March 23, 2022. On the January 28, 2022 episode of the YouTube show "Bold Live," supervising producer Casey Kasprzyk explained why.
What's happening on 'The Bold and Beautiful' in February 2022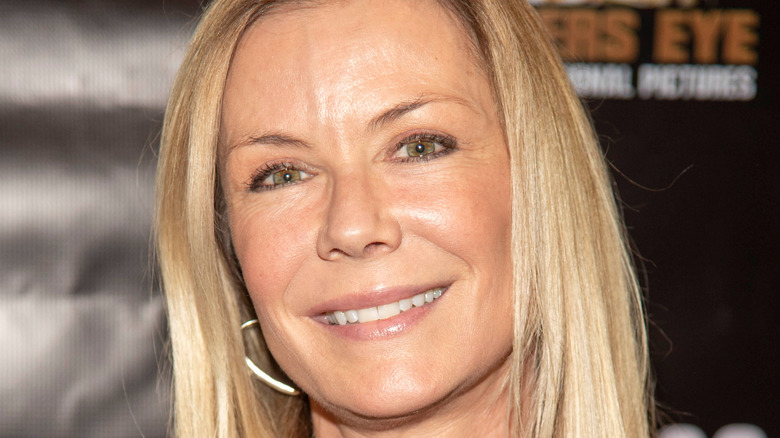 Eugene Powers/Shutterstock
As of this writing, Ridge Forrester just learned that Brooke kissed Deacon Sharpe (Sean Kanan) on New Year's Eve the same way she kissed Bill Spencer right before she and Ridge were about to renew their vows in 2020. A furious Ridge and Deacon got into a physical brawl and Brooke had to break it up. Meanwhile, Ridge and Brooke's children are also at one another's throats as Sheila Carter (Kimberlin Brown) enjoys the fact that her plan to ruin Brooke's life is working. And, when Ridge needs someone to comfort him, ex-wife, Taylor Hayes, is right there (via Soaps.com).
In addition, Paris Buckingham (Diamond White) has been relentless in pursuit of Carter Walton (Lawrence Saint-Victor), but Carter doesn't want to hurt Zende Forrester (Delon De Metz), who is in love with Paris. Paris' mother, Grace Buckingham (Cassandra Creech), has already warned Carter to stay away from her daughter (via Soaps.com). There is also an obvious attraction between Carter and Grace. However, it looks like all of this is about to change very soon.
A 'B&B' producer promises exciting things are on the way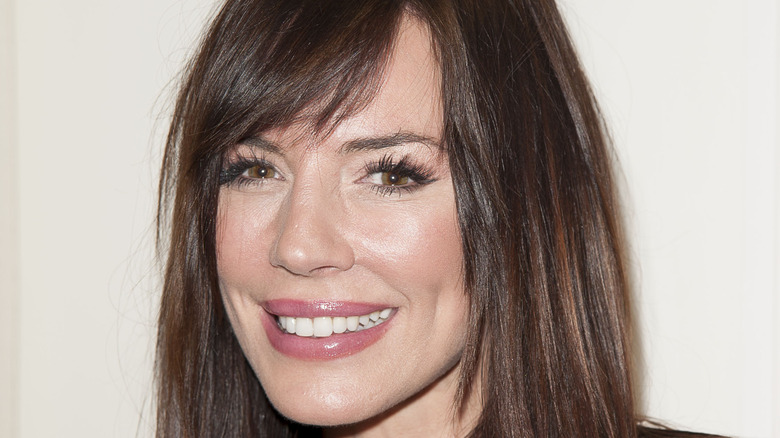 Lilly Lawrence/Getty Images
In addition to something very special that "The Bold and the Beautiful" has planned for its March 23 episode when it celebrates 35 years as a part of the CBS daytime lineup, there are also surprises in store that are meant to shake up the whole show.
"Let me just say that in about two months' time, 'The Bold and the Beautiful' will never be the same. That's all I can say," Supervising Producer Casey Kasprzyk said on the question and answer YouTube show "Bold Live." He also added, "But there's something really big that's going to be happening and ... I wish I can tell you, but I can't tell you, but when it does happen, we're going to have a lot to talk about. I mean, I might have to have a special 'Bold Live' just to catch up."
Even the soap's stars are starting to get shocked when they see their new scripts, with Krista Allen tweeting, "So... I watch 'The Bold & Beautiful' story unfold as scripts come in, just like y'all do when you watch the air shows," she explained, "and I just read the latest script, and ... OMG! Y'all are going to go nuts!," she wrote, "[The] writers are brilliantly dishing out some gold!"
So, what could be coming up that will change this long-running soap forever? Will it be a paternity secret? A new affair? A murder? Or, might it be something totally unexpected that will leave fans with their jaws dropped?