Joe Burrow's Super Bowl Entrance Has Fans Raising Their Eyebrows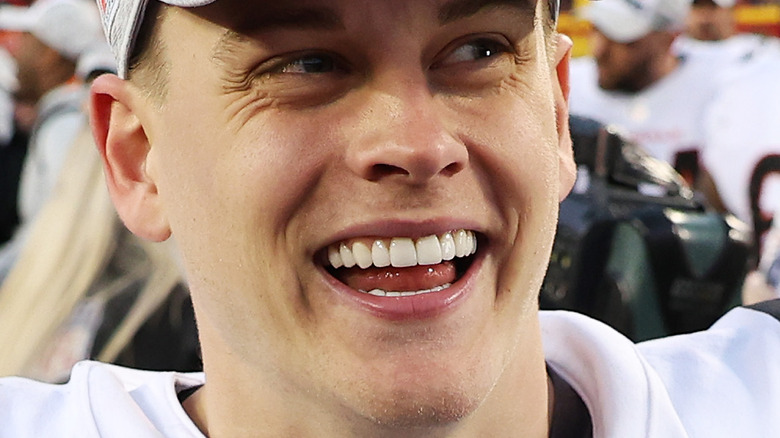 Jamie Squire/Getty Images
The Super Bowl is technically about football, but for a lot of us, there's more to the big game than just touchdowns and passing. Food plays a big role for sports fans and casual viewers alike. With food and beverage spending per individual estimated at 79 dollars, snacks matter to Super Bowl fans (via Statista).
Commercials are also a major drawing point for fans, but so is the gameday fashion. Between what you're going to wear to the Super Bowl party you're attending and what the stars of the game show up wearing, fashion is an underrated part of Super Bowl Sunday.
In the past, football players have taken their pregame fashions seriously. According to Sports Illustrated, players on the Denver Broncos worked with stylists to help them pick the perfect outfit for Super Bowl Sunday back in 2016.
As this year's Super Bowl rolled around, many fans thought the Cincinnati Bengals quarterback, Joe Burrow, should have taken stylist help as he rolled into the big game in a questionable outfit.
His Super Bowl outfit caused a stir
Burrow entered SoFi Stadium in Los Angeles in what NBC Washington called style but many fans begged to differ. Burrow's look was interesting, to say the least. He was wearing a black and gray Bengal-themed suit with a large hat and a pair of sunglasses. It was certainly a look!
Fans had a lot to say on the topic. One fan took to Twitter and simply sent out a gif that said "WTF." Another tweeted, "Is this man dressed as a d*mn Bengal?" However, some fans were totally on board with the look Burrow was serving. One fan said, "Joe Burrow makes anything look cool."
This isn't the first time Burrow's fashion choices have been called into question. According to the New York Post, his game-day attire has been a storyline throughout the season. He's known for wearing sunglasses without rims during post-game interviews, as well as rocking chains with turtlenecks. Fans can't get enough of the styles he brings to the table, even if some of them are a little bit questionable.