Twitter Is Freaking Out About The Royals Who Attended The Super Bowl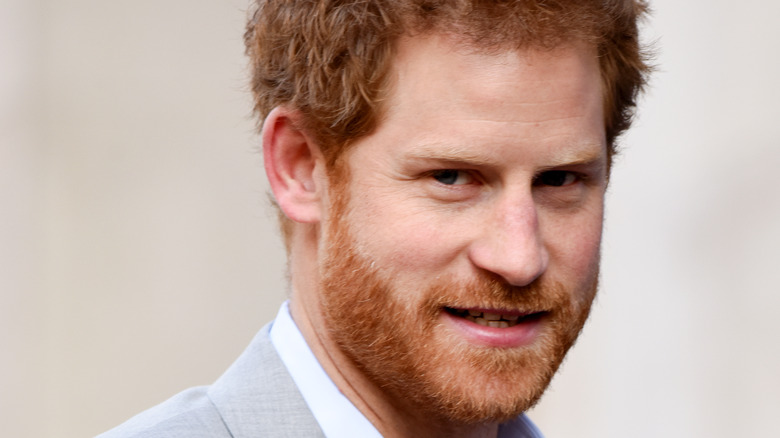 Bart Lenoir/Shutterstock
After Prince Harry and Meghan Markle chose to step away from the Royal Family and live full-time in California, their lives have looked much different. According to the Independent, they have kept their titles, but are staying out of any royal duties.
While leaving England has caused a rift in the family, one member has stuck by Harry and Markle (via Vanity Fair). Harry's cousin, Princess Eugenie, has been one of his closest friends since childhood. Now, she remains one of his closest allies in the family. Princess Eugenie has stood by her cousin through the controversies surrounding their royal exit. Markle is even close with Eugenie, telling People, "Eugenie and I had known each other before I had known Harry, so that was comfortable," she gushed. "We're friends with them as a couple."
In the book "Finding Freedom: Harry and Meghan and the Making of a Modern Royal Family," authors Omid Scobie and Carolyn Durand wrote about the special bond the cousins have shared since childhood. "Eugenie had always been more than just a cousin to Harry," the authors wrote, per People. "They were also the closest of friends. Out of all the Queen's grandchildren, Harry and Eugenie have one of the most natural connections. Like Harry, Eugenie is loyal, honest, and great fun."
Since Harry and Markle settled down in California, Princess Eugenie has come stateside to visit her family a few times (via OK! Magazine). Most recently, Princess Eugenie made the trip to California for a day out with her cousin. Harry and the Princess took a day trip to the 2022 Super Bowl!
Harry and his cousin were seen enjoying the big game
Fans of the Royal Family were shocked when they were watching the Super Bowl and saw Prince Harry and his cousin, Princess Eugenie sitting together at Los Angeles' SoFi Stadium (via People). While Harry has been a lifetime sports fan, the magazine reported that this is the first time the prince has been to a Super Bowl game. Though it is unclear which team Prince Harry was rooting for while attending the game, his wife has been a lifelong resident of Los Angeles, the home of the Rams. 
It seems the cousins were having an outing to themselves as the Daily Mail reported Markle was not at the game. Of course, fans were in a tizzy over seeing Harry and Eugenie at the big game.
Some fans were supportive. One wrote, "#PrinceHarry living his American dream ... good to see his cousin there with him #PrincesEugenie." Another fan said, "Love this Princess Eugenie has always had her [cousin's] back."
Others were doubting it was actually Harry. One fan tweeted, "That doesn't look like Harry's hair. Too long (recent pics have it pretty short) and, well, too much of it. Sure that's a recent pic?" Since then, eagle-eyed royal watchers confirmed that it was Harry, who seemed to enjoy the game.
Many other A-list celebrities were in the stands (and on the field) at the 2022 Super Bowl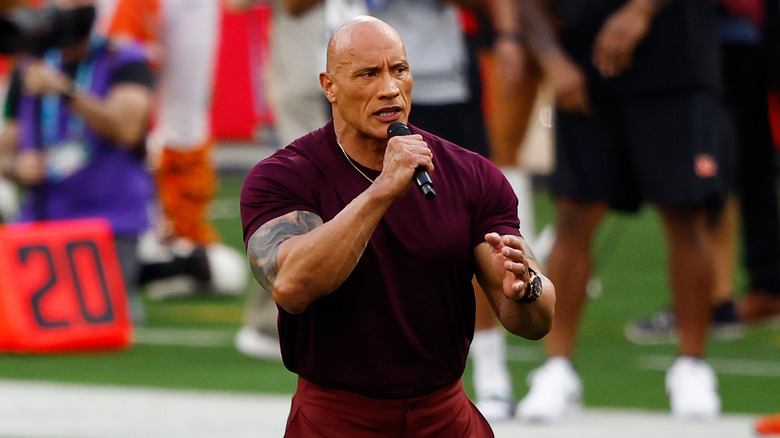 Ronald Martinez/Getty Images
Apart from Prince Harry and Princess Eugenie, many other celebrities were spotted in the stands at the 2022 Super Bowl on Sunday. Dwayne "The Rock" Johnson's surprise Super Bowl introduction received quite a bit of fanfare. "I worked my a** off for years and just knew I was going to will that dream to come true," Johnson captioned a photo of himself on Instagram walking into the Los Angeles Rams' stadium, referencing his failed attempt at pursuing a professional football career. "I failed and none of it happened. Just wasn't my journey. Now, years later, life has come full circle as I will stand on the 50 yard line at the Super Bowl — and galvanize, bring together and electrify 80,000+ passionate football fans who love the game like I do. Funny how life works sometimes. My football dreams failed, but many years later — they kinda came true. In a much bigger and more influential way."
Eagle-eyed fans might have also noticed several other celebrities lounging in the stands, like Nina Dobrev, Sean Penn, LeBron James (who was even caught on camera dancing to 50 Cent's halftime performance), Vanessa Bryant, Ciara, Jay Z (he adorably attended the game with his daughter, Blue Ivy), Will Ferrell, Ryan Reynolds, Matt Damon, Mark Wahlberg, Justin Bieber, and many more. Ben Affleck and Jennifer Lopez were even caught snuggling close to one another during the big game, per People.
Given that the 2022 Super Bowl took place in Los Angeles, the home of many celebrities, it makes sense to many that so many A-listers were in attendance.