The Super Bowl's Tupac Shoutout Has Fans In A Tizzy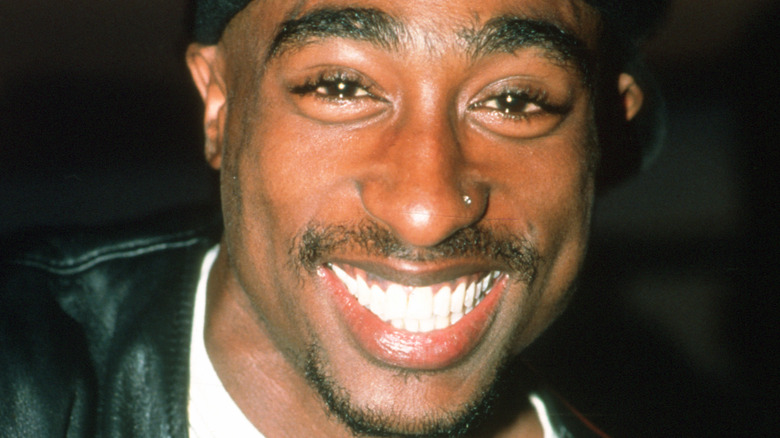 Al Pereira/Getty Images
The Super Bowl LVI Pepsi halftime show featured an iconic lineup of some of the best hip hop artists of the '90s. Dr. Dre, Snoop Dogg, Eminem, Kendrick Lamar, and Mary J. Blige took the field at SoFi Stadium with a surprise appearance from rapper 50 Cent. Missing was the late West Coast rapper Tupac Shakur, and some fans hoped to see a holographic performance from him as a surprise guest appearance during the festivities, Sportskeeda reported. The Coachella Music Festival in 2012 featured a holographic performance of Tupac alongside headliners Dr. Dre and Snoop Dogg, so many people hoped to see a reprisal of that somewhat controversial moment. But, of course, the hope of a repeat ended when 50 Cent dropped down and started rapping "In Da Club" — a song that Dr. Dre produced. 
The New York Post reported that Dr. Dre and Snoop Dogg opened up the show with "The Next Episode." Later, the duo teamed up on "California Love." However, instead of a hologram of Tupac performing the song, Snoop Dogg took over with Tupac's part of the track. Fans had a lot of feelings about the halftime show and its nods to Tupac. 
Here's how Dr. Dre paid tribute to Tupac during the Super Bowl halftime show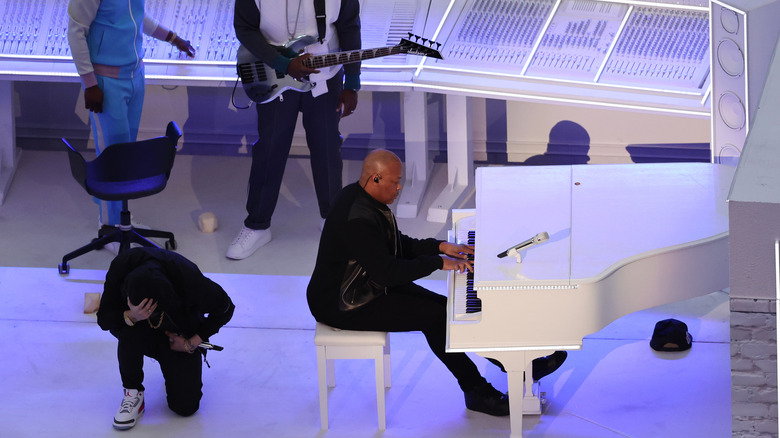 Gregory Shamus/Getty Images
After Eminem finished his smash hit "Lose Yourself," he took a knee while Dr. Dre played the intro of Tupac Shakur's "I Ain't Mad At Cha" on a white grand piano. According to Bustle, the moment was a subtle, poignant tribute to the rapper who died in 1996. Fans appreciated the moment, and many felt sad that Tupac wasn't alive to be part of the show. However, others felt somewhat let down that the rapper's controversial hologram didn't join in the performance. 
"For a split second, when DRE started playing the I aint Mad at Ya melody, I thought the Tupac Hologram was bout to start performing," tweeted one fan. 
Elie Mystal tweeted a simple statement after the halftime show. "I miss Tupac," he wrote. Thousands of fans liked the sentiment, with several noting that the late rapper was the only part missing from the show. 
Skip Bayless also joined the conversation. He tweeted, "ALL-TIME CLASSIC: Dre doing "California Love" at LA's Super Bowl. If only Tupac could've been there alongside Dre and Snoop. West Coast." Tens of thousands hit the like button in agreement.