How Much The Trumps Really Spent On Lara And Eric's Wedding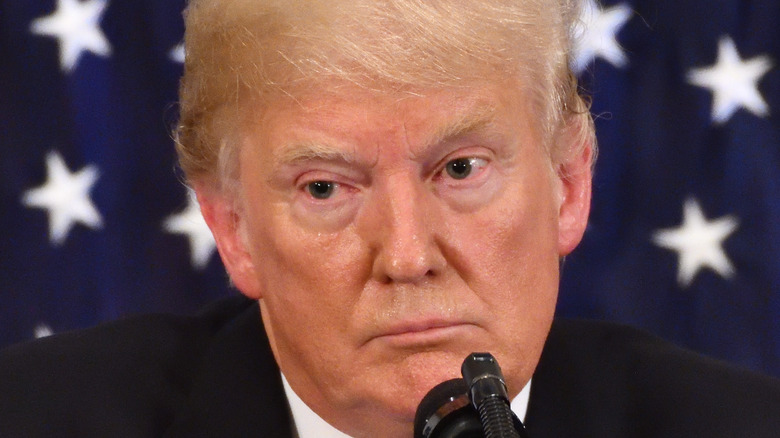 Evan El-Amin/Shutterstock
Donald Trump, former president of the United States and the current president of the Trump Organization, a collection of family-owned businesses, is a man well-known for opulence and extravagance. During Trump's presidency, The Independent reported that the Trump family's expensive lifestyle had huge implications on the U.S. Secret Service. Specifically, an extra $60 million was incurred on account of the first family. Of course, it's only normal that this didn't go down well with some members of the public, with criticisms being thrown at the former president for wasting public funds.
As a businessman, Trump has struck important deals and remains a rich man by all standards. The former president has been classified as the richest U.S. president in history, with an estimated net worth of $2.5 billion, per Forbes. With a record like this, one expects that the wedding of Trump's third child and second son, Eric Trump, would be all shades of luxury and glam. As it turns out, this was exactly the case.
What was the real cost of Lara and Eric's wedding?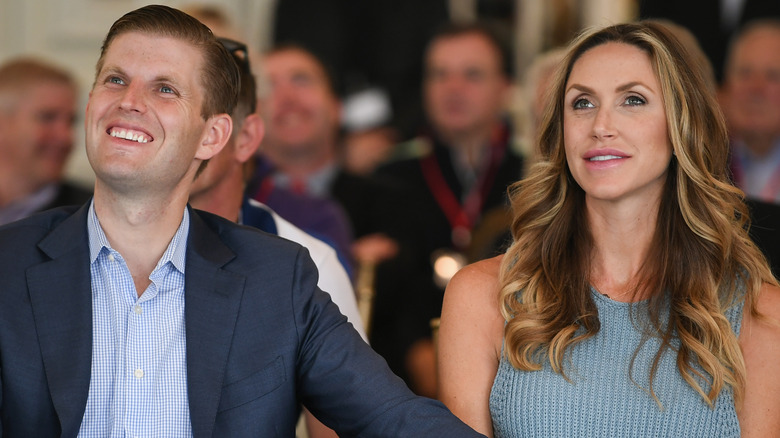 Jeff J Mitchell/Getty Images
Lara and Eric Trump had been together for five years before tying the knot in 2014 following Eric's big proposal. The couple ultimately got married at the Trump-owned Mar-a-Lago Club in Palm Beach, Florida. There, they hosted 450 guests, and Lara wore a custom Vera Wang wedding gown. In fact, Vera Wang dresses are expensive and unique, costing as much as $25,000 each (via What It Costs). Furthermore, it's likely that Lara's custom-made outfits cost more than the average dress. Her wedding dress was accompanied by drop earrings, per Daily Mail, while her engagement ring reportedly came from sister-in-law Ivanka Trump's jewelry line. Where Ivanka's jewelry once cost upwards of $10,000, her line now sells more affordable pieces, per W Magazine.
Wedding Style Magazine notes that, for the reception, the bride wore a dress by Inbal Dror, which can cost as much as $10,250 (via Still White). The reception ceremony was held under a unique canopy of roses and hundreds of dangling crystals, reflecting the last light of the day, while guests had their fill from a breathtaking buffet. Based on estimates from Value Penguin, which breaks down average wedding costs for a variety of aspects, such as venues, it's clear that a wedding like Lara and Eric's could not have come cheap. However, it's difficult to be certain about the extent of Donald Trump's financial contribution to the wedding, apart from the fact that his property was used for the ceremony.