These Two Rams Players Have More Than Just A Super Bowl Victory To Celebrate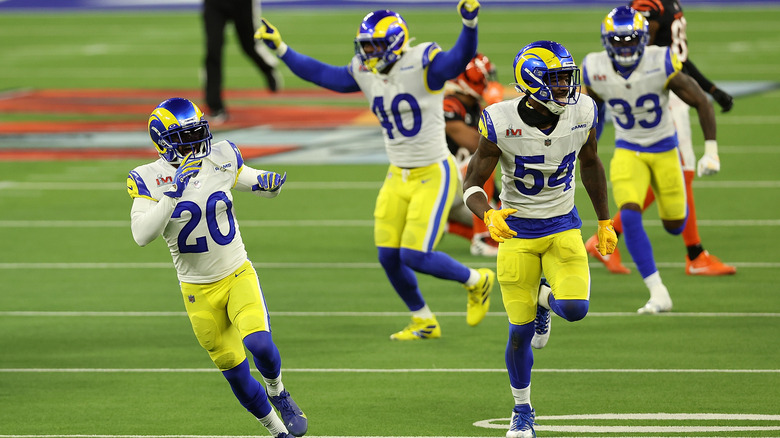 Rob Carr/Getty Images
The Los Angeles Rams had plenty to celebrate last night when they became Super Bowl winners. But two players added other huge life milestones to the evening, with one becoming a new dad and the other getting engaged!
Wide receiver Van Jefferson's wife Samaria shared a super-pregnant photo of herself with her husband and their daughter Bella in the days leading up to the big game. And low and behold, the expectant mama went into labor during the matchup according to the New York Post. In the hours after the game, Jefferson shared a picture of himself enjoying skin-to-skin time with the couple's second child to his Instagram Stories.
"It was a great day, bro. I got three prizes today — my wife, my son and the Super Bowl," he captioned the shot. And it seems the baby's birthday was meant to be and maybe not a surprise at all for the Jefferson family.
Meanwhile another Rams player has a new fiancé
Jefferson must have had a hunch Sunday would be the day her baby made his grand entrance, telling The Athletic just recently, "Just like any other game, I'm going to be there this Sunday and I'm going to stay calm ... and pray to God my water doesn't break. I am 100% going to be there. I would not miss this moment for anything. I will be 40 weeks pregnant at the Super Bowl, supporting my husband 100%" (via SI).
Rams safety Taylor Rapp also had big news to share with fans other than his Super Bowl victory. The star player asked his longtime girlfriend Dani Johnson to be his wife just moments after his team prevailed over the Cincinnati Bengals on Sunday night (via AOL).
You can see the sweet proposal in a video posted to the Rams Instagram page. "MORE THAN ONE RING TONIGHT! CONGRATS," reads the caption to the short clip featuring Rapp getting down on one knee and asking Johnson for her hand in marriage. Happily, she said "yes," clearly overcome with emotion.
Comments to the post were very congratulatory, but as one fan joked, "Happy for him. Wonder what the backup plan was thou lol." And someone else commented, "What if they would have lost."
According to AOL, the couple started dating in high school. No word yet on what the wedding details are but we join fans in wishing the newly-engaged duo much happiness ahead!