TikToker Notices Heartwarming Detail During Snoop Dogg's Halftime Performance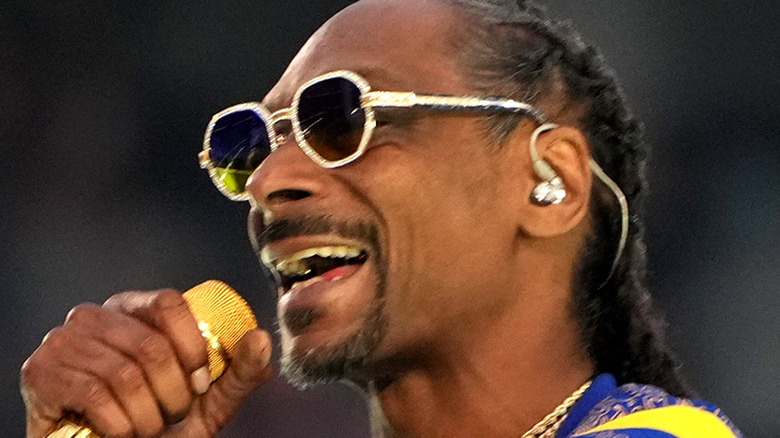 Kevin Mazur/Getty Images
This year's Super Bowl LVI saw the Cincinnati Bengals take on the Los Angeles Rams, with the Rams besting the Bengals 23 to 20 (via CBS Sports). But we all know that a good chunk of the people tuning in are doing so to catch the halftime show, and this year was no exception.
In what some have called a "elder millennial and Gen X dream," the 2022 Super Bowl halftime show found Snoop Dogg, Dr. Dre, Mary J. Blige, Eminem, and Kendrick Lamar — as well as surprise guest 50 Cent — performing what many considered to be an all-time tribute to the Golden State (via The Root).
Despite being one of the most famous rappers of all time, even Snoop Dogg admitted to the New York Post he was humbled by the opportunity to perform at the Super Bowl, in his home state, no less.
"I'm still thinking I'm in a dream because I can't believe that they will let a real hip-hop artist grace the stage in an NFL Super Bowl," Snoop Dogg explained. "We're just going to wait for that moment and put something together that's spectacular, and do what we're known for doing and add on to the legacy."
That said, Snoop Dogg wasn't worried about the pressure getting to him.
"While it's happening, I'm in the zone. I'm stuck to the script, laser focused, being on point, sounding good, looking good and feeling good. I want to give off a great presentation," he added.
Snoop Dogg honored his late mother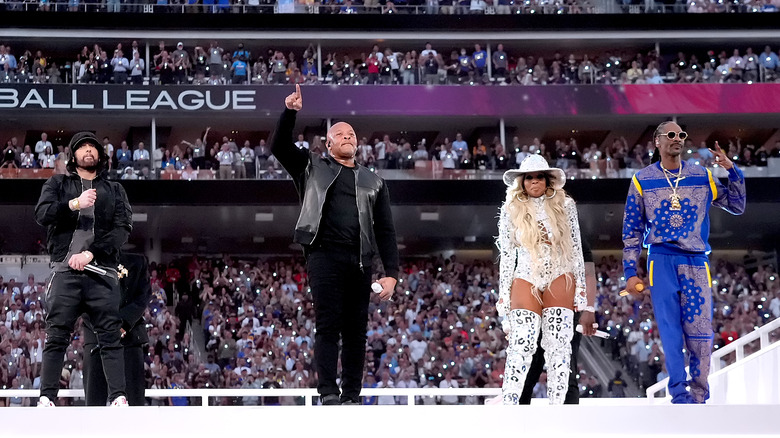 Kevin Mazur/Getty Images
In October, Snoop Dogg shared the sad news that his mother, Beverly Tate, passed away (via ABC7).
"Mama thank u for having me," the rapper captioned a picture of him with his late mother on Instagram. The rapper posted additional pictures of Tate, writing "Thank u god for giving me an angel for a mother," and "till we meet again."
At one moment during the Super Bowl halftime show, Snoop Dogg performed in front of a picture of him with his mother — and the audience was quick to notice.
"I'M SOBBING ... Did y'all peep the photo he had up of his momma while he was performing," one TikTok user shared, adding, "His mom would of [sic] been so proud."
Another fan took to Twitter to add how emotional the moment made them, writing, "I hate football [and] don't give a damn about the Super Bowl but I watched the halftime show this morning after hearing how amazing it was. That pic of @SnoopDogg w/ his mom got me [crying emoji] right out the gate [and] I continued to cry for the next 13 minutes."
Certainly, the rapper's mother couldn't have been far from his mind during the performance, and he helped ensure the rest of the world knew of their close bond.