Rosario Dawson And Cory Booker Call It Quits On Their Relationship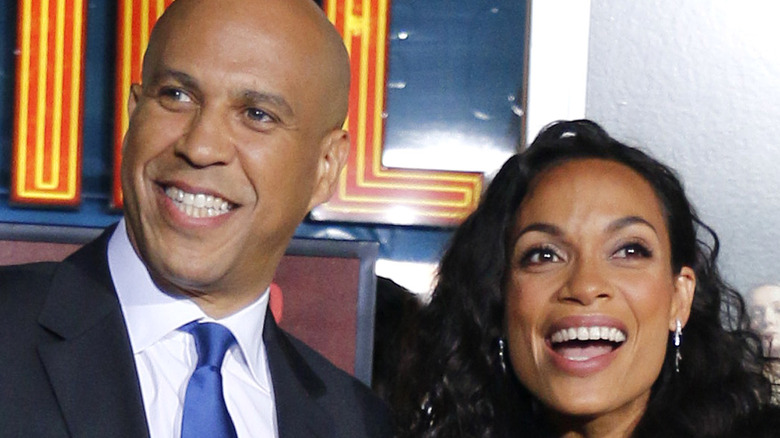 Tinseltown/Shutterstock
Back in 2020, Senator Cory Booker found himself in very crowded presidential field, with a number of Democrats like Kirsten Gillibrand, Elizabeth Warren, Pete Buttigieg, Bernie Sanders, and many, many more throwing their hats in the ring before former Vice President Joe Biden ultimately became the victor (via Washington Post).
And although Booker was not victorious in the primary, there are some who would still consider him the luckiest man in the world — or at least, for a time, as he was fortunate enough to be in a relationship with "Rent" actress Rosario Dawson (via Oprah Daily).
The pair first met — like so many couples do — at a party hosted by a mutual friend.
"Ben Jealous is his name, former head of the NAACP," Booker explained of his first run-in with Dawson back in 2018. "And we met at that party, and she didn't give me the time of day. She gave me serious shade. But then we re-met at another friend's party. Months later, both of us were single at the time, and it was the roof party of a dear friend, and I had the courage to walk up to her and ask for her phone number."
Booker would later confirm the relationship on the radio show "The Breakfast Club" in February 2019, saying, "I got a boo."
The end of the road for Booker and Dawson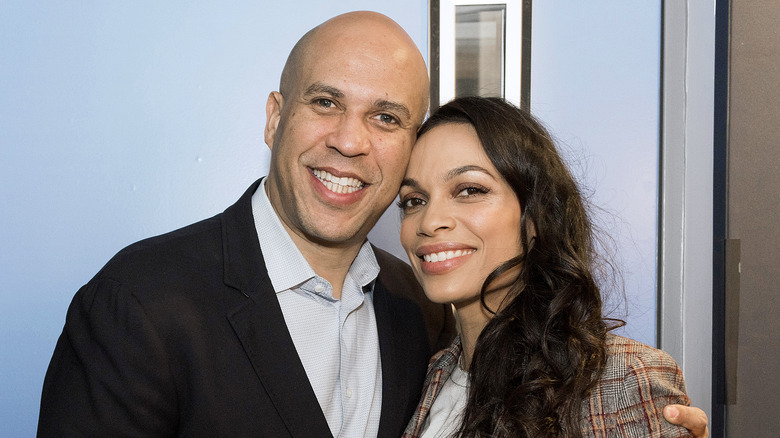 Bonnie Biess/Getty Images
Sadly for Booker and Dawson, the pair reportedly weren't able to make it work, splitting after close to three years together (via People).
According to a source, the couple is no longer together, but they remain "good friends." It's not clear why Dawson and Booker ended things, considering the pair took the leap to move in together — a big step for each of them, as neither had lived with a significant other prior.
"I have not done that, really, as a bachelor, where I actually sit at a table and just, like, breathe and eat a meal," Booker said of the adjustment to co-habitating. "And just set a table — I can't tell you how rarely do I set the table as a bachelor, you know, as a guy living alone. So it's just really nice to set a table, have somebody to say grace with, before a meal. It's just those small things really are, I'm finding, incredibly enriching."
Dawson also voiced support for Booker's political career, casting her vote for him when he ran for re-election in New Jersey.
"So proud of and grateful for you, my love. I got to vote for you here in New Jersey and am so glad that you overwhelmingly and rightfully won your seat again," Dawson's Instagram post read.
Although Dawson and Booker are no longer together, perhaps their friendship can once again grow into more.