How RuPaul Really Feels About Lip Sync Battle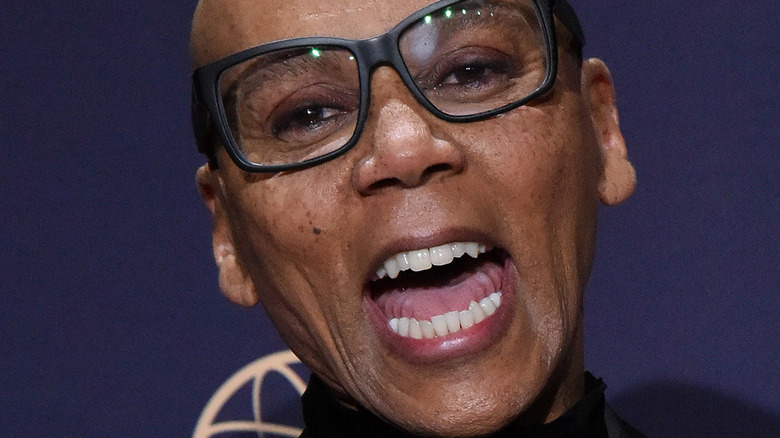 Kathy Hutchins/Shutterstock
Few television shows are airing now that have had the jump in fanfare the way "RuPaul's Drag Race" has. While the show was once a niche market on the Logo network catering primarily to the LGBTQ+ community, the show has reached mainstream (via NME). The show increased its premiere ratings by nearly 600,000 between Season 7 and Season 9. The competition reality show has reeled fans in and is now seeing its contestants soar to fame.
Former contestants on "Drag Race," like Trixie Mattel and Bianca Del Rio have seamlessly transitioned to mainstream stardom (per Screen Rant). Del Rio, who has a movie filmed with actress Rachel Dratch, and Mattel who has everything from her own albums, to a makeup line, have made it look easy.
While "RuPaul's Drag Race" was once a small market show, it has blown up in recent years. So much so, in fact, that RuPaul himself thinks other shows have copied pieces of "Drag Race."
RuPaul thinks the show is ripping off "Drag Race"
Lev Radin/Shutterstock
There's a show on Spike TV that many believe has taken some ideas from "RuPaul's Drag Race." "Lip Sync Battle " is a show that features popular celebrities lip syncing to popular songs (via Complex). The idea was a popular segment on Jimmy Fallon's "The Tonight Show" that got its own spot on the network.
If you're a fan of "RuPaul's Drag Race," you know the idea of a lip sync battle well. When two queens are up for elimination on the show, they face off to a hit song to fight for their spot in the show. Whoever wins gets to stay, while the other queen is eliminated (via Bustle).
RuPaul feels the show "Lip Sync Battle " is a "cheap rip-off" of the elimination format on "Drag Race" (via The Richest). Drag queens have always been known for their lip sync performances, so it's no surprise the show features this process for elimination. Ru finds it frustrating to see a show made by non-LGBTQ+ members taking the idea and making their own show out of it.