The Shady Truth About Eteri Tutberidze, The Russian Figure Skating Coach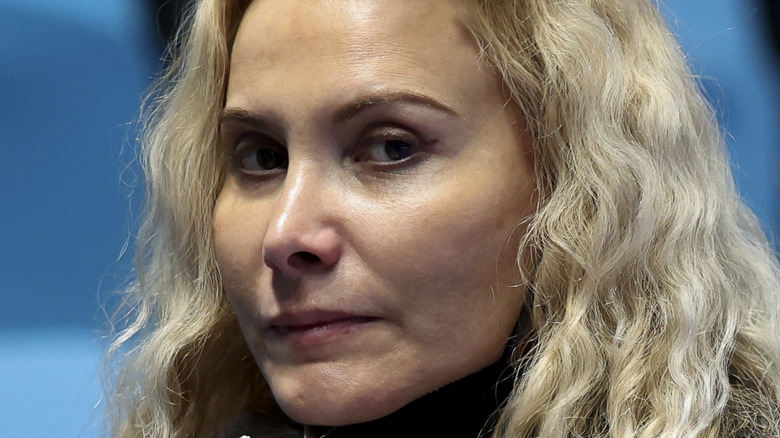 Jean Catuffe/Getty Images
The Winter Olympics are already proving to be more controversial than anyone could've imagined, even outside of the fact they're taking place in China. As the BBC reports, Russian figure skater Kamila Valieva found herself at the center of a major scandal after she tested positive for a banned substance. As a result, despite Valieva leading her team to victory, while becoming the first female skater to land a quadruple jump at the Olympics in the process, the 15-year-old never actually received her gold medal. 
Valieva has been cleared to compete in the remaining events and remains the favorite to win the women's individual figure skating contests. She's already a world record holder and landed at the Winter Olympics after winning both the Russian and European championships in 2021. "I've probably been telling my mom since I was three, 'I want to become an Olympic champion!'" the talented youngster enthused. 
However, the doping scandal has raised serious questions about not just the Russian figure skating team itself, but the adults running the show, and particularly the woman coaching these young athletes to victory. Although Valieva gushed that coach Eteri Tutberidze was the best woman for the job, in an interview with Russian magazine La Personne, her strenuous methods have been heavily criticized.
Eteri Tutberidze is known for her harsh coaching style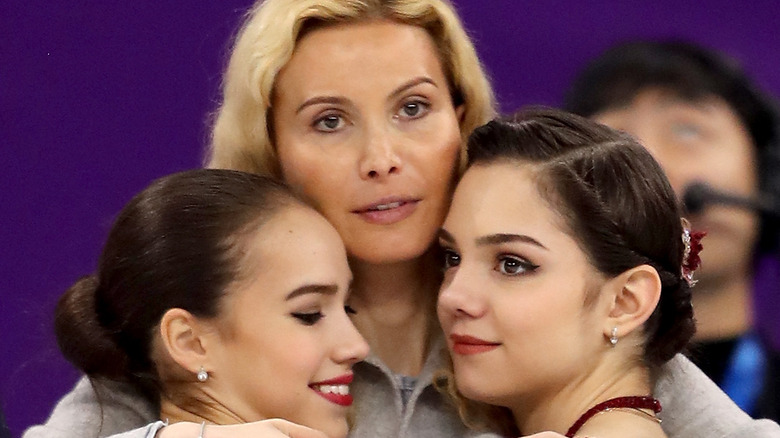 Richard Heathcote/Getty Images
As the Associated Press notes, Eteri Tutberidze, the Russian figure skating coach who's front and center at the Winter Games, typically cedes the spotlight to her athletes. However, her reputation precedes her. Tutberidze's skaters are known for landing jumps no other competitors can manage, but her harsh coaching style is just as storied. Many of Tutberidze's charges retire when they're still teenagers, and they tend to suffer devastating injuries along the way, too.
Per Newsweek, Tutberidze originally dreamed of being a professional skater herself, but her career was derailed by injury. These days, she's known for heading up a Russian dynasty of Olympic medal winners but, behind the scenes, Tutberidze pushes young women beyond their limits and closely monitors their weight too. Olympic medal winner Yulia Lipnitskaya notably retired at 17 and subsequently admitted to a lifelong struggle with anorexia, while fellow champion Alina Zagitova told Russian Glamour there were times during training where the girls weren't even allowed to swallow water.
Business Insider confirms that Tutberidze has been heavily criticized for essentially trading her charges' health for gold medals. In fact, Russian women didn't start winning top prizes at the Olympics until she became head coach in 2013, and have been dominating ever since. Former skater Surya Bonaly, who now works as a coach herself in the States, put it very simply: "It's good to win medals, but you don't want to be traumatized for the rest of your life."