Inside Dr. Dre And Eminem's Friendship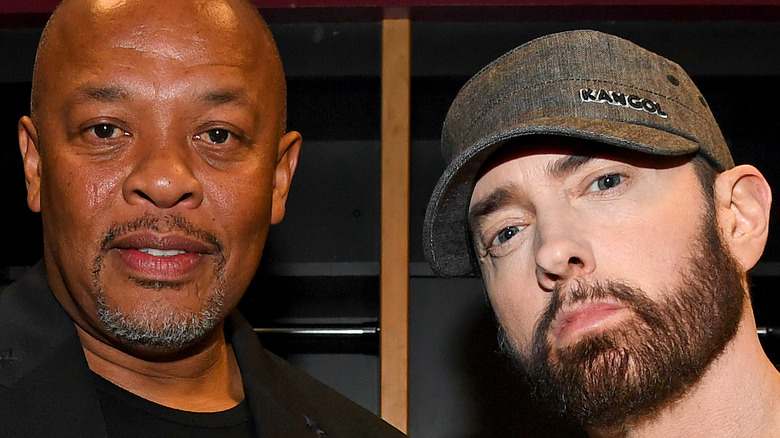 Kevin Mazur/Getty Images
Almost everyone knows the names Eminem and Dr. Dre, especially those who are fans of rap music. Eminem, aka Slim Shady, is a rapper and was named by Nielsen Music as the best-selling U.S. artist of the 21st century, according to HipHop 24x7. Known to many as the "Rap God," Eminem is responsible for helping to popularize mainstream hip-hop, and is also well known for his controversial lyrics and unique rap style. Of course, you can't talk about Em without referencing all the intense feuds he has had with practically everyone he's come across, including Snoop Dogg and Machine Gun Kelly.
Despite all of his success, no one would have heard the name Eminem without Andre Romelle Young, aka Dr. Dre, the Grammy award-winning music producer, American rapper and entrepreneur. If his name sounds familiar, it's because, along with his other accomplishments, he is one of the co-founders of Beats by Dre, the popular brand of headphones and speakers. According to Rolling Stone, Dr. Dre was one of the integral figures of the gangster rap era. Just like his protégé, Snoop Dogg, he has managed to shed that image almost entirely in recent years.
Amongst all of the things Dr. Dre has achieved for himself, and for all the status and reverence he commands in hip-hop circles, his unique friendship with Eminem still remains one of the best and most fascinating aspects of his story. 
Eminem and Dr. Dre's friendship is still going strong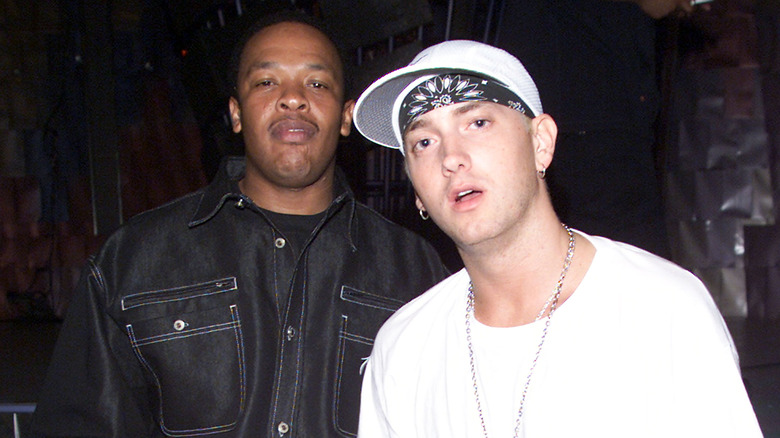 Frank Micelotta Archive/Getty Images
Dr. Dre actually played a huge part in Eminem's success in the music industry. Not only has Eminem's path to the industry been paved by Dre, the record label Eminem is signed to, Aftermath Entertainment, is actually co-owned by Dr. Dre. The pair took their collaboration out of the studio and into the boardroom after several years of collaboration. Shady Records, which was founded by Eminem, co-signed 50 Cent in a 50-50 deal with Aftermath Entertainment. Initially, Dr. Dre had his doubts about signing 50 Cent in 2002, but Eminem convinced him to do it anyway.
The friends were also bonded by a tragic event. In 2007, Eminem fell victim to substance abuse. He later admitted himself into a rehab center and announced his journey toward sobriety in 2008. The timing coincided with the unfortunate death of Dr. Dre's son due to an accidental overdose, per The Things.
At the beginning of Eminem's career, he was faced with an uphill battle, as he struggled to establish himself in the rap genre. When Dr. Dre heard his music, though, he was impressed by the Detroit native's skills (per LA Times). Over the years, the two continued to collaborate professionally, and they cemented a lifelong friendship in the process.
The friends were seen together at the 2022 Super Bowl halftime performance. Together with Snoop Dogg, Kendrick Lamar, 50 Cent, and Mary J. Blige, Dr. Dre and Eminem gave a memorable performance that took social media by storm.