The Truth About Figure Skating Duo Anastasia Mishina And Aleksandr Galliamov's Relationship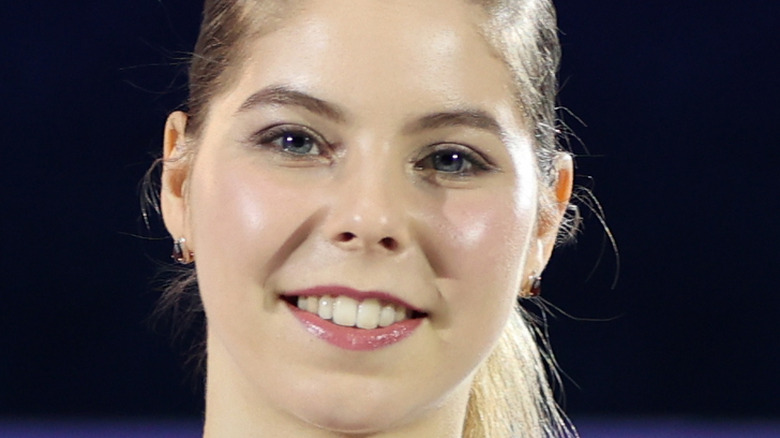 Epsilon/Getty Images
Reigning world champions Anastasia Mishina and Aleksandr Galliamov are now gold medal Olympians in pairs figure skating, and their performance on the ice in Beijing proved these two Russian skaters are a team worth cheering for. The duo's showing in the 2022 Olympics free skate was "nearly flawless" until Galliamov lost his footing during a lift, which caused both skaters to crash to the ice, according to Yahoo! Sports. Showing no sign of injury, they immediately got back up again and finished their routine, completing the lift and earning a first place victory. 
The fall was so violent, social media users were alarmed and amazed the duo managed to pick themselves up. One user tweeted: "HOW?!?! That was scary to watch. He dropped her body on the ice, he fell and hit his head on the ice, but it was only a 'small tumble' that still took 1st over everyone else??? Umm ... no! But I do hope that they've been checked out by medical staff."
Despite a doping controversy that has impacted some Russian athletes during the Olympic games (per the BBC), Mishina and Galliamov have managed to win plenty of fans, many of whom might be curious about the duo's relationship.
They've been skating partners since 2017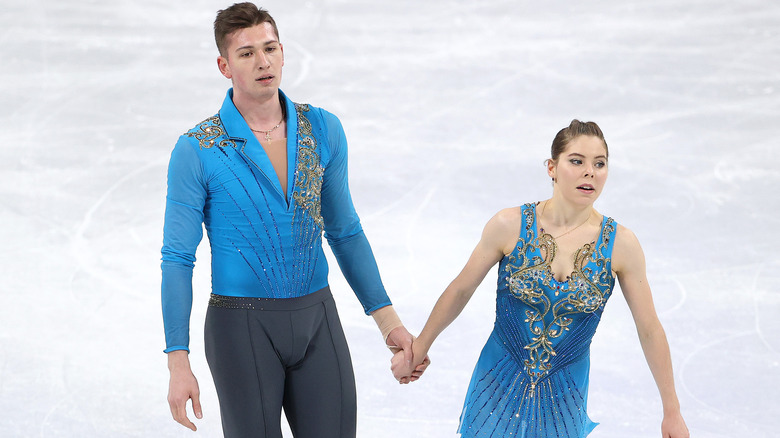 Jean Catuffe/Getty Images
Anastasia Mishina, 20, began skating when she was 4 years old, and her love of the sport led her to compete as a junior with partner Vladislav Mirzoev, according to Golden Skate. She and Mirzoev earned a silver medal in the 2016 World Junior Championships, but disagreements between the two led them to end their skating partnership. Their mutual coach suggested Aleksandr Galliamov as a new partner, and Mishina and Galliamov teamed up in 2017, winning the title at their first international event. He told FS Gossips, "We trained on the same ice. I was 14 when I switched to pair skating, and Nastya was 12. Before her, I had two partners, and for another year I skated alone, learning pair elements."  
While no romance has ever been noted between the two, it's obvious they have a strong friendship. Mishina told FS Gossips they make all decisions together, and Galliamov said, "Apparently, we are made for each other." In a 2022 interview with FS Gossips, he explained they have progressed in figure skating because they share "a fighting character ... If something doesn't work out, we don't give up."