The Best Ways To Keep Your Highlights From Turning Yellow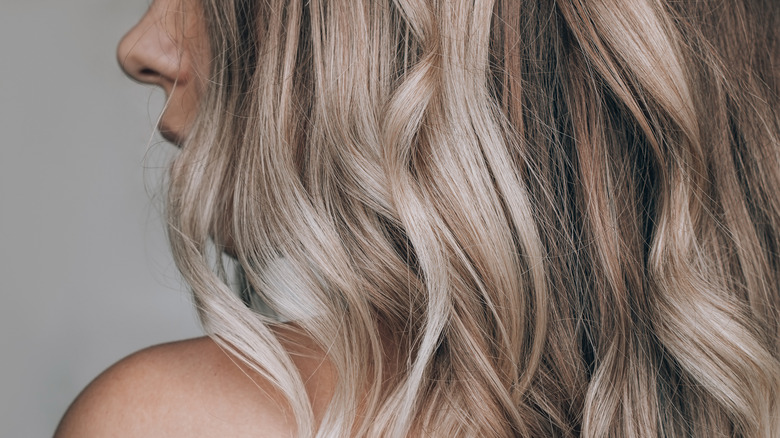 Marina Demeshko/Shutterstock
Highlights are always in. Whether you want to lighten your hair a little, add some sun-kissed highlights to frame your face, or get chunky balayage to add texture to your hair, adding different tones to your hair with lighter colors can add dimension to all hair types. Strategically placed baby highlights can enhance your cut, and adding choppy tones of gold and caramel can brighten your complexion and even make you look younger. "Warmth is back for 2022," colorist Matt Rez told Allure. Moreover, adding a few — or extra — lighter strands can elevate any hair color.
According to Byrdie, highlights are the most commonly requested hair color service at salons because it's a relatively simple process, and looks good on almost everyone when done right. If you have fine, thin hair or are struggling with hair thinning, adding subtle highlights gives the illusion of having more hair, and makes your strands appear thicker and plumper (via First For Women).
There are tons of reasons to get highlights, but you have to remember that highlighting your hair can damage it, dry it out over time, and make it more prone to breakage (via Elite Daily). Maintaining your highlights also takes work. You don't want them to turn orange or brassy. Luckily, there are ways to take care of your highlights that keep them looking fresher for longer.
These are the best tips to prevent your highlights from turning brassy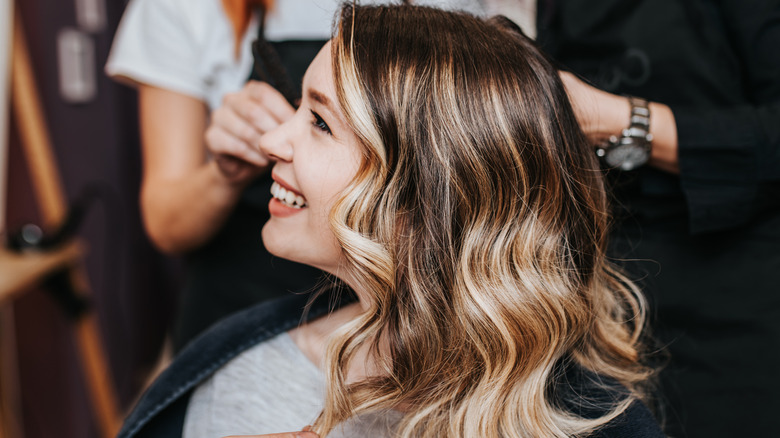 hedgehog94/Shutterstock
Your highlighted hair looks amazing when you leave the salon, but you will notice unwanted yellow, orange, and red tones over time. This is called brassiness, and can result from the sun, water, or not using the right hair products, per Redken.
One culprit for brassy hair is hard water that contains rust, chlorine, and iron, which are terrible for your hair. "Hard water in our showers penetrates porous, colored hair," Joico celebrity colorist Denis De Souza told Refinery29. De Souza added that it changes hair color over time, too. The Zoe Report recommends getting a shower head with a built-in filter, so you can wash your hair with mineral-free water. It's wise to invest in a quality purple shampoo to neutralize the brassy tones of highlighted hair. Bustle recommends Biolage ColorLast Purple Shampoo because it is one of the best in the market to maintain highlights, and it leaves your hair shinier and stronger.
It might not be a bad idea to treat your highlights to a weekly hair mask, either. For example, Kerastase Blond Absolu Anti-Brass Purple Mask is one of Byrdie's favorites. It has ultra-violet neutralizers to prevent brassiness and hyaluronic acid to hydrate your hair. Toners are an excellent idea, too, so you can go longer between hair appointments. Cosmopolitan is a fan of Bouclème Color Toning Drops, which you mix with your shampoo, conditioner, or styler to cancel out the brassiness.