The Best Purple Shampoo To Use If You Have Damaged Hair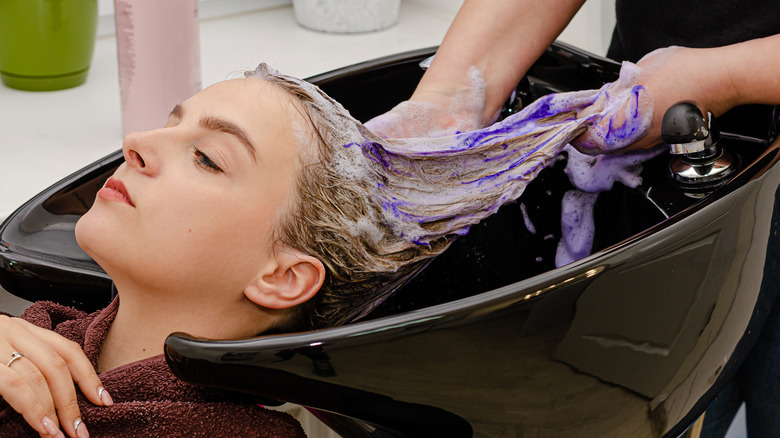 Tetiana Tychynska/Shutterstock
Blonde hair is so much fun. Who doesn't want their hair to look brighter and blonder? However, you cannot avoid the fact that bleaching your hair to make it blonde does requires work. When you bleach your hair, it becomes more prone to breakage and damage because your hair becomes more porous and susceptible to harm from the sun and pollution (via Byrdie). Keeping blonde hair looking bright also requires work because environmental factors can make your hair brassier and duller (via Hair Style Camp).
You can keep your tresses looking icy and platinum if you incorporate purple shampoo into your hair washing routine. New York-based colorist Felicia Dosso told Allure, "Purple tones cancel out any unwanted brassy yellow tones and maintain brightness between highlighting appointments." The reason behind using a purple shampoo to counteract the yellow in your hair is the basic color-wheel theory, where complementary colors neutralize each other. Now that you have the color under control, you want to find the right purple shampoo free from harmful chemical substances because they can cause long-term damage to your hair. Some purple shampoos can deposit the color but make your hair more brittle, so it's wise to choose one that has moisturizing ingredients to keep your hair soft and healthy (via Beauty Mag).
Let us introduce you to Amika Bust Your Brass Cool Blonde Repair Shampoo because it can gently cleanse your hair, neutralize the brass and strengthen your strands. No wonder it is considered a blonde's best-kept secret.
Amika Bust Your Brass Cool Blonde Repair Shampoo can make your damaged, brassy hair blonder and stronger
There are reasons why Amika Bust Your Brass Cool Blonde Repair Shampoo is so popular, but don't just take our word for it. Byrdie chose this as the best purple shampoo for damaged hair because, in addition to maintaining the color, it is created with a special bond cure technology that repairs each strand's broken bonds. This delicious-smelling formula is also infused with mango butter extract, omega-6 fatty acid-rich borage oil, and shea butter to deeply nurture your hair.
Allure loves this shampoo. After all, it is the best option for those with super dry and brittle blonde hair because it is infused with amino acids that make your hair look like it got a keratin treatment after you every wash. It maintains salon-fresh color while combating the blah brassiness. One wash, and you have glossier, frizz-free hair that looks like you just got it done. Cosmopolitan is a massive fan of this purple shampoo because it works like magic on various blonde hair textures from straight to super curly. It is free of parabens, sulfates, and phthalates, so it leaves your hair feeling soft and ultra-hydrated. Beauty Mag considers this the best option for all blondes because it has quinoa-derived vegan proteins to give hair keratin-like strengthening advantages. For $20 for an 8 oz bottle, this shampoo is a godsend for anyone who wants super healthy blonde hair. Bye-bye, brassy, damaged hair!