The International Olympic Committee Makes A Bold Decision About Kamila Valieva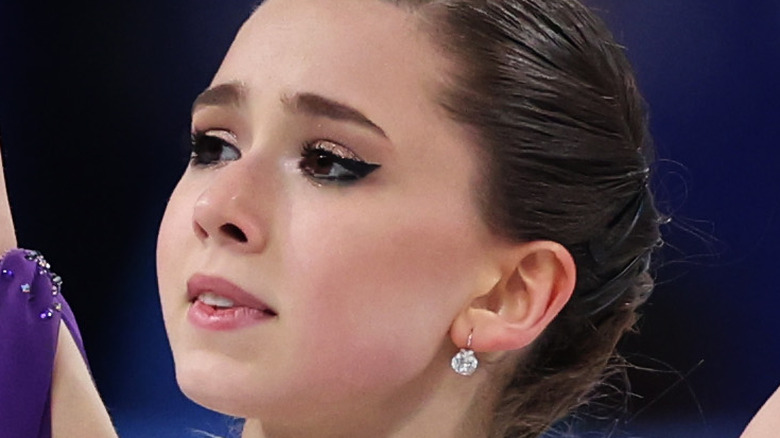 Matthew Stockman/Getty Images
Russian athletes marched into the stadium for the 2022 Beijing Olympics Opening Ceremony flying a banner featuring the five Olympic rings and competing not for Russia but for the Russian Olympic Committee (ROC). This is because in 2019, Russia was banned from participating in all international sports events through 2022 by the World Anti-Doping Agency after a state sponsored doping program had been uncovered (per Time). But doping has reared its ugly head for the Russians again.
15-year-old Russian skater Kamila Valieva came into the Olympics as a heavy favorite (per NBC News). She broke a record with her Olympics debut by landing two quad jumps in her long program for the figure skating team event — something no woman has ever done before during the Games (via NPR). This helped land the ROC team in the gold medal for the figure skating team event with the U.S. following with silver and Japan with bronze. However, the International Olympic Committee (IOC) delayed the medal ceremony after saying "A situation arose at short notice that requires legal consultation" (via The Guardian).
That situation the recent discovery that Valieva tested positive for a banned substance on December 25 (per NBC Chicago). With such a unique situation — a delayed test result and the fact that Valieva is a minor — it was unknown for some days if Valieva would be able to continue competition. But it's been confirmed that she can compete, but she won't get a medal at the games (per IOC).
Kamila Valieva won't get a medal at a ceremony at the 2022 Olympics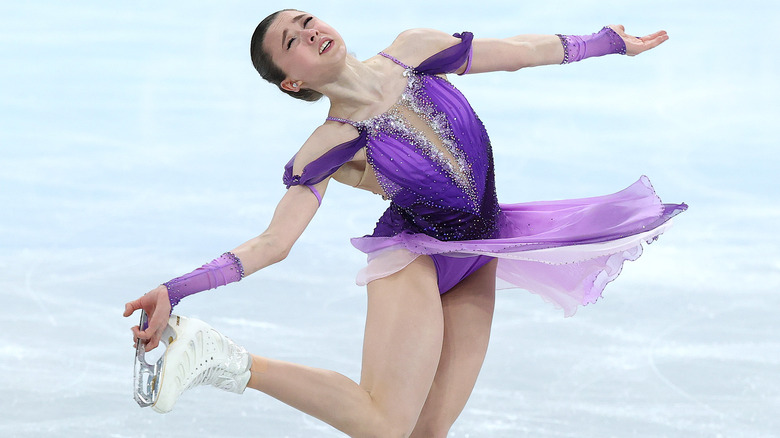 Jean Catuffe/Getty Images
The International Olympic Committee (IOC) released a statement after a ruling by an independent panel that allowed Kamila Valieva to skate. However, in interest of fairness, no medal ceremony would be held for the team figure skating event in which Russia won gold. And if Valieva places in the top three in the women's single skate, there will be "no flower ceremony and no medal ceremony." The IOC also confirmed the investigation into the situation is ongoing and the case "has not yet been concluded."
Valieva tested positive for trimetazidine, a heart medication that, according to USA Today, has been banned by the World Anti-Doping Agency since 2014 because it can "increase blood flow efficiency and improve endurance." It was discovered in a urine sample given at the Russian national championships, but not confirmed until February 7 (via The New York Times).
According to NPR, three arbitrators, appointed by the independent Court of Arbitration for Sport (CAS), gathered and reviewed evidence from the December 25, 2021 test and heard testimony from Valieva. They decided that she should still be able to compete given her young age, and CAS director general Matthieu Reeb said that "Preventing the athlete to compete at the Olympic Games would cause her irreparable harm in these circumstances."