Inside Karen Laine's Relationship With Son Tad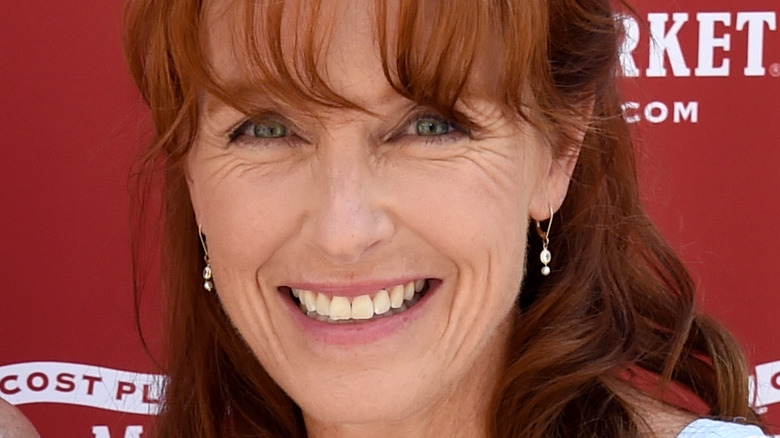 Michael Kovac/Getty Images
The HGTV show "Good Bones" offers viewers a pleasant mix of home renovation and loving family banter. While the show centers around mother-daughter duo Karen Laine and Mina Starsiak Hawk, they aren't the only family members who make appearances on air. The matriarch of Two Chicks and a Hammer has a rather large family, and her son Tad Starsiak has been known to make cameos on the show. 
Where does Starsiak fit into the family? Laine has four biological children — William, CR, and Mina, whom she shares with her first husband, and Kelsy, whom she shares with her second husband (per The Cinemaholic). Her first husband also has children from another marriage, including Starsiak (via Reason To Dance). He pops up on "Good Bones" fairly often and earned his nickname "The Hammer." By all accounts, he meshes well with the rest of the gang and often jokes on screen with his sister Mina. 
While some children don't have the best relationships with their stepmothers (case in point: Cinderella), that isn't the case here. Laine and Starsiak are close, and his comments on their bond are beyond sweet.
Tad Starsiak and Karen Laine are close
Tragically, Tad Starsiak and his siblings lost their biological mother at a young age. He told HGTV that Karen Laine was there for him when he really needed her. "When I was going through that rough time, every day I woke up and she was there for me," he said. "It's great having her as a teacher and as another mom." It seems like the touching family scenes that pop up onscreen are more fact than fiction, and how sweet is that?
Many of Starsiak and Laine's public interactions come from the set of "Good Bones," but those may be fewer and farther between in coming seasons. Laine made the decision in 2019 to step away from the show and take a partial retirement. In an exclusive interview with The List, Mina Starsiak Hawk shared that the cast will look a little bit different from now on. 
"This is the first season that mom's partially retired," Starsiak Hawk said. "You'll get to see more of our designer, MJ, and more of [our project manager] Cory, because I'm working more closely with them on the floor plans and the designs and stuff like that," she said. While Tad will likely still be around for the demolition side of things, his sweet moments with Laine will be reserved for their time off-screen.