Meet Deepti Vempati From The New Season Of Love Is Blind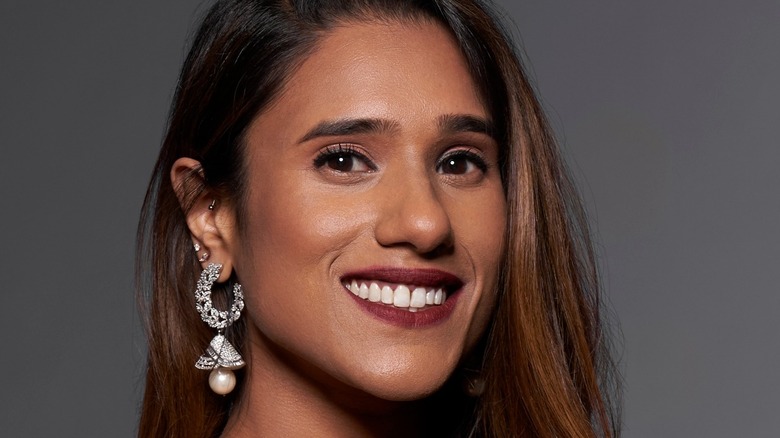 Ser Baffo/Netflix
Netflix has finally started airing the second season of its popular dating series, "Love is Blind." Created by "Married at First Sight" producer Chris Coelen — and hosted by Nick and Vanessa Lachey — the show strives to discover if it's possible to find true love before you know what the other person looks like. "'Love Is Blind' is pretty simply about whether love — pure love — can overcome all of the obstacles that can get in its way in today's world," Coelen told Deadline. "Regardless of who you are, what you look like, where you're from, what you feel that you have or are lacking, everyone wants to be loved for who they are on the inside."
The first season resulted in two marriages, with both couples — Lauren and Cameron, and Amber and Barnett — still together three years later. Before that walk down the aisle, though, there was plenty of drama, with Season 1 attracting 1.5 million viewers during its first four episodes (via Men's Health). So, it's not surprising that the show was renewed for two additional seasons. Thus far, Season 2 has already resulted in six couples declaring their love in the pods and getting engaged. After a romantic vacation in Mexico, the next step is moving in together in Chicago. 
One couple viewers will be rooting for is Abhishek "Shake" Chatterjee and Deepti Vempati.
Deepti Vempati is an avid traveler and dog lover
Already a fan favorite on the second season of "Love is Blind," Deepti Vempati was born in India and moved to the United States as a child. She graduated from Bradley University and currently works as an information data analyst for Allstate insurance in Chicago, according to Marie Claire. She also loves to travel, often sharing photos of trips to Colorado, Hawaii, Singapore, Banff, and India to her personal Instagram account.
Vempati is seemingly close to her family, which includes her sister Divya and her brother Sunny, as she frequently posts photos with them on her Instagram page. She is also a dog lover, sharing pictures of her bichon frise, Pixel, as well as her sister's pup, Vino. Her affection for animals might bode well for her future with Abhishek "Shake" Chatterjee, who is a veterinarian! 
Vempati admits that she didn't mind that her husband-to-be was "dating" other women during his time in the pods, though the concept may seem strange to viewers. "It actually meant more to me what his relationship was like with some of the other girls, because it says a lot about who he was as a person," she told The List. "If he can't get along with my friends or my family, that's a deal breaker for me. His interactions with the other girls made a big impact on how I viewed him."