Inside Eric And Lara Trump's New Florida Home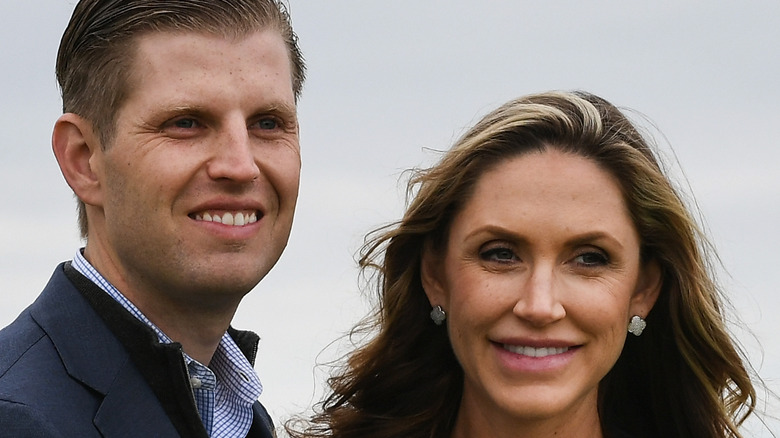 Jeff J Mitchell/Getty Images
The Trumps are arguably one of the most controversial First Families in American history. The family's patriarch, Donald Trump, America's 45th president, had a polarizing term in office marked by controversial statements and acts (via NZ Herald). His wife Melania Trump was criticized for wearing a jacket that read "I Really Don't Care, Do You" at a time when her husband faced pushback for his policies on immigration. According to the Boston Globe, the Trump administration was known for nepotism due to the decision to place his children and family members in positions in the White House.
It wasn't just his children who enjoyed this apparent largesse; he also found a position for his son-in-law Jared Kushner. The nepotism-based appointments caused outrage with the public, and the White House was often viewed as bogged down by corruption and incompetence in certain circles. Lara Trump, Donald Trump's daughter-in-law, also enjoyed some of this treatment. Before she got her job at Fox News, she was Trump's reelection campaign advisor. Although the reelection didn't work out, that doesn't necessarily mean the Trumps have been laying low. 
Lara and her husband Eric Trump joined the ranks of Trumps with luxury homes in Florida (via The U.S. Sun).
Eric and Lara Trump's Florida home is near Donald Trump Jr.'s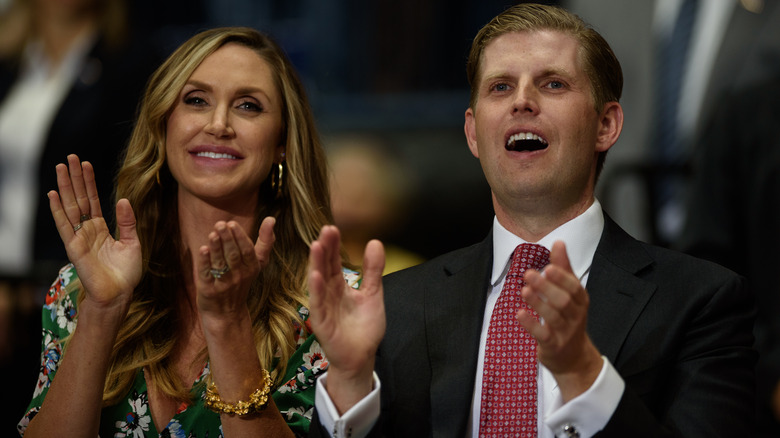 Justin Merriman/Getty Images
Eric Trump is the most low-key Trump child, per Vanity Fair. He and Lara Trump participated in his father's campaign trail. However, unlike his siblings Donald Jr. and Ivanka Trump, Eric didn't hold a high-profile position in the administration. That doesn't mean he's low-key in all aspects of life, though. Eric and Lara Trump lead a lavish life, powered by Eric's reported net worth of over $25 million.
Surely, such wealth is enough for spending summers at lavish properties and for access to five-star experiences and treatments all over the world. At the very least, it was enough for the couple to purchase a $3.2 million mansion with five bedrooms and seven bathrooms, according to the Miami Herald. Eric and Lara aren't far from family, either; their new home is near to Donald Jr.'s.
According to Business Insider, they've kept this particular purchase in the family. The mansion is located in a gated community owned by Eric's father. Trump bought the community from the Ritz-Carlton in 2012. The 7,715 square-foot, two-story home was built in 2004, according to the listing. Business Insider noted that the luxury home, designed to resemble a Tuscan estate, boasted additional features such as a pool, a safe room, and two master bedrooms. Talk about a home to cherish for a long, long time!