Brittany Cartwright Opens Up About Feeling Confident In Her Skin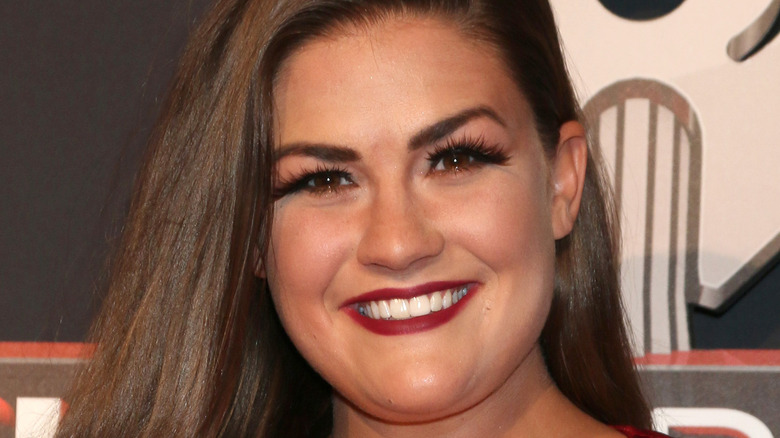 Kathy Hutchins/Shutterstock
When "Vanderpump Rules" was off-air due to COVID-19, several past and present cast-members got pregnant around the same time. Once their babies were delivered, Lala Kent bounced back immediately, while co-star Scheana Shay and alumnus Brittany Cartwright struggled. Cartwright, in particular, admitted to Us Weekly that she was finding it increasingly difficult to be kind to her postpartum body. "I have friends like Lala [Kent], who literally looks like she doesn't have a baby two days later. I mean, she is a freaking queen," she explained. "I don't even know how, but my body is completely different. It's going to be a long journey for me to get back to my weight."
Cartwright went on to reveal that online commentators had picked on her throughout the pregnancy for allegedly gaining too much weight. She was also "being heavily compared" to the show's other leading ladies — so it's unsurprising that the criticism did a number on her self-esteem. "I've always been bigger than [the other girls] but my weight has always fluctuated and stuff. So it was just hard to see all those comments about my weight stuff when I was healthy and the baby was healthy," Cartwright shared, per Us Weekly. After giving birth to son Cruz, whom she shares with Jax Taylor, "There were times when it made me ashamed of how I looked, and I shouldn't have felt like that." Thankfully, Cartwright has come through the worst of it now, and is feeling much better.
Brittany Cartwright shows off the results of her hard work
Following months of difficulty and social media trolling, Brittany Cartwright took to Instagram on February 16 to triumphantly share how "happy and confident" she finally feels in her postpartum body. Alongside a full-body shot of her looking glammed up in a dress and heels, the reality star wrote, "Cruz's mom has got it goin' on. Glam for the super bowl weekend! I had such a great time!" Hubby Jax Taylor shared a red heart emoji in the comments, while fellow new mom and "Vanderpump Rules" alum Stassi Schroeder described the pics as "beautiful." 
Cartwright notably became a Jenny Craig spokesperson in January 2022, telling People at the time, "I'd like to get back to feeling like my best self all around, including both mental and physical health." The mom-of-one clarified that she wanted to be at her best for Cruz — and despite all the challenges, she was still "incredibly proud" of her body for carrying and giving birth to him. Cartwright also spoke of how she was looking to lose "at least 30 lbs." with her new diet and workout plan, noting she was "loving" it thus far. Unfortunately, the reality star continues to get hate online. For any other new moms struggling to learn to love themselves again, she advised, "Move at your own pace and choose to do what feels right for you and your body. It can be so easy to compare ourselves to others ... [but] every person's body is so different and uniquely beautiful."