Urban Decay's Latest Eyeshadow Palette Will Make You Think Of Spring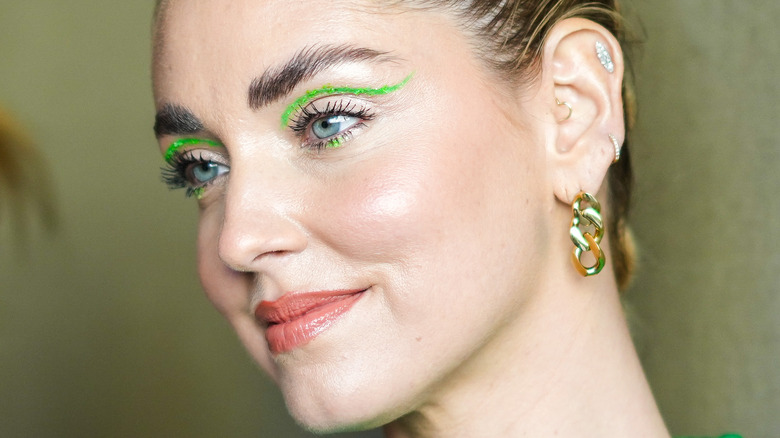 Edward Berthelot/Getty Images
Whether you're a makeup enthusiast or you're a pro, you know that Urban Decay eyeshadow palettes are the OG of all eyeshadow palettes. Urban Decay produces some of the best makeup products on the market, and it's no surprise that their eyeshadow palettes continue to win best of beauty awards from various publications. The New York Post included the brand's Naked3 Palette as one of the best palettes for 2022 because the creamy, warm shades are easy to blend and flatter everyone. Daily Vanity has been singing praises for the brand's Naked Honey palette, as the colors are reportedly closest to the original Naked palette, which is no longer available. The quality is impressive, and the colors are universally pleasing, so its popularity is no surprise. 
So, when the Wild Greens Eyeshadow palette from Urban Decay was released right on time for spring, it definitely caught our attention. Keeping with the brand's tradition of neutral nudes, they took on the color green for this exciting new product. Green may not be the first color that comes to mind when you think of versatile eyeshadows, but you can wear it year-round. Byrdie calls the green eyeshadow trend one of the biggest of the year, with many variations available from lime green graphic liner, to kiwi-toned wings, and all-over emerald glitter. From jewel-toned greens for the holidays, to olive green for the fall, and bright shades of teal for the spring, you can find yourself a green hue that will work for every season.
Urban Decay's Wild Greens Eyeshadow Palette is clean and vegan
It's no surprise that Urban Decay has impressed consumers again with their newest palette, a gorgeous compilation of greens and neutrals. It has California-inspired shades, including five shades of green, and seven neutrals in shimmer, matte, and metallic finishes. According to their website, these 12 intensely pigmented eyeshadows are inspired by earth-toned neutrals. Infused with avocado oil, they're ultra-blendable and are free from flaking. The palette typically retails for $44 at Ulta, and is slightly cheaper than their Naked palettes.
This eyeshadow palette is part of their "Wild" collection where everything is vegan and clean, as they don't contain any parabens, BHT, mineral oils, petrolatum, or other harmful ingredients (per Beauty Packaging). Urban Decay has taken a refreshing change by creating the palette on eco-friendly paper, as well.
Makeup.com is a massive fan of this clean beauty palette with colors inspired by nature — with this range of gorgeous greens, you can create countless looks for any occasion. One of the website's favorite looks is the "Golden Green Dream," where they used the shifty golden green (Twist) to add a subtle touch of color on top. Lush greens range from soft mint green (SuperGreens), to minty-blue green metallics (Prickly), and a moss green base with gold-micro pearls (Stash). Blend them together to create a range of spring-inspired looks. You pick your green inspiration based on what you love the most, whether you want to stay subtle or make a statement.