The Best Lipstick Shades To Pair With Green Eyeshadow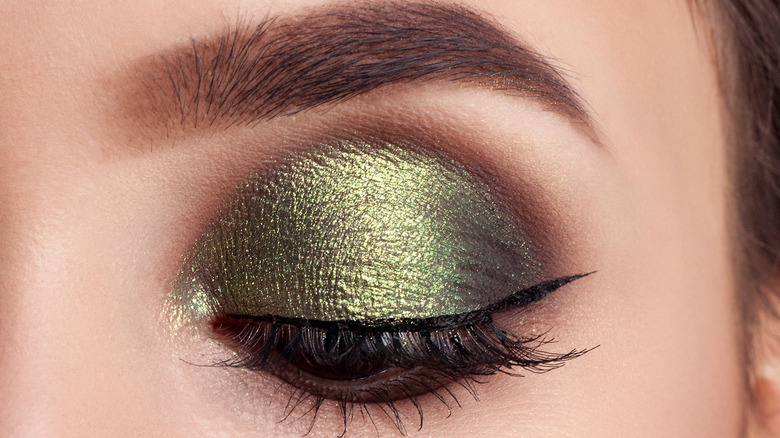 Shutterstock
Bold and beautiful is the trend for the summer. And according to Nylon, bold eyeshadow colors are a must-have this season. Narrowing down the eyeshadow color you want to rock can be difficult. But there's one bold color that is evergreen no matter the season and can especially give you the perfect pop of color for the summer — green. Green eyeshadow comes in a wide array of shades varying from warm to cool undertones and can be the perfect color for all skin tones, per Vogue France.
After finding the green eyeshadow that is most suitable to your skin tone, it can still be tough to pair it with the perfect lipstick shade. For starters, Vogue France says olive green is the most universally-flattering shade of green eyeshadow and can be paired with any neutral shade of lipstick. Read our guide below for more combinations of the best lipstick shades to pair with every tone of green eyeshadow.
Keeping everything else neutral is key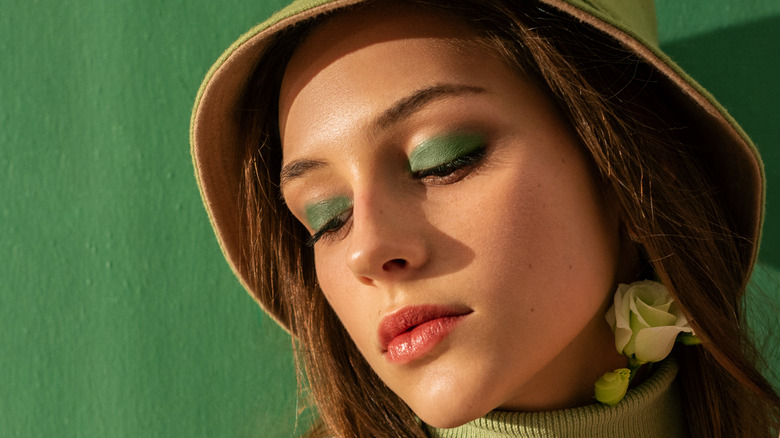 Shutterstock
Since green eyeshadow already packs a punch, the most effortless way to work the color is to keep your blush and lipstick neutral. Makeup artist Dick Page told Marie Claire, "Bright color against a fully finished face can look overwhelming," adding, "You might find that after you do your eyes, you don't need anything more than tinted moisturizer on the rest of the face." L'Oreal suggests pairing a bright emerald eyeshadow with a nude lip color that has a neutral undertone, like beige, so that your eyes are highlighted and aren't competing with your lips.
Beauty guru Jackie Aina explained how to find the perfect corresponding lipstick to a given eyeshadow color using the color wheel (via YouTube). Based on color theory, Aina recommended pairing an earthy green eyeshadow in a moss or forest green shade, with a peachy-nude lipstick like MAC Peachstock. According to Aina, the orange undertones in a peach lipstick complement green. Byrdie especially recommends wearing emerald or hunter green eyeshadow with a peachy-nude lipstick, calling it a "dynamic duo." Page suggests pairing a caramel brown lipstick with a dusty blue-green eyeshadow as the warm undertones in the lipstick would complement the cooler shade of green. 
Go bold or go home with green eyeshadow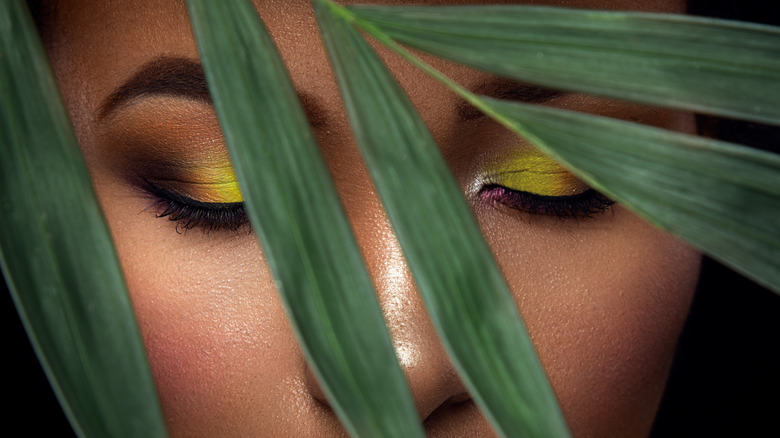 Shutterstock
If you're interested in rocking the neon trend, you can try one of Emma Stone's looks by pairing a lime green eyeshadow with a soft rose-colored lipstick (via Byrdie). Page suggests a sheer rose pink lipstick to go with a smokey green eye look on lighter skin tones. For medium-to-tan skin tones with yellow undertones, he finds that the golden-yellow undertones in green eyeshadow are highlighted. So he suggests pairing a grassy-green eyeshadow with a peach lipstick. Green eyeshadow can be especially flattering on those with darker skin tones. Page says bolder, more saturated shades of green eyeshadow suit darker skin tones, especially when paired with coral lipstick. 
Celebrity makeup artist Katie Jane Hughes told The Zoe Report the lipstick color she prefers to pair with green eyeshadow, saying, "Berry tones. Either pale or deep berry shades will work." According to Refinery29, you can pair a dark berry lipstick with a sheer wash of a jade green eyeshadow. Since green is complementary to red, the red undertones in the dark berry lipstick will complement green eyeshadow, instead of competing against it. But if you want a more subtle take on this look, you can pair a dark green shimmer eyeshadow with a lighter, muted berry shade. Hughes suggests a strawberries-and-cream shade of lipstick like MAC Cosmetics Matte Lipstick in Crosswires. Looks like no matter what combination you do try, you can't go wrong with green eyeshadow this summer.