The Best Vitamin C Serums For Sensitive Skin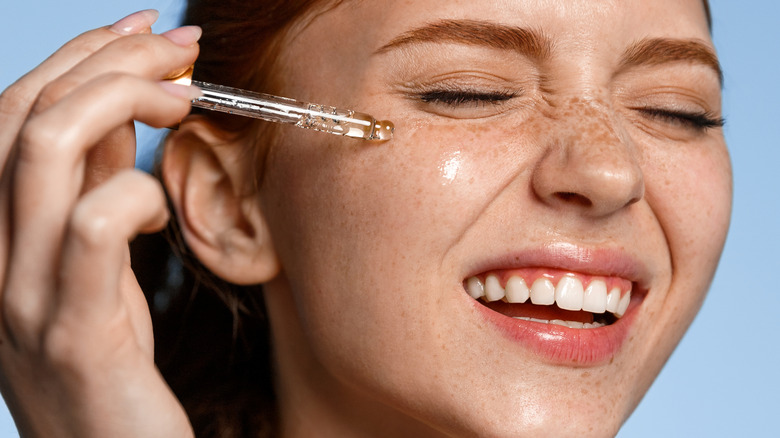 Lyubov Levitskaya/Shutterstock
We may receive a commission on purchases made from links.
Vitamin C is one of the best ingredients to brighten your skin in a world where we are constantly overwhelmed with new miracle ingredients and products. It's a potent antioxidant that prevents free radicals from breaking down collagen and elastin, giving you a youthful appearance. It also has brightening properties to fade hyperpigmentation, and gives you a more even skin tone, per Healthline.
There are many types of vitamin C products, including serums, on the market. You might have heard of L-ascorbic acid, which is considered the most well-researched and most effective form of vitamin C. However, it may cause irritation on sensitive skin (via the New York Post). "If you're sensitive, it's best to start with a concentration of 8 to 10% and increase if needed," Dr. Marisa Garshick, a New York City-based dermatologist, told Who What Wear. 
That doesn't mean that, if you have sensitive skin, you can't use vitamin C serums. It means that you might benefit from using more stable forms of vitamin C, such as sodium ascorbyl phosphate (SAP), as shared by New York City-based dermatologist Dr. Shereene Idriss in a video posted to her YouTube channel. According to Dr. Idriss, SAP is more stable, penetrates skin better, and can be less irritating on sensitive skin. It may be sad to say goodbye to your previous favorite vitamin C serum, but have no fear. We've found the best serums for sensitive skin.
These serums are full of antioxidants, and work on all skin types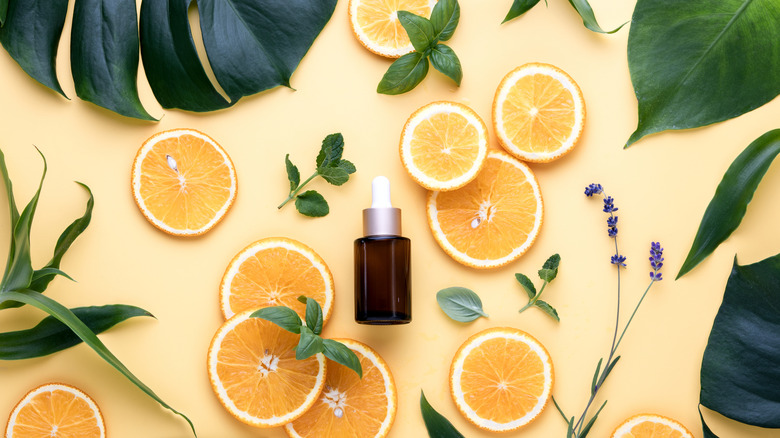 Fortyforks/Shutterstock
Vitamin C serums are an excellent investment because they protect you from pollution and UV rays, and might even help reverse skin damage, per Byrdie. In fact, Byrdie's ideal vitamin C serum for sensitive skin is Drunk Elephant C-Firma Fresh Day Serum because it has pumpkin and pomegranate enzymes to gently exfoliate the skin. Plus, it has ferulic acid to protect against sun damage. This serum can soothe the most irritated skin, making it a perfect choice if you struggle with sensitivity.
Who What Wear is a huge fan of TruSkin Vitamin C Serum, a best-seller on Amazon with over 95,000 reviews. It combines vitamins C and E with hyaluronic acid, aloe vera, and jojoba oil to prevent premature aging and neutralize free radicals. Allure, on the other hand, recommends Paula's Choice Super Antioxidant Concentrate Serum because it has another stable form of vitamin C called tetrahexyldecyl ascorbate, which promotes younger-looking skin. It also has peptides and ceramides to soothe and repair the skin barrier.
Finally, Glamour loves the derm-approved drugstore item L'Oréal Paris Revitalift Derm Intensives Vitamin C Face Serum because it has a lower concentration of vitamin C. It has just enough — 10% — to be effective without being irritating, and its additional hyaluronic acid helps with hydration. No matter which you choose, just always remember to use SPF, too.