Kelly Ripa Reveals Her Plans For Her Hair As She Ages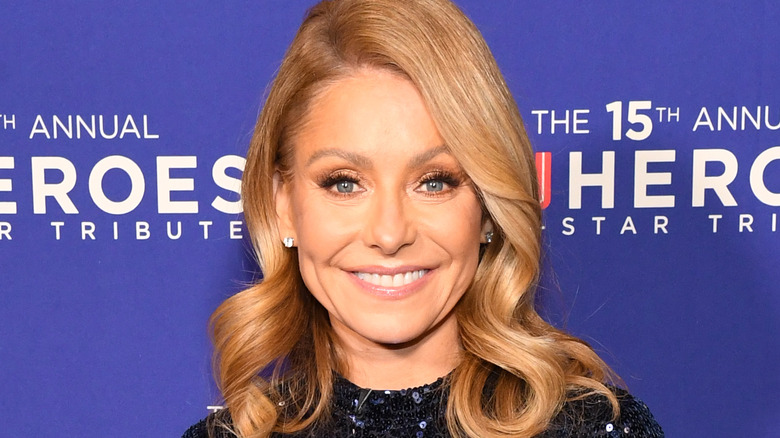 Kevin Mazur/Getty Images
It's no secret that women in Hollywood (and pretty much women across the board) are expected to remain eternally youthful, with many of them choosing to use Botox and other cosmetic procedures to cover up signs of aging.
TV personality Kelly Ripa of "Live with Kelly and Ryan" is no exception. As reported by People, on March 13, 2020, Ripa took her Instagram followers behind the scenes as she paid a visit to Dr. Robert Anolik, who injected her with the popular wrinkle eliminator. 
"Hi everyone. We're going to talk about a certain medical problem," Ripa joked to Dr. Anolik. "Yes, there's a very serious medical problem going around right now. What is it?" Dr. Anolik replied, "It's Botox deficiency," to which Ripa quipped, "Acute!" "A lot of side effects. Lines, wrinkles," Dr. Anolik responded.
Ripa's trip to Dr. Anolik's office came in tandem with the rise of concern around the COVID-19 pandemic, as cases in the United States began to rise. The star nodded to the week's news as she said, "In this time we can notice that there's been a lot of worrying, you can see it is written all over my face, but Dr. Anolik decided to be brave today and come into work to treat my acute Botox deficiency syndrome."
What Kelly Ripa plans to do about those grays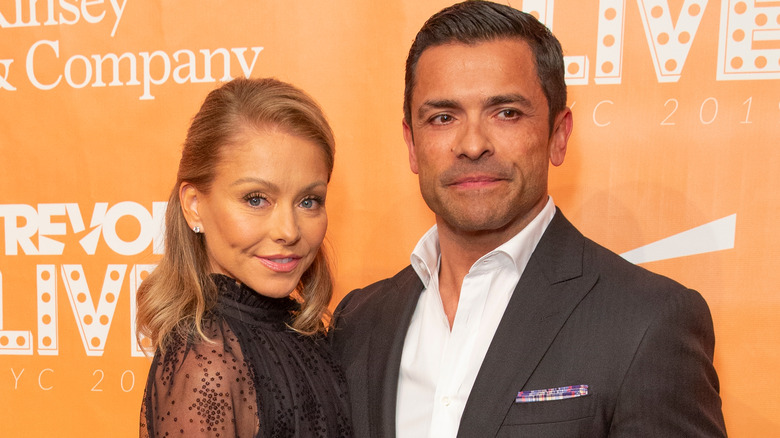 Lev Radin/Shutterstock
Cut to later that week, when the entire country shut down because of the rampant spread of COVID-19, at which point, Ripa was no longer able to touch up her gray roots at the salon as they grew in (via People). Ripa, like so many others during that time, resorted to desperate measures. "During the early days of the pandemic, I had embraced my gray hair privately while publicly I was using brown eyeshadow to paint my roots some shade that wasn't Santa Claus white," Ripa admitted on an episode of "Live with Kelly and Ryan."
The pandemic found many women embracing their natural hair color — and Ripa considered being one of them. "Cher was saying that gray hair is not for her. She is not caving in, she doesn't care about the trend — you know, people are embracing their gray hair all over the place. Everybody's embracing their gray hair," Ripa said.
But the host ultimately decided that going gray was not her way. "I need to dye my hair," Ripa declared, with the caveat that dyeing one's hair is a personal choice, and that she doesn't think that all women should necessarily follow her lead. "I think certain people look great with their gray hair. I think it depends on the person. I really do."