Low Fade Vs. High Fade Haircuts: What's The Best Style For Your Face Shape?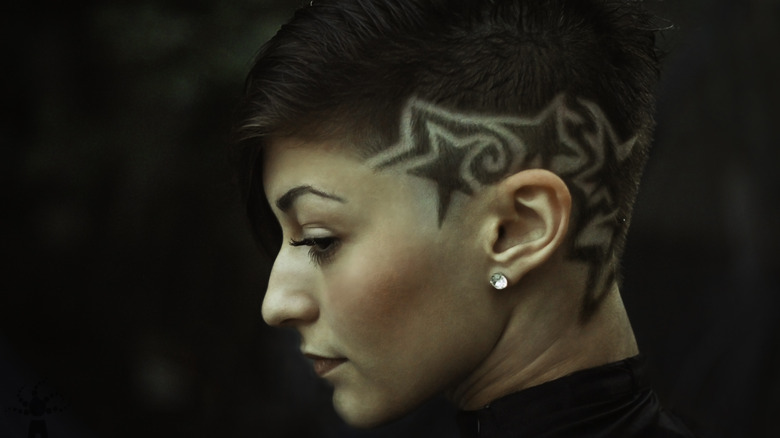 Dmytro Kolesnikov/Shutterstock
The fade haircut has officially transcended gender norms. Regardless of how you identify, this 'do has been proven to be flattering on a variety of face shapes. Fashionbeans defined a "fade" as "the blending of longer and shorter hairs on the back and sides of the head to give a seamless graduation effect." There's two major styles of fades to choose from: the high or low fade.
The main difference between the two cuts is where the fade begins in relation to the rest of your hair. According to Men's Hairstyles Today, a low fade tends to start about an inch above the ear, while a high fade (like the bold cut above) starts much farther up near the temple or forehead. Consequently, a high fade can be quite a dramatic look; the low fade comes across as more subtle. When choosing your preferred style, there's a few factors to consider such as face shape, dimension, and features.
Regardless of how far down you want your hair to transition to the buzzed look, the fade remains a timeless choice to keep your hair looking sharp and chic. Here's how to tell whether a high or low fade is better for you.
High fade haircuts are best for round, square, and heart-shaped faces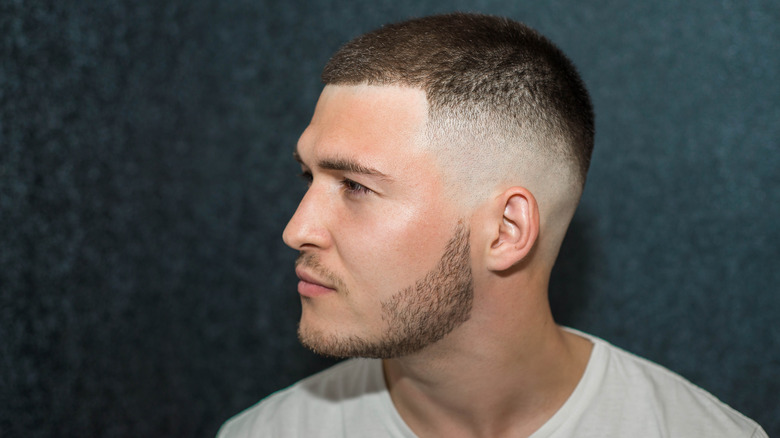 Vikafoto33/Shutterstock
High fade looks includes a number of popular hair styles with height such as the pompadour, quaff, or faux hawk. Because these haircuts will elongate the face, they're best reserved for anyone with a round, square or heart-shaped face (via Fashionbeans). 
According to Men's Hairstyles Today, the best haircuts for round faces include those which make the head appear longer. Enter: the high fade. "If you've got a round face shape, think square. Since round faces have little in the way of natural angles, you need to create the illusion of structure with your hair," celebrity hair stylist Jamie Stevens told Fashionbeans. This can be done easily with a textured crop, comb-over fade or slicked back undercut. Ruffians creative director Denis Robinson mentioned the possibility of incorporating square corners into your cut to "sharpen up any soft edges" (via Fashionbeans).
If you're working with a square-shaped face, Steven recommended a cut with a side part and short layers such as a crew cut or French crop. "Classic, neat haircuts complement a square shape best," Stevens said. Meanwhile, a more medium-length cut will soften up a heart-shaped face's wider forehead. Look for volume in a pompadour, faux hawk, or tapered cut. Pro tip: According to Fashionbeans, stubble can help soften an already killer jawline by adding texture.
Low fade haircuts are best on oval, rectangular, and diamond shaped faces
According to Barber Barber founder Johnny Shanahan, the low fade is currently an incredibly popular haircuts (via Fashionbeans). "The reason being is that it's clean, neat and easy to maintain," he said. However, this laid-back style isn't going to work on everyone. A low fade is best paired with oval, rectangular, or diamond shaped faces.
If you're working with an oval-shaped face, Aveda master barber Stelios Nicolaou told Fashionbeans a cut with "classic short back and sides and slightly longer on the top, with a side-swept parting" would be best. Check out hair styles like a quiff, pompadour, or brush back (via Men's Hairstyles Today).For rectangular faces, Nicolaou suggested a more even shave across the board to avoid over-accentuating face length. "Try a well-proportioned style that doesn't take the sides too short or leave too much length on top," he said. This can be achieved with a hard side part or buzz cut.
Finally, with diamond-shaped faces, you'll want to look for hairstyles that add width at the forehead and chin. "Fringes work well to add texture to the forehead, while longer styles that can be tucked behind the ears are great for accentuating a diamond shape's bone structure," Steven told Fashionbeans. Opt for a side-swept crop, spiked hair, or shaggy top to create volume.
Whatever your face shape, a chic look is just a haircut away!