Malia Baker On Her 'Instant Connection' With Caught In His Web Costars - Exclusive
Malia Baker is making waves through her acting and activism, and her career only continues to take more interesting turns. For example, Baker refuses to be typecast. She takes on roles in a variety of genres, proving that she can truly do it all, including, of course, her work on Netflix's "The Baby-Sitters Club," as well as on "A Million Little Things," "Are You Afraid of the Dark?," and "The Flash" (via IMDb). The same is true for her most recent role: Olivia in Lifetime's "Caught in His Web."
In fact, when we recently sat down to chat with Baker, she interestingly explained that becoming typecast was one of her biggest fears when entering the industry. "My first bigger thing was 'BSC' and I was always so scared of being type casted in a way that would be, 'You're going to be Mary Anne for the rest of your life and prepare for that to be the only thing that you get and those roles are going to be similar because they show you, the shy girl,'" Baker explained. Now, she continues to prove that she's more than just one role. 
"Caught in His Web" follows three teenage girls who find themselves subjected to digital harassment from an anonymous assailant under the name "Blake." Together, they work with a detective to uncover the assailant's identity and break free from their virtual shackles. Luckily for us at The List, when we talked with Baker, she revealed not only why she loves tackling different genres of television and film but also what it's really like working with Alicia Silverstone on "The Baby-Sitters Club" and the "instant connection" she developed with her "Caught in His Web" costars.
Malia Baker has always felt very connected to her costars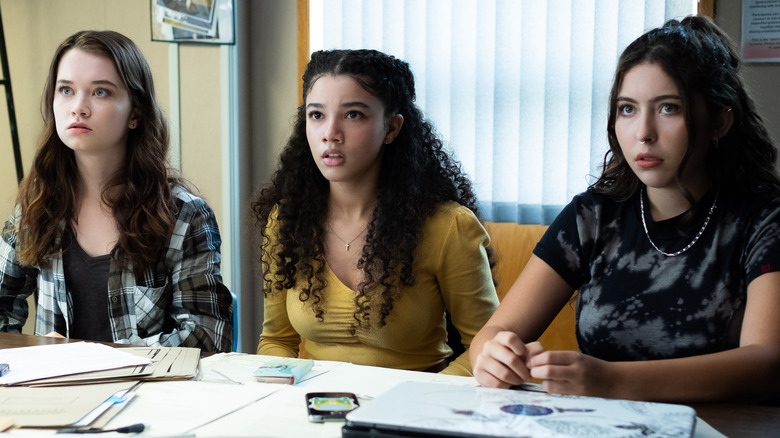 Lifetime
For Malia Baker, understanding how roles will affect her career when signing on to new projects is incredibly important. This is one big reason why she's always diversifying her genres. Still, no matter the project, Baker has no problem connecting to her costars, and "Caught in His Web" — in which she stars opposite Emma Tremblay and Alison Thornton — was no different (via Rotten Tomatoes). 
"The first day, [we were filming] a scene that's in the middle of the movie, and we're supposed to be close and we're supposed to be tight, but we didn't have that chemistry," Baker told us. "That was our first day meeting. That was our first introduction and we were being thrown into the scene." However, they would come to form a bond that would last. "After that one, I remember the producer saying, 'You guys are good at this,' because it was an instant connection. I feel like we all grew and we all got the experience that we needed to perform this in a really authentic and genuine way."
Baker added that the three of them still talk often and have a group chat together. Then, when asked if this experience was similar to her other projects, Baker explained, "The casting directors do such an amazing job, to the point where you're almost similar to your characters, so the dynamic that you have on-screen is the exact same that you have off of it, and vice versa." Ultimately, she continued, "It's a really cool thing to be able to have those connections from doing what you love."
You can catch Malia Baker in "Caught in His Web" on Lifetime.