Expert Reveals What Status Meghan Markle Holds Over All Other Royals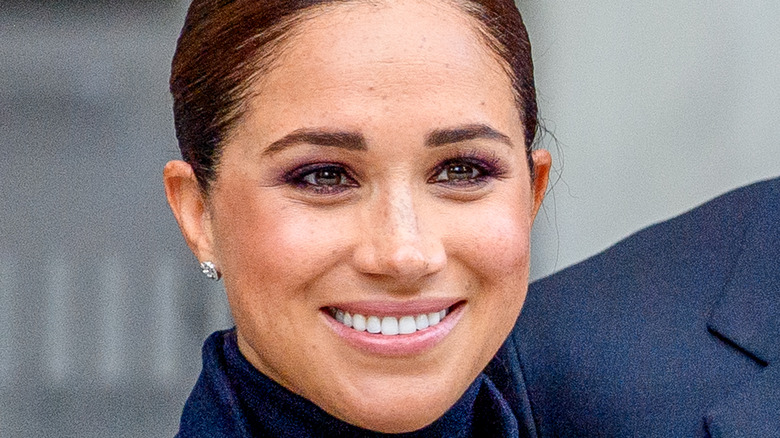 Roy Rochlin/Getty Images
Ever since Meghan Markle entered the public eye as Prince Harry's girlfriend, the actress and lifestyle blogger was immediately subject to intense scrutiny — and became a lightning rod for the press. More specifically, the British press has kept a close (and critical) eye on the Duchess of Sussex. 
The pair first began dating in July 2016 after being set up on a blind date, and things accelerated between the two fairly quickly after that (via Insider). 
"The second date I was starting to think: This is pretty special," Harry said on "The Late Late Show with James Corden." However, by November 2016, the press had already begun to attack Markle, forcing Harry to address the matter.
"Prince Harry is worried about Ms. Markle's safety and is deeply disappointed that he has not been able to protect her. It is not right that a few months into a relationship with him that Ms. Markle should be subjected to such a storm," Harry's official statement read (via Insider). 
"He knows commentators will say this is 'the price she has to pay' and that 'this is all part of the game.' He strongly disagrees. This is not a game — it is her life and his."
However, this harassment would not cease and eventually contributed to Harry and Markle's decision to leave the royal family. But, even though she has a difficult relationship with the press, she's still beloved by many in the general public — not unlike Harry's late mother, Princess Diana.
What Meghan Markle has that the other royals don't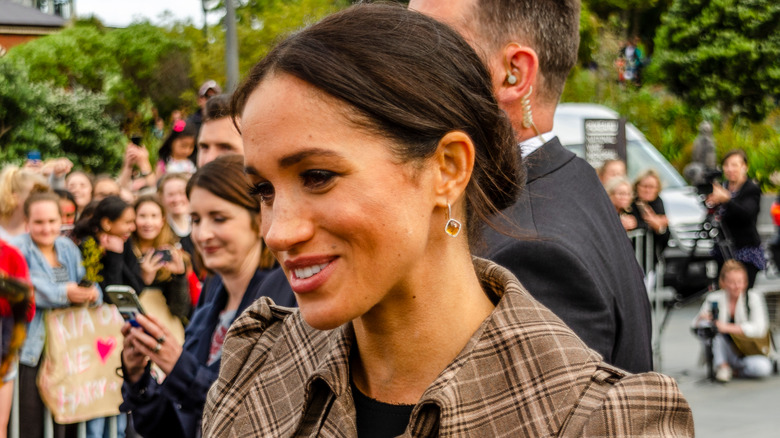 NataliaCatalina.com/Shutterstock
Despite Meghan Markle and Prince Harry officially departing the royal family, the public still largely views them as part of the monarchy. Markle, then, is seen by many, including lawyer-activist Dr. Shola Mos-Shogbamimu, as its most inspirational member (via Marie Claire).
"Is she inspiring? I think so... I think some of Meghan's inspiration comes from her and how she's handled all this," she said. "Clearly, she got to a point where she was like 'Forget you all, I deserve better than this.' But most so is the reaction she has been able to generate from people who would not normally talk about these things." 
She then clarified that Markle is receiving a lot of support from various marginalized groups. 
"Black and brown women are standing together in solidarity with Meghan because the same things happen to us," said Mos-Shogbamimu. "It's on a larger scale for Meghan because she's got the global eye amplified to her. But what they are doing to her is what they do to us, too."
Furthermore, she connects Princess Diana to Markle, as so many have before. 
"I think that she's been able to generate the kind of support that no other member of the royal family, bar Princess Diana, has been able to generate," Mos-Shogbamimu explained. "Meghan was an independent woman and a millionaire before she met Harry. Therefore, they weren't giving her anything that she didn't already have."
Ultimately, she declared Markle the most inspirational royal of 2022, and it's kind of hard to disagree with that.
Many consider the duchess a role model for other Black women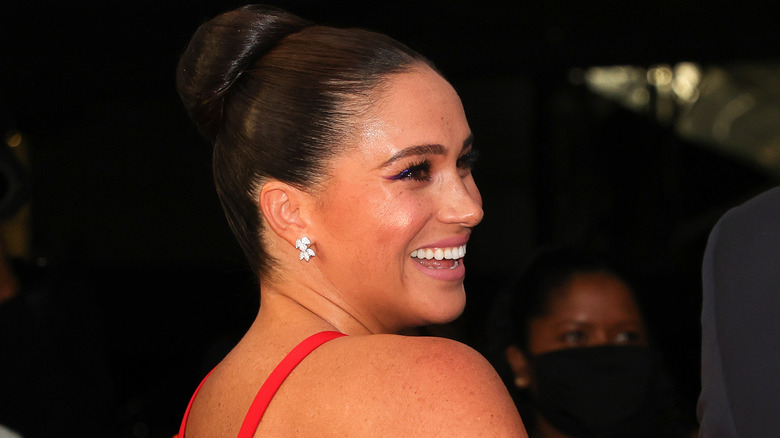 Dia Dipasupil/Getty Images
Even before Meghan Markle was set to wed Prince Harry in 2018, Black women were already hailing her as an example of what others like her could aspire to. 
After all, Markle was one of the first people of color to earn a spot in the royal family and is perhaps the most popular woman of color within the royal family to date — despite being a divorced American to boot.
"It's exciting for Black women, and I think it's going to be inspirational," Camille Newman, a Brooklyn entrepreneur, told The Guardian in 2018. "We're claiming her for a Black woman's right to be in there like everybody else."
Experts noted that Markle's testimonies about racism and her mental health struggles during her interview with Oprah Winfrey in March 2021 were also inspirational for other Black women. 
Dr. Joy Harden Bradford, a licensed psychologist and host of the podcast "Therapy for Black Girls," spoke to NBC News about the importance of Markle sharing her truth during the interview. 
"There was something particularly resonant about the whole conversation around the worries around how dark the baby would be, because I think that is another conversation in the Black community, the idea of colorism," she said. 
"So the closer you are to white, the better you are treated, and I think that's what we saw highlighted. No level of privilege or resources is going to kind of add as a buffer from protecting you from those things."