The Birth Certificate For Kylie Jenner And Travis Scott's Son Reveals A Sweet Surprise About His Name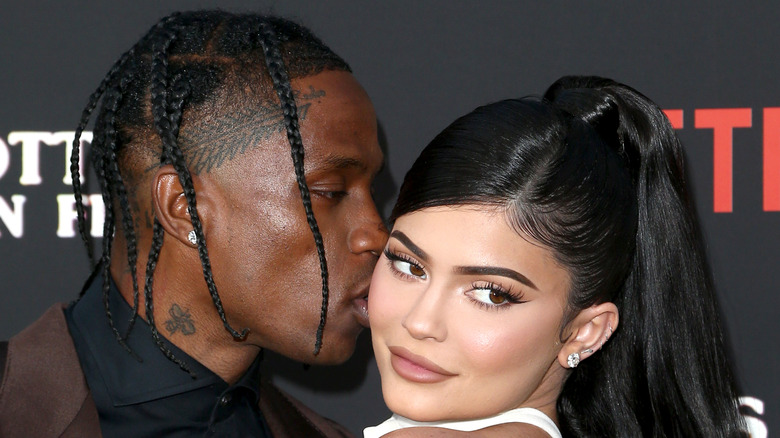 Tommaso Boddi/Getty Images
In September 2021, Kylie Jenner nearly broke the internet when she revealed that she was expecting her second child with Travis Scott in an adorable video posted on her Instagram account. 
The video, which has now received over 160 million views, shows Kylie and Scott's first daughter, Stormi, kissing her baby bump multiple times. It also features a few behind-the-scenes moments of Scott and Kris Jenner reacting to the news of Kylie's pregnancy. 
"She has been wanting to give Stormi a sibling for a while," a source close to Kylie told People. "She loves being a mom. She is thrilled that she and Travis are pregnant again. She has been enjoying her pregnancy in private. She has only spent time with close friends and family."
On Feb. 2, 2022, Kylie gave birth to a son, captioning a picture of her baby's hand being held by his sister on his Instagram, "💙 2/2/22." 
The gender of the baby was not revealed until Kris, the baby's grandmother, posted her own tribute to the newest addition to the Kardashian-Jenner family. "My beautiful grandson!! God is so good 💙💙💙," she captioned the same photo that her daughter had previously posted. 
Kylie did not reveal her son's name until Feb. 11, when she shared in an Instagram Story that it's Wolf Webster, per Seventeen. As it turns out, her son's name possesses a deeper meaning that involves his father.
The middle name of Kylie Jenner's baby is a nod to Travis Scott
The birth certificate of Kylie Jenner's second baby, Wolf Webster, obtained by TMZ, lists his middle name as Jacques. This, of course, is a nod to Travis Scott's real name, Jacques Webster. 
The couple's first child, Stormi, was not given a middle name, so this departure might point to how much Kylie loves Scott and also how involved he was during her second pregnancy. 
"Travis has been very supportive the entirety of the pregnancy, but now he's spending even more time with Kylie as a family. ... Kylie truly loves nothing more than being at home, running her business, and hanging out with Stormi," a source close to the family told Us Weekly.
During an interview with i-D, Scott spoke about the impact that fatherhood has had on his career and life. 
"Fatherhood just be like, I don't live for myself anymore. I was already going so hard for the fans and now, oh man, Stormi, it's like... I love that," Scott said. "Fatherhood influences my job. It has a huge impact. It's a major inspiration."
He continued: "Kids show you a different outlook on life, how they view things, the type of pressures they have and what makes them happy, what makes them move. ... I realized my job is way more important than what I thought because of her.