Why The Queen's Staff Is Reportedly Keeping A Closer Eye On Her Than Usual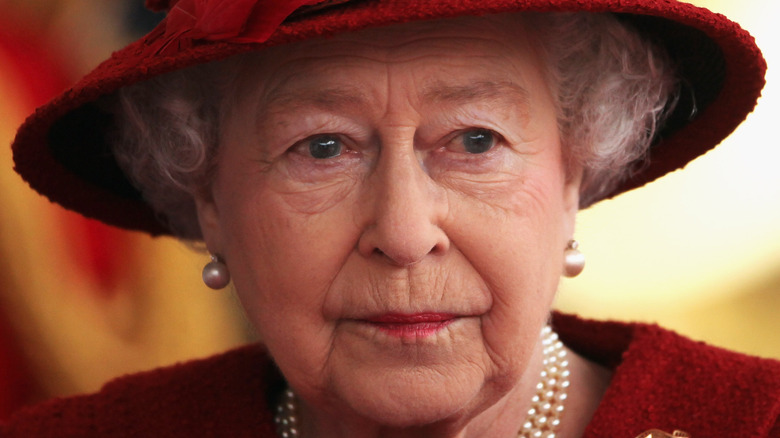 Dan Kitwood/Getty Images
Queen Elizabeth II recently kicked off her Platinum Jubilee year. However, she didn't have long to celebrate her 70th anniversary on the throne due to a shocking COVID-19 diagnosis, per Buzzfeed News. The British monarch was confirmed to have tested positive for COVID-19 on Sunday, February 20. "Her Majesty is experiencing mild cold-like symptoms but expects to continue light duties at Windsor over the coming week. She will continue to receive medical attention and will follow all the appropriate guidelines," a Buckingham Palace statement read.
The queen's diagnosis came just a few days after her oldest son, Prince Charles, as well as his wife, Camilla, Duchess of Cornwall, both tested positive for the virus. Prince Charles tested positive for COVID-19 for the second time, just two days after holding a private meeting with his mother at Windsor. In addition, Queen Elizabeth had also been seen at a few in-person events in recent weeks, one of which included a celebration of her accession with a small number of guests, some of whom were photographed near the queen, and were all unmasked.
While her majesty has received her COVID-19 vaccination, as well as a booster shot, fans can't help but be concerned about her as she fights off the virus that has been deadly for so many around the globe. Despite the diagnosis, the queen is expected to carry out light duties from her home as she conducts virtual meetings, but some are worried that she may try to do too much.
Queen Elizabeth's health issues have caused concern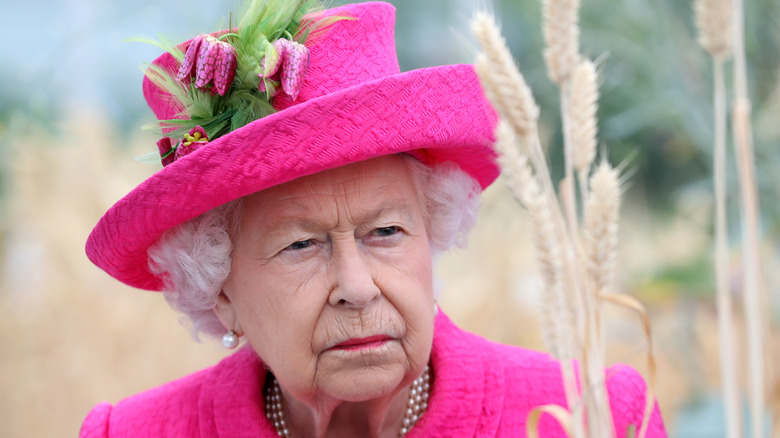 Chris Jackson/Getty Images
It's been a difficult year for Queen Elizabeth II. In addition to losing her husband, Prince Philip, who died in April 2021, the monarch has also been dealing with her own health struggles. Last fall, concerns began to grow after it was revealed that the queen had spent the night at the hospital. According to the BBC, Elizabeth was taken to King Edward VII's Hospital in Marylebone, where she was examined by specialists. The doctors suggested that the queen spend the night for observation, and she was released the following day. "Following medical advice to rest for a few days, the Queen attended hospital on Wednesday afternoon for some preliminary investigations, returning to Windsor Castle at lunchtime today, and remains in good spirits," the palace said in a statement at the time.
However, Elizabeth's health concerns forced her to cancel a trip to Northern Ireland, as well as many engagements over the following weeks (via NBC News). Following her hospital stay, the queen returned to work for some light duties. However, she announced that she wouldn't attend other events such as the Remembrance Day ceremony at the Cenotaph war memorial due to issues with her back.
The queen's COVID-19 diagnosis is just the latest medical issue to take her off of her feet over the past few months, but fans continue to send their love and support for the monarch, who is said to be looking a bit weakened as of late.
The queen has reportedly been looking more frail than usual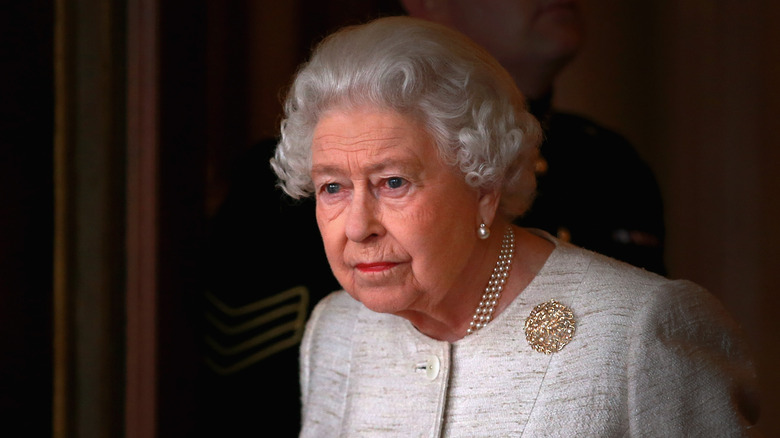 Chris Jackson/Getty Images
The Daily Mail reports that Queen Elizabeth has had a watchful eye on her since testing positive for COVID-19. According to the outlet, the Palace is being "cautious" but has no current need to be alarmed by Elizabeth's "mild symptoms." In fact, the queen is planning to do as much work as possible with a plan for "light duties." However, the queen's team of loyal staff are thought to be keeping a close eye on her since she's said to be looking more frail than usual as of late.
BBC reporter Daniella Ralph recently gave an update on the situation inside the queen's home since she was diagnosed with COVID-19. "The mood from the Palace is one of caution but no alarm," she said. "There are a couple of obvious aggravating factors here. Firstly that she is 95 years old, almost 96, and that immediately puts her in the vulnerable category," the reporter explained. "Also when you see the Queen now she is considerably thinner and frailer than she was a year ago and of course she will now have to be carefully monitored."
Ralph also added that there is a possibility that the queen may receive some form of antiviral treatment. However, Buckingham Palace has yet to confirm that speculation. Meanwhile, fans have been sending their support to the queen, as they are hopeful that she'll make a full recovery and be able to enjoy her Platinum Jubilee celebrations.