Could The Queen Be Facing Her Toughest Challenge Yet?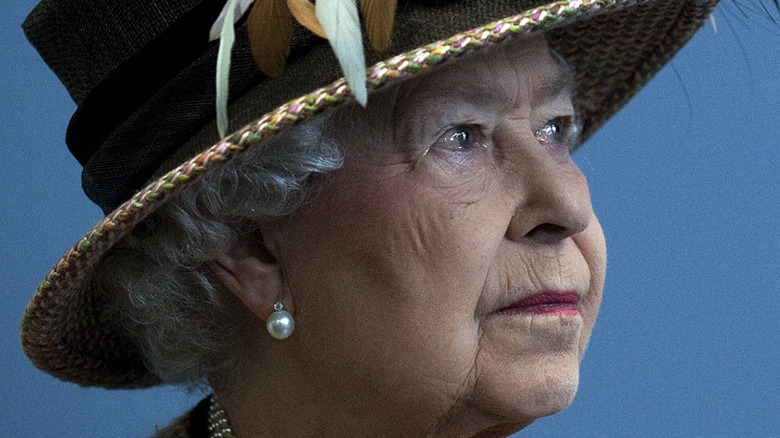 Wpa Pool/Getty Images
The past few years haven't been easy for Queen Elizabeth II. The 95-year-old monarch has had to deal with many different issues regarding her family as well as her own health and safety. 
Like the rest of the world, the queen has been greatly impacted by the COVID-19 pandemic. It has influenced everything from the events that she's appeared at to traditional family gatherings like Christmas. Then in February 2022, Elizabeth was diagnosed with COVID-19 after her son Prince Charles also tested positive for the virus (via People). Of course, this is just the latest in the queen's ongoing issues.
Back in October, the queen spent a night at the hospital after being examined by specialists, who thought it best that she stay for observation. She was taken home the following day. However, she was forced to cancel many of her scheduled events — including a trip to Northern Ireland — as she recovered from her ailments (via BBC). She later admitted to hurting her back as fans saw her walk with a cane. Moreover, Queen Elizabeth's health issues have come at a time when she's simultaneously dealing with a sexual assault lawsuit against her son, Prince Andrew, which has been adding to the royal family's scandals.
Before that, the queen suffered the huge loss of her longtime husband, Prince Philip, who died at the age of 99 back in April 2021. She also endured Prince Harry and Meghan Markle's shocking exit from the royal family. Now, it seems that it's all taking a toll on the monarch.
It's a tumultuous time in Queen Elizabeth's life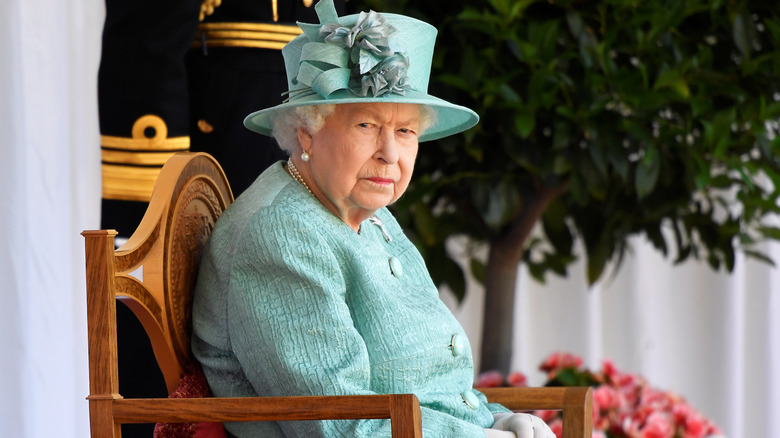 Wpa Pool/Getty Images
According to People, Queen Elizabeth is facing one of the toughest times of her life. Her family scandals, growing health concerns, and mourning the loss of Prince Philip are said to be taking a toll on the beloved monarch. "It's a drip-feed of negativity for the monarchy," a palace insider tells the outlet. "I've not known such a tumultuous time as this. It just feels to be one thing after another for the Queen. It's going to take a toll."
Insiders reveal that in addition to the drama surrounding the royals, the queen is still feeling very alone without her longtime love, Philip. "There's a difference between being alone and being lonely," the source explained, adding that it "must be hard" for the queen right now, especially since she's dealing with a COVID-19 diagnosis. "Whatever the symptoms, when you're feeling below par, having to deal with the other problems is really hard." Of course, the source notes that the queen is "stoical and mentally strong." Unfortunately, things have changed so much for Elizabeth over the past two years, and it's reportedly been a tough road.
Not only has there been loss and scandal, but the queen's health issues have prohibited her from doing some of the things that she loves, such as horseback riding. However, the informant reveals that Elizabeth is focused on getting back in "fighting form" so that she can enjoy her Platinum Jubilee celebrations this summer.