Detachable Collars Are Making A Comeback On TikTok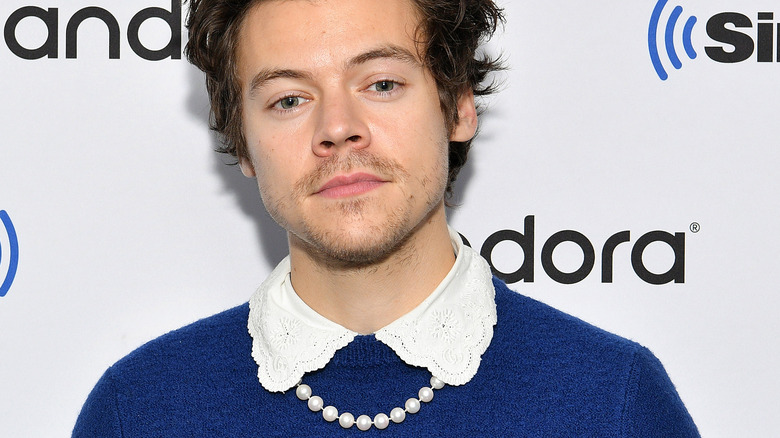 Dia Dipasupil/Getty Images
We may receive a commission on purchases made from links.
There's nothing quite like a layered look. The dimension and depth to the look makes everything just fall into place. There's only one problem — the actual layering part. Trying to get the perfect layered look usually includes some struggle. Either you're worried about overheating in multiple shirts or trying to find the right combination that doesn't make you look bulky. That's where detachable collars come in. Yes, you read that right. You can actually fake a collar to get the perfect look without the hassle, and TikTok is obsessed.
The detachable collar is exactly what it sounds like. It's essentially the top of the shirt sans sleeves or bottoms. While the accessory looks a little funny on its own, it looks identical to a typical shirt when it's layered. You can wear it under a sweatshirt, sweater, or even a jumper dress. The possibilities are endless when it comes to styling these faux collars. Don't just take our word for it though. Celebrities like Harry Styles and Emma Chamberlain are sold on the look. Comfort, ease, and a great look? Who says you can't have it all.
While this accessory is nothing new, it is having a comeback moment. Here's everything to know about detachable collars so you can get in on the spring trend. 
Fake collars make layering super easy
All good trends come and go, but the best return again and again. Detachable collars actually date back to 1827, when a businessman was inspired by a local woman's practice of removing her husband's collars before washing them. Since then, they've come and gone in fashion regularly. You've likely seen these accessories all over the thrift store for that exact reason. But now they're back yet again and bigger, bolder, and more versatile than ever.
TikTok has absolutely been loving the trend. Creator Steffy Degreff shares two different faux collared looks in the same video, proving just how easy it is to add into a look. All you do is put it around your neck, button it up, and tuck it into the shirt you're wearing. Although this accessory might date back to decades ago, it can easily be added into trendier looks too. As TikTok user Gabi Daiagi shares in her video, you can easily add the fake collar into cropped looks as well. 
Ready for the best part of the trend? It's super affordable. You can get a traditional detachable collared shirt for less that $10 on Amazon. They come in tons of different colors and styles, but the most popular is the plain white one that looks like your classic button up. You get all the perks of a layered look without the hassle. Not to mention that the accessory is way cheaper than buying a brand new shirt just to layer. 
You can buy tons of different faux collar styles
If this style is a little too basic for you, you can still get in on the trend. Once an accessory gets popular, tons of different brands start getting creative. The detachable collar trend is no different. While tons of brands make the traditional white faux collar, ASOS took it a step further and made collars that you tie over a shirt. They come in patterns like gingham and even ultra lacy styles, if you're looking for a dainty look. 
Basically what we're trying to say here is that you can totally take this easy to layer accessory and make it your own. The best part about comeback trends are seeing how they evolve and grow, so don't be afraid to make the look your own. It doesn't matter the color or texture of your faux collar, just pick the one that speaks to you.
There are some questionable and, let's just be honest, uncomfortable trends out there. The detachable collar accessory is all about function and fashion, which is almost too good not to wear.