The Best Dr. Barbara Sturm Skincare Products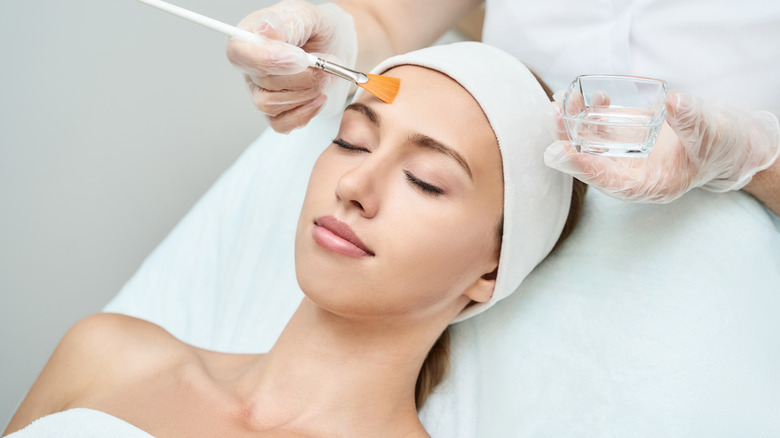 elenavolf/Shutterstock
We may receive a commission on purchases made from links.
The skincare market is flooded with countless beauty products. When you have the choice between buying a cleanser from your favorite celebrity's beauty brand and an aesthetician, though, the choice shouldn't be that hard. By now you've probably heard of Dr. Barbara Sturm Skincare, but this company isn't just a fancy name. It was created by a German doctor known worldwide for her non-surgical, anti-aging skin treatments and anti-inflammatory philosophy. In 2002, she revolutionized skincare by creating the famous "MC1," a plasma-based cream made from a patient's body proteins to heal skin and reduce inflammation.
Dr. Sturm also developed the vampire facial that celebs like Kim Kardashian and Gwyneth Paltrow are huge fans of (per The Derm Review). One ingredient used in all her skincare products is Portulaca oleracea, aka purslane extract, a succulent rich in minerals, vitamins, and omega-3 fatty acids. It's a potent antioxidant as well.
The skincare specialist — who originally began her medical career as an orthopedic surgeon — has a cult-like following, with big names like Oprah Winfrey and Laura Dern pledging themselves as loyal fans of her skincare products (via Instagram). Dr. Sturm's medical-grade skincare products come with a hefty price tag, but they actually work, which is why celebrities and ordinary folks love them.
Dr. Barbara Sturm Skincare has many A-list fans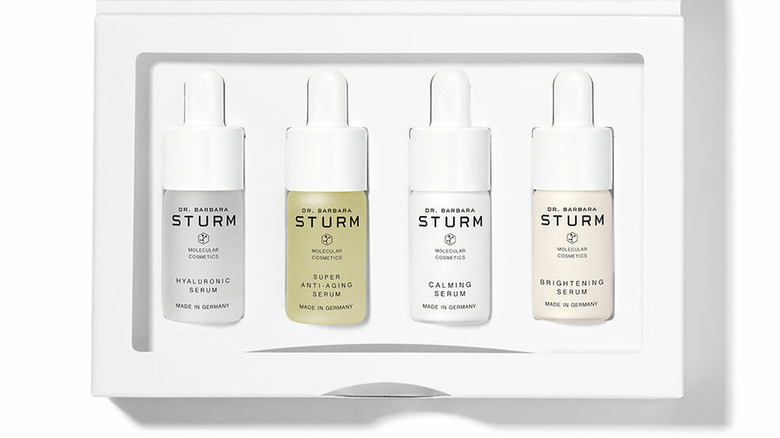 Dr. Barbara Sturm Website
Skincare is an investment, and the best products are typically the most expensive. This is because a lot of work, research, and quality ingredients are used to formulate a product that actually does what it says it's going to do. Dr. Barbara Sturm's skincare products are pricey, but totally worth the results. Model Hailey Bieber swears that Dr. Sturm's face serum is the one product she can't live without, and since Bieber's skin always looks flawless, we're following her lead on this one.
Rosie Huntington-Whiteley loves Dr. Barbara Sturm Sun Drops SPF 50 because this hydrating serum protects you from UVA and UVB rays, and it gives you a long-lasting glow (via Who What Wear). It's infused with a complex of cassia extract, vitamin E, and beta-glucan that support's the body's natural regeneration of damaged cell structures. Kourtney Kardashian is a huge fan of the brand's Face Cream, and she raved about this product in a skincare video for Harper's Bazaar (via YouTube). She swears the antioxidant and anti-inflammatory purslane provides deep hydration while slowing down the skin's natural aging process. 
Style Craze considers Dr. Barbara Sturm Glow Drops one of the best serums because it has polygonum bistorta root, which helps with evening skin tone, and its light-reflecting pigments provide a youthful glow. This product is one of supermodel Elsa Hosk's favorite skincare products, per Shape. PopSugar is a fan of the Dr. Barbara Sturm Cleanser, because it gently removes dirt and makeup while balancing your skin's pH. Even those with acne can use it, which makes it even more appealing.