Pete Davidson's Instagram Follows Have The Internet Confused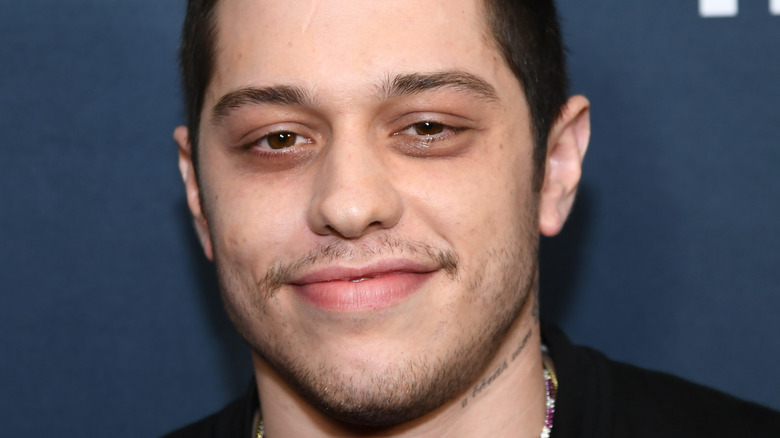 Dimitrios Kambouris/Getty Images
When a celebrity like Pete Davidson joins Instagram, it's big news, especially since the "SNL" star has famously said he eschews social media. As soon as Kim Kardashian's boyfriend started his account, he immediately gained close to 2 million followers. One follower in particular caught fans' attention. If you guessed that Kardashian's ex, Kanye West, is among Davidson's followers, you'd be right!
Meanwhile, the comedian is only following three accounts. In what may feel like a slap in the face to West, who now goes by Ye, Davidson has not followed him back (via Cosmopolitan). He is of course following Kardashian — but then again, who isn't? At last count, the mogul had 287 million followers, or basically everyone on the planet with an Instagram account.
Other than his girlfriend, Davidson is following Sebastian Stan, an actor with whom we aren't aware that the Staten Island native has any connection. Then, the star decided to follow a third even more puzzling account — that of baseball team the Staten Island Ferry Hawks. With only a little over 3,000 followers, no one is 100 percent sure why Davidson felt like following them other than the fact that he is from Staten Island.
Pete Davidson only posted one thing in his bio
Although Davidson joined Instagram last week and has close to 2 million followers, he is yet to post anything. In his bio, he did however share a link to a YouTube video of Robert De Niro doing stand up comedy as the character Rupert Pupkin from the 1982 movie "The King of Comedy" (via IMDb). The short clip features the line, "But look, I figure it this way: better to be king for a moment than schmuck for a lifetime."
Of course, Davidson starred in a similarly-titled movie, "The King of Staten Island." 
We're not sure why he shared this specific quote, but perhaps it is his answer to people who question his relationship with the reality star. Even the actor himself has joked about whether he is good enough for Kardashian, calling himself "a diamond in the trash" (via Us Weekly).
Meanwhile, back to his Instagram account. Will Davidson follow more accounts? Will he ever post anything? His millions of followers await answers!