Is Essie Gel Couture Nail Polish Worth It?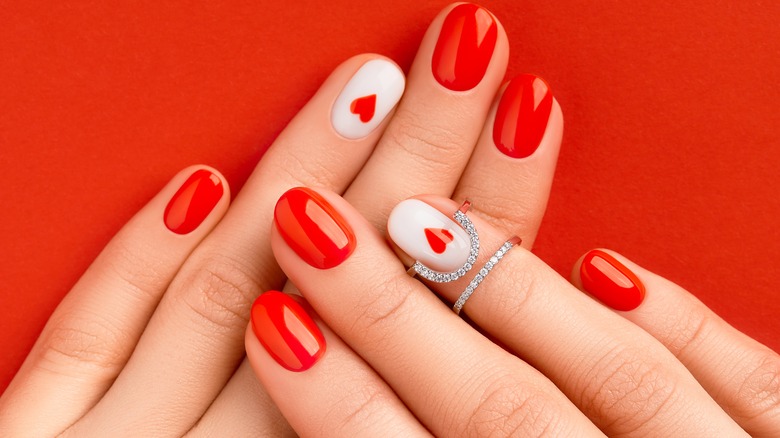 Darya Lavinskaya/Shutterstock
There's something incredibly satisfying about getting a set of gel nails. It can brighten your mood, and you feel like you have the world at your feet for a few blissful weeks. The feeling starts to dissolve pretty quickly, though, when you notice the first chip, or the expanding space between the nail color and the cuticle as your nails grow. Gel manicures are all the rage because of their quick drying time, endless color options, and their long-lasting power. On average, gel nail polish lasts about two weeks after you first get your manicure.
Some of you may not have the skill to properly paint your nails yourself, so a little trip to the salon is a rewarding act of self-care. Getting a manicure is expensive, though, especially when using gel polish. Depending on the type of salon, as well as the city you live in, a gel manicure can cost up to $100 (per Smart Mom HQ). If you make biweekly trips to get your nails done, it's tough on your bank account. Plus, gel manicures aren't the best for your nails or the skin on your hands. Studies show that the rays coming from the UV lamp can age your skin, and regular use of acetone to remove these gel polishes can thin your natural nails. 
When Essie came out with its gel nail polish for at-home manicures, we were intrigued because it doesn't require a UV lamp, and it's way more affordable than visiting the salon. Is Essie Gel Couture nail polish worth it, though?
Essie Gel Couture nail polish looks professional and lasts for weeks
Essie Gel Couture nail polish is inspired by haute couture, so it's pretty fancy for a DIY manicure. According to their website, this salon-quality gel nail polish doesn't need a UV lamp or a base coat, and it claims to last as long as a salon manicure without fading or chipping. It's available to purchase as a set that includes one nail polish and one topcoat.
Best Products raves about this Essie Gel Couture duo because you can get the same long-lasting, glossy look as if you had your nails done professionally. The main benefit of this product is that you won't cause harmful UV damage to your hands. The polish lasts a good 14 days, and you'll also save money in the long run. BuzzFeed is a huge fan as well, calling the Essie Gel Couture duo a perfect solution for those who want a professional nail painting experience at home. The publication even referred to this polish as "magic," because you no longer have to worry about whether you should be wearing SPF when getting gel manicures. It's super easy to apply, too. All you need is two coats of color and one top coat.
Marie Claire loves how this gel product has a quicker drying time than regular nail polish, which prevents accidental smudging. Also, you don't need a bulky UV machine to cure the color — all you need are the two bottles, and you're good to go!