Caught In His Web's Malia Baker Describes Her Career Goals - Exclusive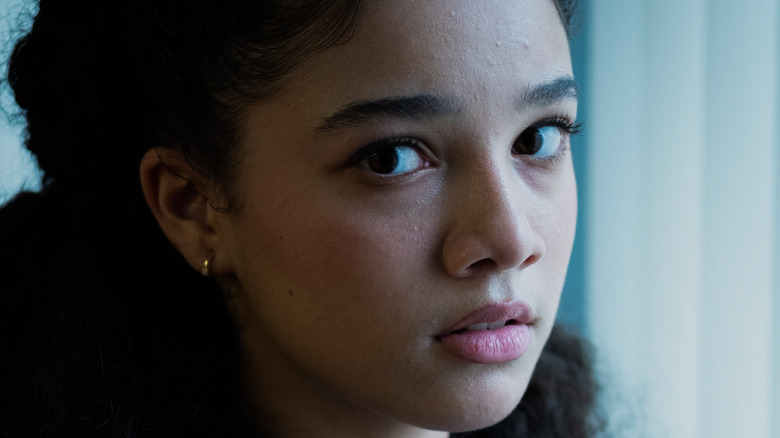 Lifetime
Netflix and Lifetime are just two of her stomping grounds. That's right: Malia Baker is making a big name for herself, and she's only just getting started. She's perhaps best known for her role as Mary Anne Spier on Netflix's "The Baby-Sitters Club," but she's also worked on "The Flash," "Are You Afraid of the Dark?," and "The Twilight Zone" (via IMDb). Most recently, she portrayed Olivia in Lifetime's latest original television movie, "Caught in His Web." With high-profile series and films like this, Baker has made it clear that she's not going anywhere.
Luckily for us at The List, we recently got the opportunity to sit down and talk with the teenage television star, and Baker talked all things "Caught in His Web," including how her "instant connection" with her costars formed. Here, too, Baker dished on "The Baby-Sitters Club," including what it's really like working with Alicia Silverstone.
In our exclusive interview with Baker, she also revealed her plans for the future, which include much more than acting. They include more than activism, too, for which Baker is known — and on which she doesn't ever plan to stop working. In fact, her acting career beginning in Vancouver — where Baker lives and which is predominantly white — has only made her want to commit to diversity activism more, according to Cultured. Outside of activism, here's what Baker hopes to achieve in her bright future.
Acting and activism are only the beginning for Malia Baker
What makes Malia Baker so special as an actress is how she approaches her career. She examines everything in hopes to learn from it, taking everything as an experience that can better prepare her for the future. The same applies to her taking on roles in many different television and film genres. She knows her future is long and bright, and she refuses to fall into being typecast or to never explore the full scope of her opportunities and passions.
"There's going to be endless amount of supplies of things I could speak to, and I really hope to, someday in the future, eventually, gradually over time," Baker told us of her interest in activism. Still, that's not her only interest. In fact, Baker wants to explore writing and filmmaking in addition to acting, and explained that her time in the industry so far has been the perfect "internship" for all of these avenues. "I feel like that's one of the great things about it, so either filmmaking or writing, whatever it is in the future, I can't wait for it to start," she explained.
Baker has specific goals, too. "I'm a Marvel fan, so anything in that universe would be so cool," she revealed, adding, "I love Greta Gerwig, Wes Anderson. Those two have been top on my list for a really long time, but also, I think it would be really interesting to do a biopic of someone." Baker already knows who she'd play, too. "Alicia Keys would be really cool. I've gotten that a few times ... I think it would be really interesting."
You can catch Malia Baker in "Caught in His Web" on Lifetime.