If You're A Leo, This Cocktail Is A Must-Try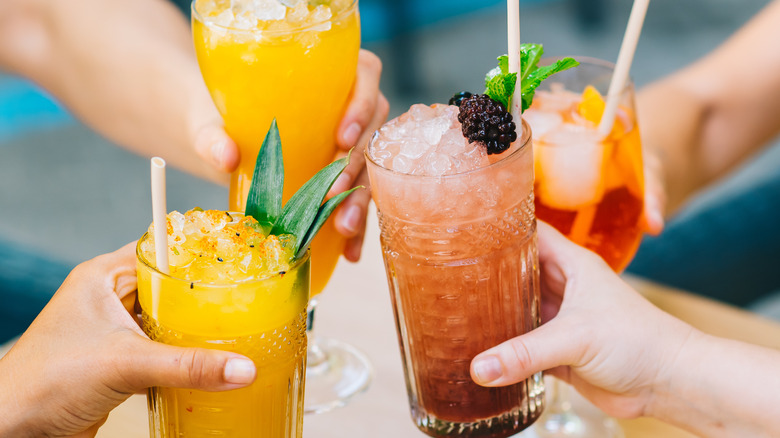 bodiaphvideo/Shutterstock
If you love cocktails more than anything else, you probably want to try all of them at least once in your life. You might not realize how many cocktails make up the International Bartender Association's long list of mixed drinks that they recognize, which includes vintage cocktails like the Manhattan and newer beverages like the fruity, vodka-tinged Sex on the Beach. Just one look at the list may make your jaw drop. At the top, you'll find the Americano, a Negroni-like cocktail that combines vermouth and Campari, and later you'll find the Carrie Bradshaw-approved Cosmopolitan, traditionally made by combining vodka with Cointreau, lime, and cranberry. Then, at its end, you'll find the Zombie, a tropical cocktail that brings together rum with lime and Grenadine.
While we want to try all the cocktails, there are 80 mixologist-approved options, and that's going to take a while. Still, using your zodiac sign to find the perfect cocktail for you can remove all the guesswork, and assure you that your next bar order is a surefire success. We all know ordering a drink you just don't vibe with can put a damper on your night, so our foolproof astrological method makes sure that doesn't happen.
Leo's bubbly personality loves watermelon margaritas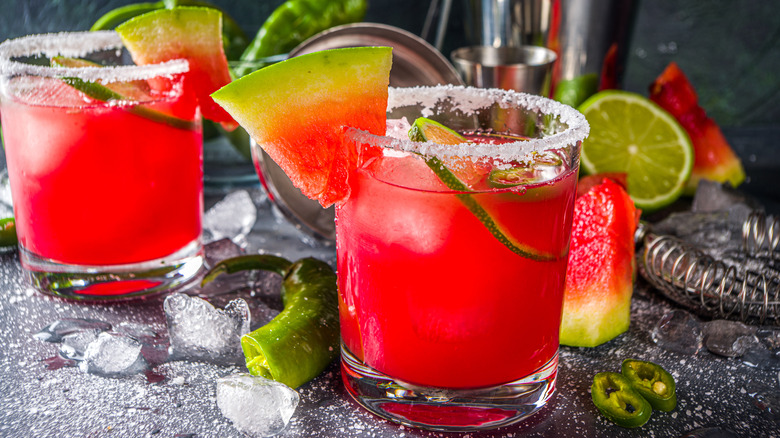 Rimma Bondarenko/Shutterstock
If you're a Leo, your astrological sign is synonymous with everything cocktails represent. While you're usually A-okay with a glass of Cabernet Sauvignon after a long workday — and an ice-cold beer is great at the beach — most of us can agree that cocktails bring a certain element of fun, to which no other style of drink can compare. Similarly, Leos are all about excitement, partying under the starry night sky at a moment's notice, and gravitating toward the center of the room (via The Times of India). 
In fact, as explained by Allure, Leos are ruled by the sun, so it makes sense that this sign would find themselves surrounded by everyone else, becoming a focal point no matter where they go. This sign has a natural vivacity to them that is absolutely infectious, usually accompanied by a hearty laugh, big emotions, a huge heart, and, yes, sometimes a bit of a temper. It's all about passion for this sign, and that translates into major ambition, amazing friendships and romances, and always taking a bite out of life.
It makes sense that the perfect cocktail for a Leo, then, is the watermelon margarita (via Kitchn). Just like this zodiac sign, this cocktail is sweet, juicy, and just a little over-the-top in the best way. Blending together tequila, watermelon, lime, and agave, watermelon margaritas are a guaranteed good time, just like Leos. As noted by Wyldflour, a rim consisting of sugar and Tajín — or salt and Tajín — can give your margarita the extra kick it needs (and deserves).