Did Megan Fox Really Make All Of Her Past Boyfriends Get A Tattoo Of Her Face?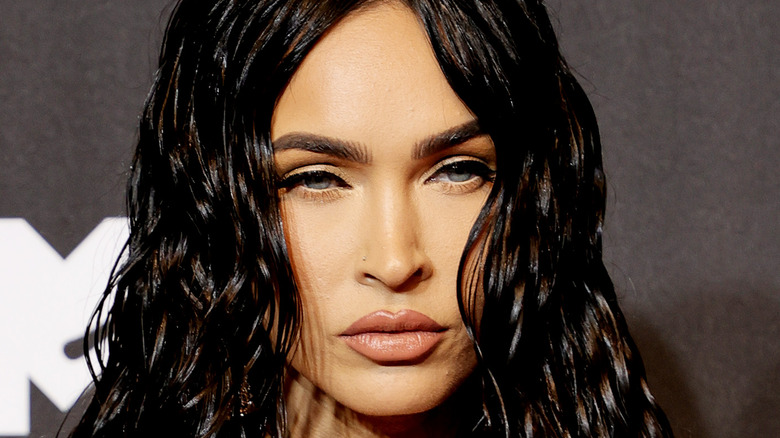 Jamie Mccarthy/Getty Images
Just six months after beginning a relationship with rapper Machine Gun Kelly, Megan Fox revealed that she had gotten a tattoo on her collarbone as a tribute to her boyfriend, per Elle. Scrawled across her collarbone is a dainty but very visible tattoo of the phrase "el pistolero," which is Spanish for "the gunman," and one of Kelly's nicknames. The "Bad Things" rapper returned the favor by inking Fox's initials on his body. According to Elle, the newly engaged couple reference their tattoos in a song from his album "Tickets to My Downfall," where Fox can be heard saying, "You just got my initials tattooed on you, and I got your nickname tattooed on me." Us Magazine reports that Fox and Kelly also learned how to tattoo, so that they could give each other matching ink. Both stars took turns tattooing the phrase "the darkest fairytale" on each other, in honor of some of the earliest messages they exchanged together.
Making a permanent tribute to a relationship at the tattoo studio isn't anything new for the "Jennifer's Body" actress. Among Fox's many tattoos, there is one that references her love for her former husband Brian Austin Green. According to Cheat Sheet, Fox requires that all of her boyfriends have at least one tattoo — and if they don't, she has a special requirement for them.
Tattoos are forever, even if Megan Fox's relationships aren't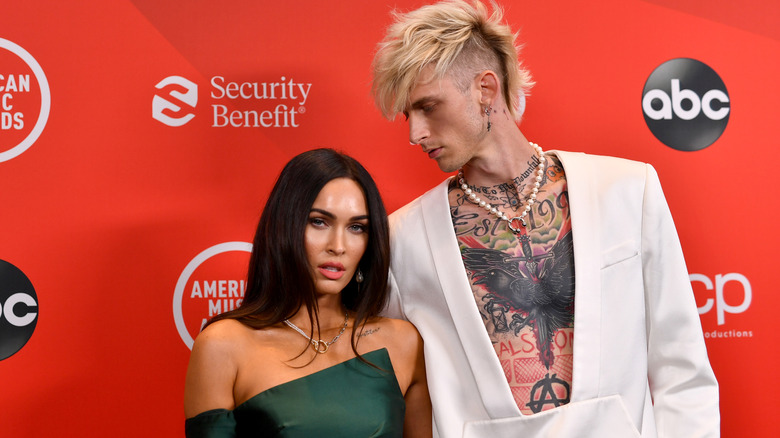 Emma Mcintyre /ama2020/Getty Images
In 2009, Megan Fox revealed that she requires all her boyfriends to have some ink on their skin. "I have eight tattoos," she told "The Early Show" (via Digital Spy) at the time. "My boyfriends are all required to have one." If these men have no preexisting ink, then Fox makes a request. "If they don't have one yet, I make them get a tattoo of my name or face," she told the outlet. In good news for them, Fox's current partner Machine Gun Kelly, and her ex-husband Brian Austin Green already had tattoos before entering into a relationship with Fox — but this didn't stop them from going under the needle and racking up more ink in honor of the actress.
In Kelly's case, this meant a tattoo of Fox's initials, as well as the "darkest fairytale" quote. Giant Freakin Robot reports that Green opted for a script rendering of Fox's name on his chest. Prior to her most recent partners, Fox has also been romantically linked to David Gallagher (of "7th Heaven") and her "Transformers" co-star Shia Labeouf, per Popsugar. At the time of this writing, it's unclear whether or not the two men got inked for the actress.