Body Language Expert Weighs In On Diana And Charles' Engagement Photos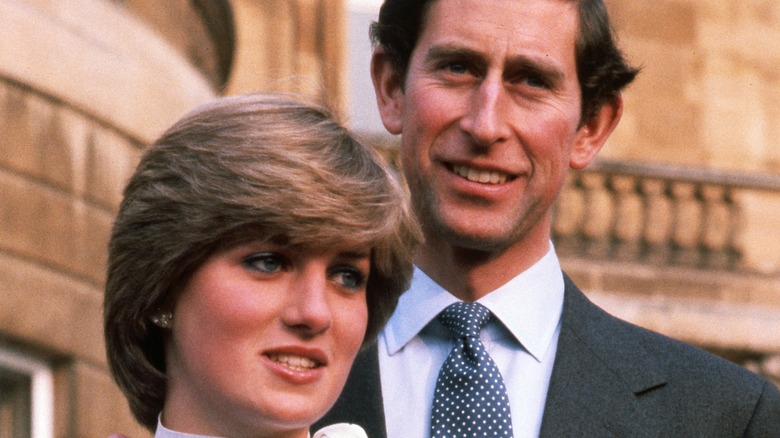 Anwar Hussein/Getty Images
The wedding of Prince Charles and Princess Diana was one of the most watched television events in history, with 750 million people around the world tuning in to watch the nuptials. Before the couple said I do, however, both expressed doubts about the union. Diana was especially dismayed to discover that the week of their 1981 wedding, Charles had given a gift to Camilla Parker Bowles. As a result, Diana told her sisters that she wanted to call of the wedding, but they told her it was too late. 
The prince also confided in friends that he was in a "confused and anxious state of mind." "Prince Charles kept saying 'I want to do the right thing by my country. I want to do the right thing by my family.' [But] in his heart, I think he knew that they just had nothing in common," royal expert Ingrid Seward revealed in a 2019 documentary (via Smithsonian).
Of course, they went through with the nuptials and went on to welcome two sons, Prince William and Prince Harry. But the relationship between Charles and Diana always seemed strained and the two eventually divorced in 1996. Diana even called her wedding day the "worst day of my life," adding, "If I could write my own script, I would have my husband go away with his woman [Camilla] and never come back" (per Independent).
And one body language expert has pointed out there were signs of discord from the start.
Prince Charles and Princess Diana don't look happy in their engagement photos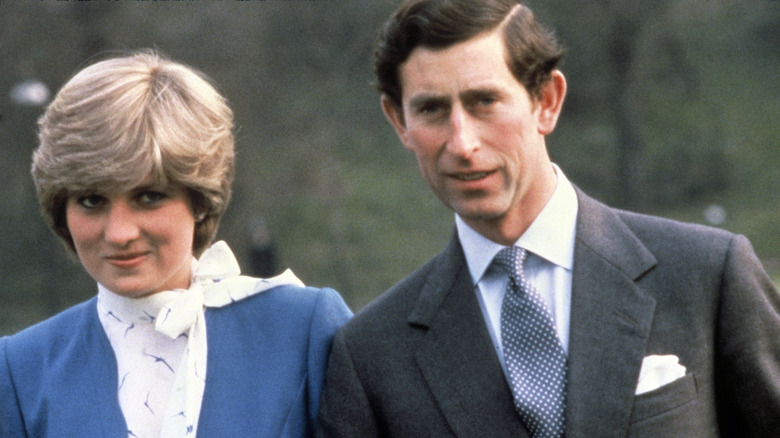 Anwar Hussein/Getty Images
According to behavioral expert Darren Stanton, there were signs that the union between Prince Charles and Princess Diana was doomed from the start. "Looking back at Prince Charles and Princess Diana's official engagement photos from 1981, it's clear to see that, right from the outset, Diana displayed moments of doubts when it came to her relationship with Charles," he told Express, speaking on behalf of Slingo. "Charles is seen standing behind Diana with his hand on her shoulder — a gesture that is very revealing on many levels. It's not as intimate as one would expect for a newly engaged couple and instead appears quite formal."
Stanton added that Charles doesn't show "crow's feet at the side of his eyes, with these lines usually a sign of true happiness and sincere emotion," while Diana looks uneasy and likely "felt like a fish out of water."
Charles's comments during the announcement also caught many by surprise. When the interviewer asked if they were in love, Diana replied, "Of course," while Charles responded with, "Whatever love means." In fact, he repeated the same line when he proposed to Diana in private. "So you have to ask yourself, did he really have any kind of genuine feeling for Diana or was she, as she felt herself, a sacrificial lamb ... producing an heir and a spare and then being discarded?" asked her official biographer, Andrew Morton (per Smithsonian).