Ron Howard Chose This Co-Star To Be Bryce Dallas Howard's Godfather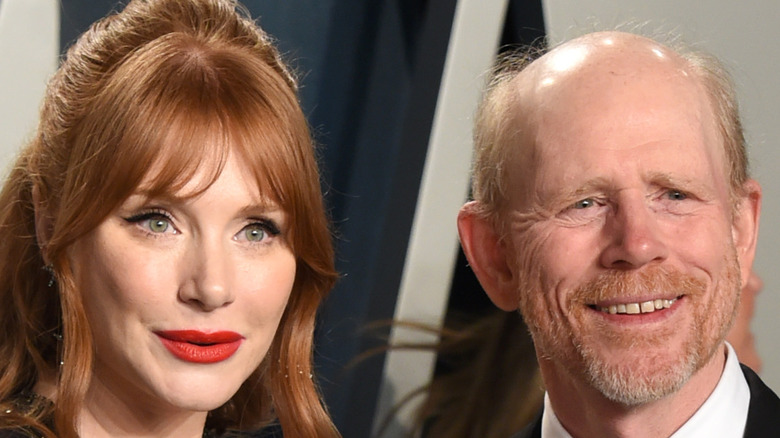 John Shearer/Getty Images
Growing up the child of a Hollywood legend has to be tough, but if you become a star in your own right, it probably softens the blow to a considerable extent. Ron Howard's relationship with daughter Bryce Dallas Howard is demonstrably strong, with both parties taking every available opportunity to confirm how close they are and to express admiration for each other too. In a joint interview with CBS News, Bryce shared, "I feel really privileged to have been the beneficiary of having, like, a great dad, you know?"
Her father sweetly responded, "Ah, shucks." Per Hollywood Life, the "Jurassic World" star is Ron's eldest child. He shares four children total with longtime wife Cheryl Howard, whom the legendary director married back in 1975. As for her unique name, Bryce revealed to ABC News that each Howard child was named after where they were conceived, hence the addition of the middle name "Dallas." Although predominantly known as an actor, Bryce moved into directing with the "Star Wars" series "The Mandalorian." 
She was actually following in her father's footsteps in more ways than one since Ron cut his teeth as an actor appearing on "The Andy Griffith Show" and "Happy Days," before moving into working behind and in front of the camera on movies. His early career highlights might explain why Bryce counts this A-list TV star as her godfather. 
Ron Howard and Henry Winkler have been close for years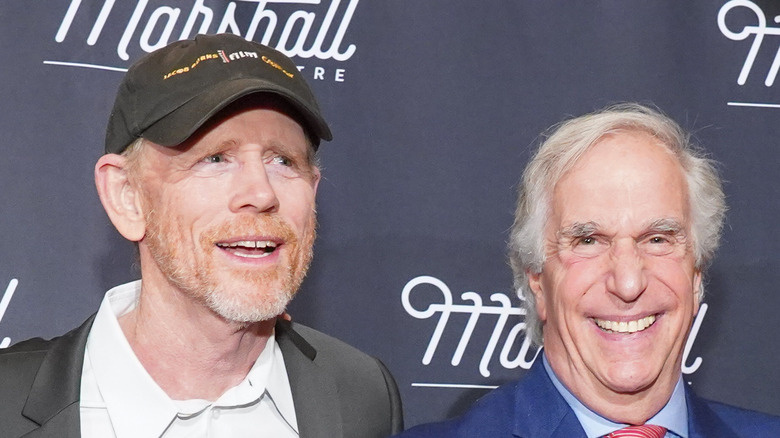 Rachel Luna/Getty Images
When you think of "Happy Days," only one character comes to mind — Arthur Fonzarelli, more commonly known as "Fonzie" or "The Fonz." However, in a parallel universe, Ron Howard's Richie Cunnningham was the star of the show. Unfortunately for him, actor Henry Winkler was such a hit that producers quickly moved to make Fonzie the center of the "Happy Days" universe. 
As Ron told the Archive of American Television, "During the off-season, I was approached by [the show's executive producers], who basically said that Fred Silverman [President of ABC Entertainment] wanted to change the name of the show to 'Fonzie's Happy Days'." Ron was offered more money and even got the opportunity to helm a few episodes, which set him on the path to where he is now, as one of the most famous filmmakers in the world. 
And luckily, the show's title remained as just "Happy Days," allowing Ron and Winkler to get close behind the scenes, too. In fact, as Winkler told the Archive of American Television separately, "[Ron] is my brother today. [Winkler's wife] Stacy and I are the godparents of his children." The TV icon added, "He said, 'God forbid, if anything happens to [Howard's wife] Cheryl and to me, take them. You can bar mitzvah them if you want. Take them.'"
The Happy Days icon is Bryce Dallas Howard's godfather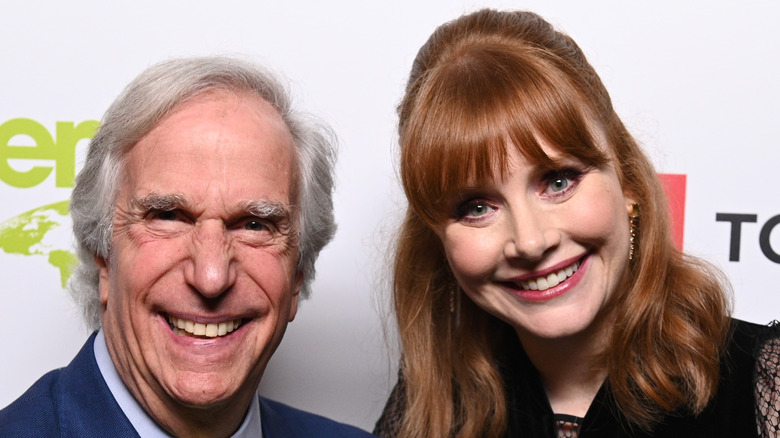 Andrew Toth/Getty Images
For her part, Bryce Dallas Howard is thrilled to have Henry Winkler as her godfather. In a 2016 interview with "The Talk," via Vanity Fair, she shared, "He's just the most wonderful man. It's great as a kid to have adults who you can go to who are mentors. They don't have the ability to ground you, but they do have the wisdom of being someone who loves you and who cares about you and is aware."
The "Rocketman" star confirmed to Parade that Winkler continues to be super close with her folks, and remains heavily "involved" in all their lives. She recalled, "After my son was born, my parents were there, and he was there. He's just a very dear friend." Although Winkler is a living legend, Bryce has never seen any A-lister energy come out, reasoning, "I never really recognized the level of fame that he had because he's such a generous person." 
She added, "He doesn't have that air about him. He's such a wonderful, normal person." Moreover, Vanity Fair notes Bryce followed in her famous father's footsteps when it came to choosing a godfather for her own child, opting for "Beauty and the Beast" funny-man Josh Gad when the time came.